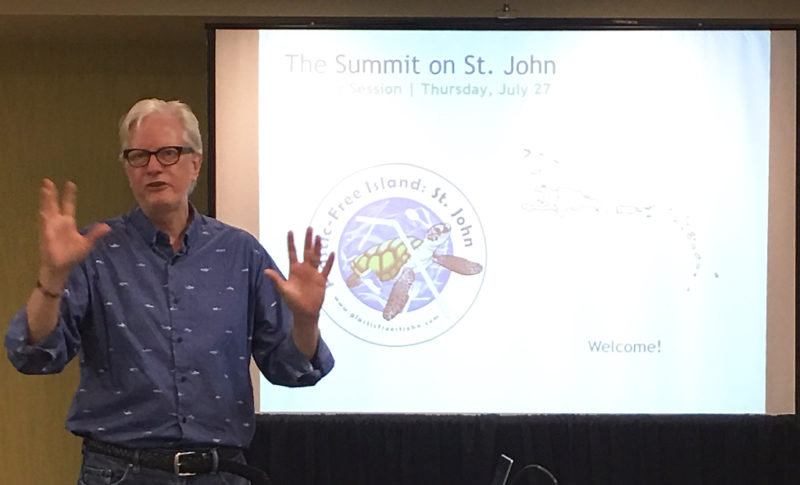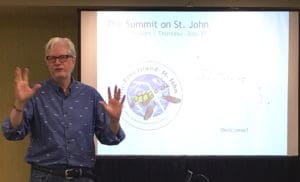 "There are nine billion tons of plastic on Earth," according to Jane Patton, managing director of the Plastic Pollution Coalition. "That's more than one ton for every person that's alive on the planet."
Patton dropped this fact at the opening session of the Summit on St. John for the Plastic-Free Island initiative held at the Westin Resort Thursday morning. Her colleague, chief executive officer Dianna Cohen, had more grim news: 91 percent of plastic produced is not recycled.
Patton and Cohen lead an organization which promotes a simple message supported by more than 600 organizations: "Plastic is a substance the Earth cannot digest. Refuse single-use plastic!"
They're on St. John from July 27-29 to help promote awareness of St. John's budding Plastic-Free Island initiative. In collaboration with St. John's Island Green Living Association and other community organizations and government agencies, the summit organizers have invited individuals and groups to dialogue, network, and take action toward the goal of plastic-free island living.
The summit is bringing together activists from as far away as Micronesia and as close as the British Virgin Islands to share ideas on how to reduce the plastic waste stream in the territory.
On St. John, the campaign has begun with a simple enough slogan, "No straws, please!" The idea is that restaurants and bars should no longer offer plastic straws when they serve drinks.
According to an article in the Washington Post, "Straws are among the most common plastic items volunteers clean from beaches, along with bottles, bags and cups, conservationists say. Americans use half a billion straws every day … That many straws could wrap around the Earth 2½ times."
St. John restaurateurs are starting to get the message. More than 14 have already taken the pledge to eliminate plastic straws, or replace them with paper straws.
"We're going to honor them," said Ken Haldin, one of the summit's facilitators. The restaurants are Joe's Rum Hut, Asolare, Cinnamon Bay, Barefoot Cowboy, Indigo Grill, Rhumb Lines, Skinny Legs, Thirsty Donkey, The Triple B, Woody's, Wok on the Beach, Pizzabar in Paradise, Concordia Eco Resort, and Trunk Bay.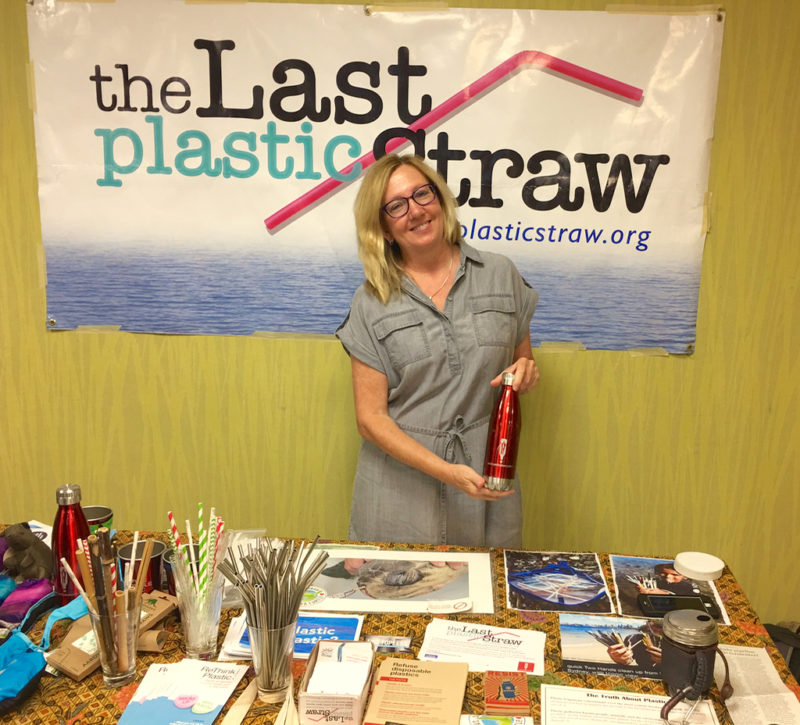 Paper straws are more expensive than plastic straws, allowed Anne Ostrenko, a founding member of Plastic-Free Island: St. John.
"But what if 20 restaurants here got together and bought paper straws in bulk?"
It's that kind of thinking that the summit organizers are hoping to promote. A breakout session entitled "Plastic-Free Alternative Products for Restaurant, Retailers in the V.I. and Caribbean" was held Thursday afternoon.
Those who missed it still have a chance to get involved in the discussion. An additional morning session specifically designed to address the challenges faced by the hospitality industry was scheduled to be held at 9 a.m, Friday at the Westin.
The summit is designed to offer multiple opportunities for the community to come together to share ideas. For example, Allison Fraley, the solid waste and recycling manager from Kauai, Hawaii, who has succeeded in achieving a 43 percent waste diversion rate on her island, gave a presentation at the summit Thursday afternoon. She was scheduled to meet informally with the public Thursday evening at the Tap Room at Mongoose Junction, and at a session on a Zero-Waste Plan for Coral Bay at the Guy Benjamin School at 2 p.m. Friday.
Summit organizers also reached out to island youth by offering afternoon sessions Thursday and Friday, beginning at 12:30 p.m., at Cinnamon Bay Resort led by Kristal Ambrose of the Bahamas.
For the past four years, Ambrose has led tuition-free summer camps in South Eleuthera to raise environmental awareness. To teach young people about how plastics infiltrate the food chain, she has them dissect mahi-mahi and albatrosses to examine the amount of plastics the animals have ingested in the wild. She was awarded the 2014 Environmental Youth Leader Award from the Government of The Bahamas.
Seven students from Heirs to the Ocean attended the sessions at Cinnamon Bay. Heirs to the Ocean is an organization for youth from around the Pacific who aim to create "waves of change" to "ensure the health of our blue planet." https://www.heirstoouroceans.com/
At Thursday's meeting, Greg George and Vernessa Bellot from the British Virgin Islands described how their Bug Out Program, designed to keep mosquitoes from multiplying and spreading diseases such as Zika, has morphed into a larger mission to eradicate single-use plastics.
"Hundreds of mosquito larvae can grow in a single bottle cap," George said.
The British Virgin Islands has yet to pass legislation to outlaw single-use plastic bags, as the U.S. Virgin Islands has, George said, but several large retailers have done so voluntarily.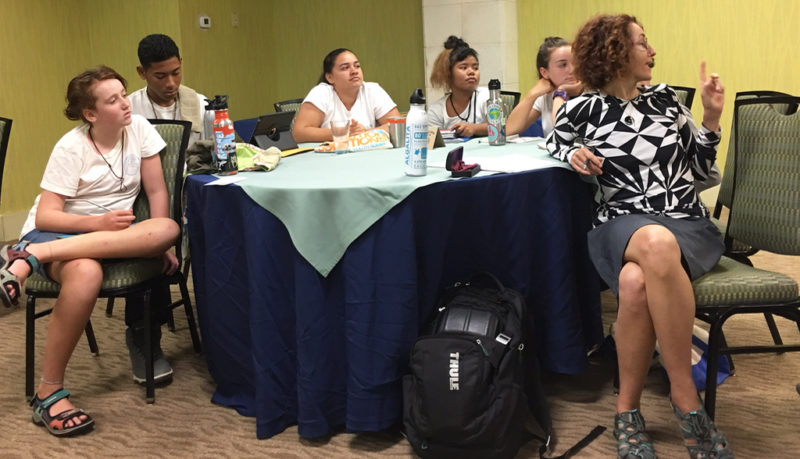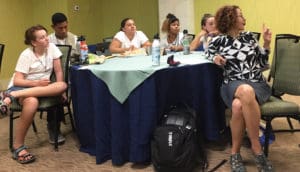 Several members of the audience clapped when George said, "Our goal is to shut down the incinerator on Tortola and change it to a recycling station." Coral Bay residents have often complained that the smoke from the Tortola incinerator blows on to St. John and causes respiratory problems for St. John residents.
Paul Chakroff, executive director of the Virgin Islands Conservation Society, said islands need to find economically viable ways to reduce, recycle, recover, and re-use products that end up in the waste stream.
He introduced Esteban Monge Reymundi, an environmental engineer originally from Puerto Rico, who moved to Colombia to start a company called Ambiente Organico. This company collects single-use plastic items and processes them to produce a form of "plastic wood" that can be used to construct houses, piers, fencing, etc.
Haldin and Ostrenko, who split their time between St. John and Atlanta, first became aware of the immensity of the problem of plastic pollution when they attended an art exhibit sponsored by the Centers for Disease Control. It was there that they met Dianna Cohen and Pam Longobardi, artists who use plastic trash to raise awareness of the issue.
Realizing that art can move people in ways that other methods cannot, Ostrenko and Haldin have arranged for Cohen to attend a community gathering at the Baja el Sol Gallery Thursday evening.
On Friday night, video artists will screen their entries to the "No Straw, Please," a video competition sponsored by the Coral Bay Community Council. The screening will be held at the Susannaberg ruins at 7 p.m., along with a showing of Disney's Oceans.
A full listing of activities scheduled for the summit is online at the Plastic-Free Island: St John website.