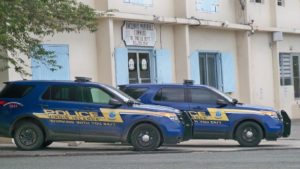 A man, whose name was not released by officials, died Thursday evening in a car accident at the Mon Bijou traffic light intersection.
According to the V.I. Police Department, at 7:35 p.m. Thursday the 911 call center received a report of the accident. The VIPD Traffic Division's preliminary investigation and the reports of witnesses on the scene, determined that a woman was driving a white Toyota Corolla south to north. A man driving a green Chevy Cavalier approached the intersection from the west.
Witnesses said the Cavalier ran the stop light and collided with the woman's Corolla and wrapped around the traffic light pole.
EMS and rescue personnel confirmed the 28-year-old man individual dead on the scene. The woman driving the Toyota Corolla did not receive any life threatening injuries, police said.