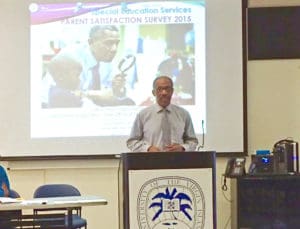 There were no parents on hand to learn the results of a parent satisfaction survey about special education in St. Croix schools that released Wednesday night by the Eastern Caribbean Center of the University of the Virgin Islands.
ECC acting Director Frank Mills said the survey, mandated by the federal government, has been conducted since 2007 by the organization, contracted by the V.I. Education Department's State Office of Special Education.
This year 1,221 parents or grandparents were asked questions over the phone by 13 trained interviewers in February and March. Mothers, a handful of fathers and a few grandparents gave the majority of the answers to the four-page questionnaire. Names and contact information were provided by SOSE.
"It's not just a report but robust evidence for action. It's a significant contribution to decision making," Mills said about the report.
The majority of parents who responded had children between the ages of 10 and 19 years of age, and 72 percent of the special needs children were male, which follows a national average, according to Marissa Johnson Rogers, one of the ECC staff who sorted the statistics.
Most of the parents gave low marks to the V.I. Education Department's Special Education program for help in transitioning students from high school to college or work. Their first request was for more training so their children can become employable.
"They said they're not getting the tools to survive in this world," Mills said. "It's more than passing importance and needs attention. Parents fear their children won't be employable."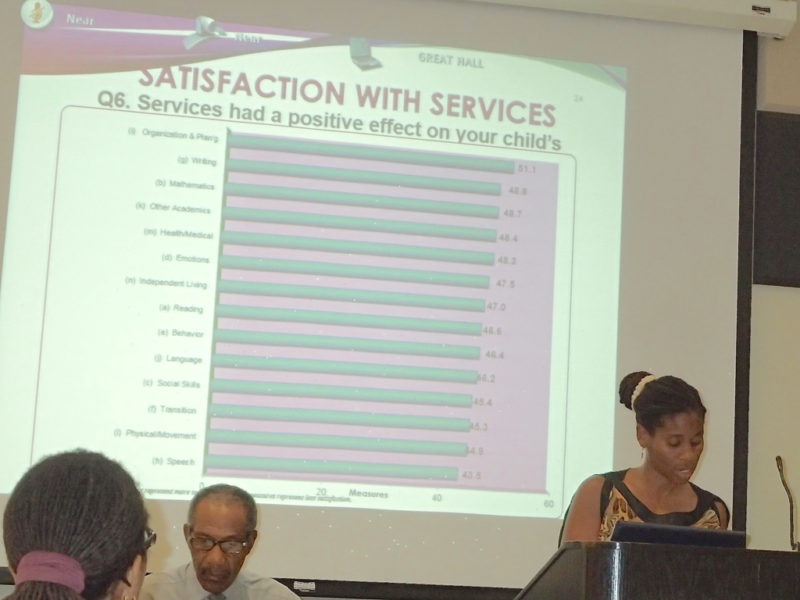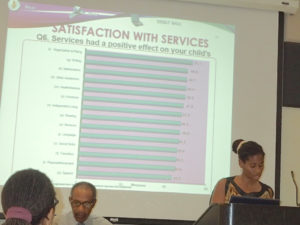 Parents also complained that there are not enough afterschool activities and also said there are not enough public meetings. Mills noted there were no parents attending Wednesday's public meeting, except one mother, whose son no longer lives on St. Croix. At the same time, 62 percent of the parents said they don't attend PTA meetings.
There was some discussion about chronically low attendance at PTA meetings, and DOE Assistant Commissioner Charmaine Hobson said when she was a principal at St. Croix Central High School she enticed parents with the promise of snacks and door prizes and featured individual students at meetings.
The consensus was that many parents are working and have more pressing things to do than to attend a meeting at school.
Over the years, some requests and suggestions by parents have been repeated, according to Ayishih Bellew, of the ECC. Repeatedly, parents have requested more help for planning their child's transition from high school and more staff in classrooms. They also regularly request an updated website for information about services.
Parents said special education services mostly impact their children's speech, physical movement, social skills, language and behavior but they were less satisfied with math, writing and other academic outcomes. They also said they learned about their child's right to services and their own rights and responsibilities through SOSE.
During the school year, most parents said teachers were knowledgeable and responsive to their child's needs and that they understood information supplied by SOSE.
Another question asked if other students treat their children kindly and parents responded favorably about half of the time.
After the report, Hobson said her take-away from the survey is that relationships between teachers and parents need to improve, as does collaboration between the V.I. Labor Department and Vocational Rehabilitation Services to help with transitioning students.
Kathleen Merchant, SOSE State Part B data manager, agreed and said it is most important that other agencies work with the school system to prepare students for college or a career. According to Merchant, every year, there are between 40 to 50 young people preparing for their future.