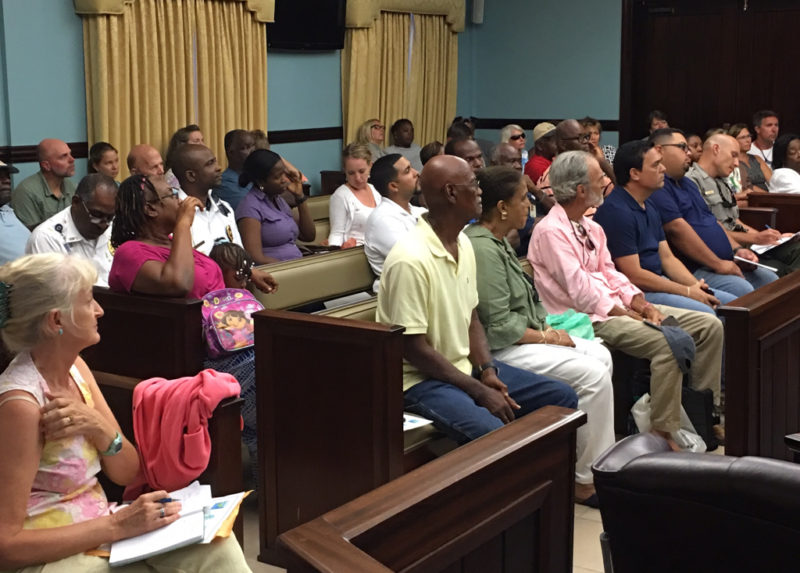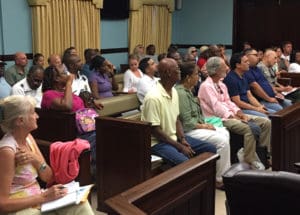 A series of miscommunications led a St. John community organization to call a town meeting Thursday evening to air concerns about restructuring the chain of command within the Virgin Islands National Park.
In an unusual sequence of events, Thursday's meeting was cancelled less than two hours before it was set to begin, and then shortly after the news releases were sent out announcing the cancellation, the meeting was reinstated.
In spite of the confusion, by 6 p.m. Thursday, the Legislative Annex in Cruz Bay was filled with St. John residents seeking clarification about news reports – many of them false – that had circulated for the past week.
The newly-appointed Caribbean Parks Superintendent Randy Levasseur stood before the crowd to explain his new position and dispel rumors that the president of the United States was calling for the Virgin Islands National Park to change its name to the Caribbean National Park.
Levasseur explained that his new position was created to streamline the flow of information within the Park Service administration as well as to cut costs. In the past, the three superintendents of the parks located on St. John, St. Croix, and San Juan reported to two different officials in the regional office in Atlanta.
Under the new structure, referred to as "re-alignment," the superintendents in the Virgin Islands—Jayne Schaeffer on St. John and Joel Tutein on St. Croix – will report to Levasseur, who holds a higher grade in the federal government's career system, and he will report to the regional director in Atlanta.
"The Caribbean has always struggled with costs, and we know we're going to face 8 percent savings down the road," said Levasseur. "So the National Park Service sent a team down to interview the staff and community stakeholders; their report said, 'If you want these parks to survive, there has to be re-alignment.'"
"As for President Trump changing the name of the park, that isn't going to happen. It takes an Act of Congress to change a name of a park," Levasseur said. "I'd be surprised if [Trump] knew that any re-alignment in the National Park was going on."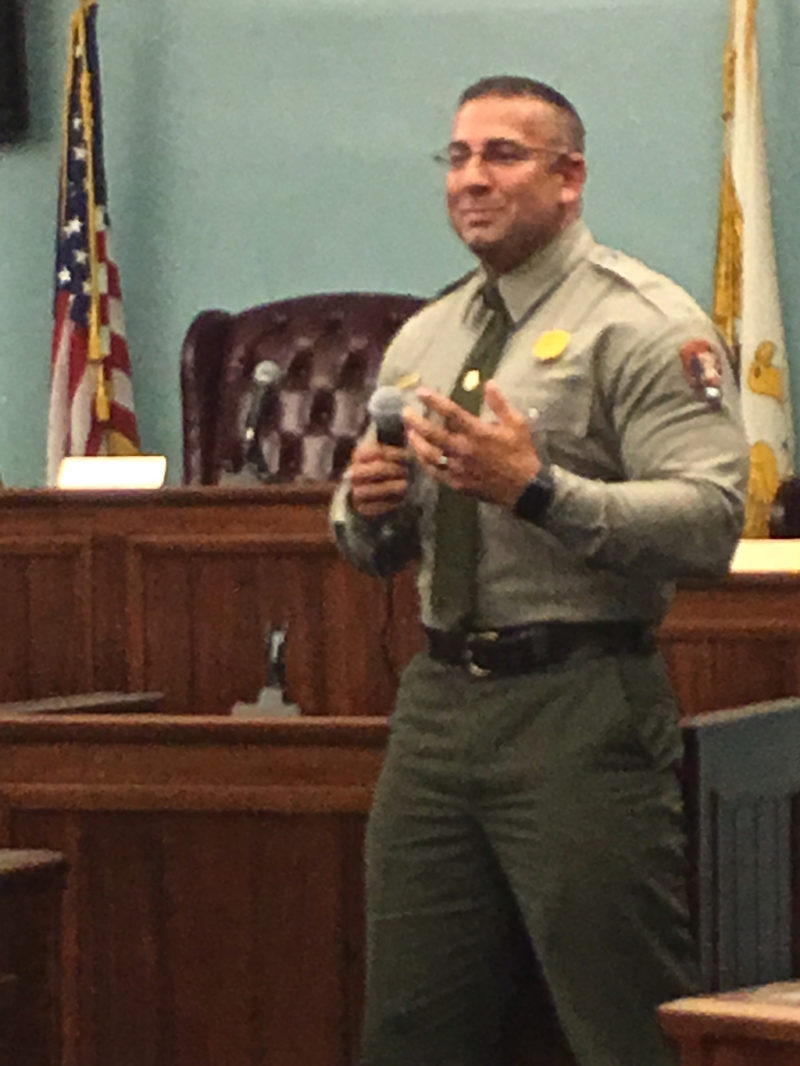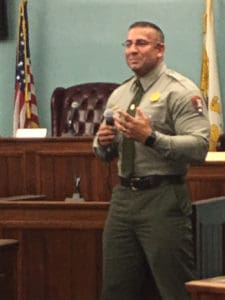 Levasseur had the awkward task of apologizing for the last-minute cancellation and then reinstatement of the meeting. He explained that late Thursday afternoon, Delegate-to-Congress Stacey Plaskett requested that the meeting be rescheduled for August 3 when both she and Stan Austen, the Southeast Regional director of the National Park Service, could attend.
Many of the residents who showed up for the meeting had not heard of the cancellation.
The public meeting had been arranged by the Unity Day Group, a grass-roots organization that has focused on property tax reform and other community issues.
When Lorelei Monsanto, a member of the Unity Day Group, heard that the meeting had been cancelled by the delegate's office, she contacted the Park Service's regional office in Atlanta and requested that the meeting proceed as scheduled.
"There are many more people who would have been here tonight," she said.
Levasseur, who reportedly was informed of his new position on July 11, promised to take the community's issues to Plaskett and Austen.
"It's my responsibility to stand up here and listen to any questions you ask," he said.
Community members took the opportunity to raise concerns regarding issues that had been simmering for years, if not for decades.
"Years ago, there was an effort to make Cruz Bay a 'gateway community.'" said Rob Crane. "There's a huge impact from the park on Cruz Bay. What happened to that study?"
Levasseur said he'd research that question and have a response ready for the August 3 meeting.
"We have ongoing land disputes," said Hadiya Sewer. "A lot of land was acquired by coercion."
"That's another matter I'll leave to the congresswoman and the regional director," said Levasseur. "It's on everyone's radar."
Wilma Marsh Monsanto asked Levasseur to address property disputes that were partly caused by problems in the territory's cadastral office. (That is, the office concerned with the the extent, value, and ownership of land, especially for taxation.)
"Can you get a schematic of which lands are presently and rightfully part of the park? I'd be happy to help you," she offered. "I've been working on this for 22 years."
Pam Gaffin also offered to assist Levasseur. She said she had done research that proves that the park has the responsibility to maintain all roads on St. John that border the park.
"We have a lot of potholes we want you to fill," she said.
Lorne Battiste also raised a long-standing question regarding access through what is now park land. He said when he was young, Coral Bay residents used a trail from Reef Bay to travel to Cruz Bay. He asked that the trail be upgraded into a full-scale road to create an alternative route if Centerline Road becomes blocked.
Levasseur said he had been briefed on the issue and would follow up on it Aug. 3.
Kenneth Lewis, a taxi driver, asked Levasseur to find a solution to overcrowding by vehicles at popular park viewpoints during the peak tourist season.
Other residents brought up problems with heavy-handed park law enforcement officers. Ivo Philbert recommended instituting cultural sensitivity training for park rangers who come from the States.
Several residents brought up the issue of hiring Virgin Islanders to fill positions within the park, from entry-level positions to leadership positions.
Levasseur agreed with them.
"It is our responsibility to hire locally. It's the only way to be successful here. I won't be just looking into it. I'll be living it," he said.
Several community members brought up environmental issues. Lorelei Monsanto suggested the park establish a recycling program. Harith Wickrema of Island Green Living Association said the park should erect signs warning visitors not to use sunscreen with ingredients that are toxic to coral reefs.
Levasseur responded to questions regarding the Park Service's decision to make Puerto Rico the base of his operations. He said he planned to come to St. John whenever he was needed and explained that it was his choice to live in San Juan. He has two children, one of whom is battling cancer. Puerto Rico has a hospital which is affiliated with the hospital in San Francisco where his child had received care prior to the family's move to the Caribbean.
With his child needing to have blood drawn every two weeks, moving to St. John would be impossible, Levasseur said, and added, "Would I love to live here? You bet!"
Jayne Schaeffer, who has been serving as acting superintendent of the Virgin Islands National Park since last December, told the Source she is now in charge of the park on St. John, under the supervision of Levasseur. Schaeffer said a new organizational chart was expected to be completed in early September.