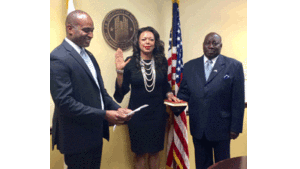 U.S. Housing and Urban Development Secretary Ben Carson named Denise Cleveland-Leggett on Friday to serve as HUD's Region IV regional administrator. As the regional administrator, she will work from HUD's Atlanta Regional Office and lead HUD's Southeast operation in the states of Alabama, Florida, Georgia, Kentucky, Mississippi, North Carolina, South Carolina, Tennessee and the Commonwealth of Puerto Rico and the U.S. Virgin Islands.
Through the V.I. Housing Authority, HUD funds most V.I. public housing, including around 3,287 housing units serving and more than 1,500 families receiving affordable housing vouchers. VIHA receives around $40 million per year through HUD, according to budget documents.
"I've known Denise Leggett for many years and have been very impressed with her ability to get things done," Carson said in a statement from HUD. "She has a keen interest in housing and a brilliant mind."
"I am looking forward to working with Secretary Carson and our stakeholders and partners to innovatively accomplish HUD's mission to create strong, sustainable, and inclusive communities and quality affordable homes for all," Cleveland-Leggett said. "This is a tremendous honor and opportunity to strengthen the communities and families we serve, and ensure they have a path toward achieving their American Dream," she added.
Before to her appointment as Region IV Regional Administrator, Cleveland-Leggett spent more than 30 years doing legal work in the public and private sectors, and was actively involved as a business and community leader in Atlanta. A corporate lawyer, she represented healthcare clients in transactional and regulatory matters, including hospital acquisitions, hospital and physician contract negotiations, and clinical integrations. She also assisted in resolving and defending matters regarding antitrust and employment law, including cases of discrimination.
Cleveland-Leggett served on the Georgia Commission for Women, Georgia State Ethics Commission, State Personnel Oversight Commission, and Council for the Hearing Impaired Legal Clinic, Co-Counsel. She has additionally served on several non-profit boards, and was appointed board chair of Literacy Action, Inc., which seeks to remedy Adult Literacy.
Cleveland-Leggett is a member of the American Bar Association, American Health Lawyers Association, American Health Lawyers Association, Georgia State Bar Association and National Employment Lawyers Association. Additionally, she was honored with the 2009 State Bar of Georgia's Justice Robert Benham Award for Community Service and is recognized in Who's Who in Black Atlanta.
A graduate of Boston University School of Law, Boston, Massachusetts (J.D., 1984) and Oakwood College, Huntsville, Alabama (B.A., 1981).