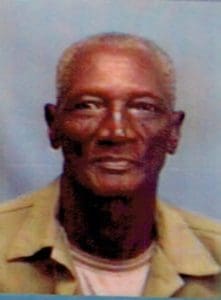 John Ryner died on July 10.
He is survived by his daughters: Claudette Ryner, Maplin Ryner and Jo-Anne Ryner-Farrell; sons: James Tuitt, Mervin Ryner (also known as "Boss"), Elijah Hanley and Messiah Hanley; grandchildren: Nuema Ryner, Trevor Henry Jr., Kareem Ryner, Miguel Belardo, Ro-Donna, Kai, Pearl Farrell, Jessica, Jordan Hope, Jamal, Chelsea Taylor, Cory Saunders, Stephanie, Madeline, Brian and Sharon; stepchildren: Victoria, Noel Liburd (St. Croix), Kenneth (Fla.), Moses Liburd (N.Y.), Cecelia Liburd-Ward (Fla.); special friends: thanks to the Frederick family, Royer family, Cook family, Petra ("Pet") and Continuum Care; as well as many other relatives and friends too numerous to mention.
There will be a viewing from 3-5 p.m., Wednesday, July 26, at Divine Funeral Services Chapel. There will be a second viewing at 10 a.m. followed by a funeral service at 11 a.m., Thursday, July 27, at Bethel Methodist Church, Frederiksted. Interment will be at Kingshill Cemetery.