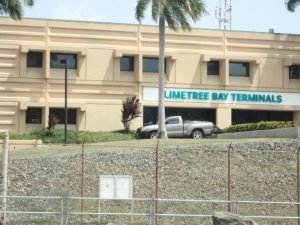 Ten gallons of #6 fuel oil that spilled into the sea at Limetree Bay Terminal last Saturday morning was remediated by floating barriers and absorbents, according to Jamal Nielsen, spokesman for the V.I. Department of Planning and Natural Resources.
DPNR was notified of the incident by the U.S. National Response Center and the U.S. Coast Guard who "handled it," he said.  According to Nielsen, the spill occurred around 8:30 a.m. when a line was disconnected at the dock, allowing oil to flow into the bay on St. Croix's south shore. Limetree personnel dispatched booms and applied absorbents to remove the liquid.
Nielsen said the V.I. Territorial Emergency Management Agency (VITEMA) was notified and DPRN sent a team to observe the area Tuesday to ensure the clean up was completed.
Lt. Trevor Siperek of the NRC operations office said, in case of a spill or environmental event, it would be up to the V.I. Government to notify the media and public. NRC, operating within the U.S. Department of Agriculture, reports spills and other events only to federal and local government agencies and it is up to them to alert the public.
As of Tuesday, the Environmental Protection Agency had not been notified of the leakage, said EPA spokesman Elias Rodriguez. They may not have been advised because the amount was small or because the U.S. Coast Guard took care of it, he said.
"When checking with our sources, no oil spills were reported to the EPA," Rodriguez said.
A message left for Limetree Bay management was not returned.