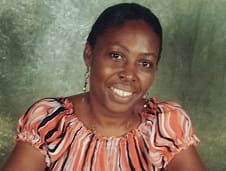 Camella Hazlewood, better known as "Pam," of St. Croix died on Friday, July 7, at Schneider Regional Medical Center. She was 59 years old.
She was preceded in death by her mother, Christiana Prince.
she is survived by her father, Alpha Stevens; adopted mother and father: Veronica and Littleton Clarke; former spouse, Tyrone Hazlewood Sr.; sons: Tyrone Hazlewood Jr., Alex Hazlewood and Anthony Hazlewood; daughters: Tricia Hazlewood-Fleming, Alicia Hazlewood and Tiffany Hazlewood; sons-in-law: Carl Fleming Sr., Leander McIntosh and Raheem Sealey; brothers: Antonio Stevens, David Stevens and Colin Stevens; sisters: Lisa Stevens, Claudia Stevens, Novaly Sampson, Rosalie Stevens; stepsisters: Tyanna Encarnacion and Thias Roberts; and grandchildren: Jo'Nesha Ledesma, Jaya Hazlewood, Najani Hazlewood, Najerah Hazlewood, Lenaysa McIntosh and Jahkai Hazlewood.
she is also survived by uncles: Clearance Francis and Urel Allwaters; aunts: Beatrice Francis and Druscila Burleigh; nephews: Mario Graham Jr., Davian Stevens, Kendrick Morris, T'moi Stevens, Jalyn Lindsey and Jarell Lindsey; nieces: Karima Lowry, Brendalyn Edwards, D'nia Stevens, Samara White, Tamia Stevens, Tasia Stevens and Tiana Stevens; great nephews: Jahkimo Graham and Re'Kai Graham; special nieces: Florence Marsh, Chantelle Marsh and Sophia Johnson; and cousins: Alvee, Keble, Adla, Keplen, Wells and Shawn Allwaters, Catherine, Nicholas, Scot and Clearance Burleigh Jr. Sandy, Sabina and Derrick Francis, Elaine Jacobs, Dawn Martin, Heartfill Reynolds, Arlene Turnbull, Joseph and Conroy Warren.
other survivors include special friends: Glenice "Beverly" Marsh and family, Jacklyn Kiture, Denis and family, Patricia Kiture and family, Sandra and Dorothy Horsford and family, Carina Brathwaite-Rey and family, Victoreen Hazlewood and family, Walter Hill-Fleming, Sharon Henry, Velma Woodley, Je'Vonne Torres, Aisah Clarke, Denise Fritz, Kaoma Yearwood, Thelma Christopher, Elsa Williams, Ruth Dunlop, Shakima Allick, Mo Reba Joseph, Rita Richards and family, Debbie Petersen and family, Laverne Richards and family, the Mathurin family, Jethell Hazlewood and family, and Chenise Brown; as well as many other family and friends too numerous to mention.
Relatives and friends are respectfully invited to attend a viewing from 5-7 p.m., Tuesday, July 25, at the Celestial Chapel of Hurley Funeral Home.
A second viewing will be held at 9 a.m. followed by a funeral service at 10 a.m., Friday, July 28, at St. John Episcopal Church. Interment, will take place at Kingshill Cemetery, St. Croix.
The family requests that everyone wear festive colors.
Arrangements are under the care of Hurley Funeral Home and Cremation Center of St. Thomas, St. John, St. Croix and Tortola.
For directions and online condolences, please visit www.hurleydavisfuneralhome.com