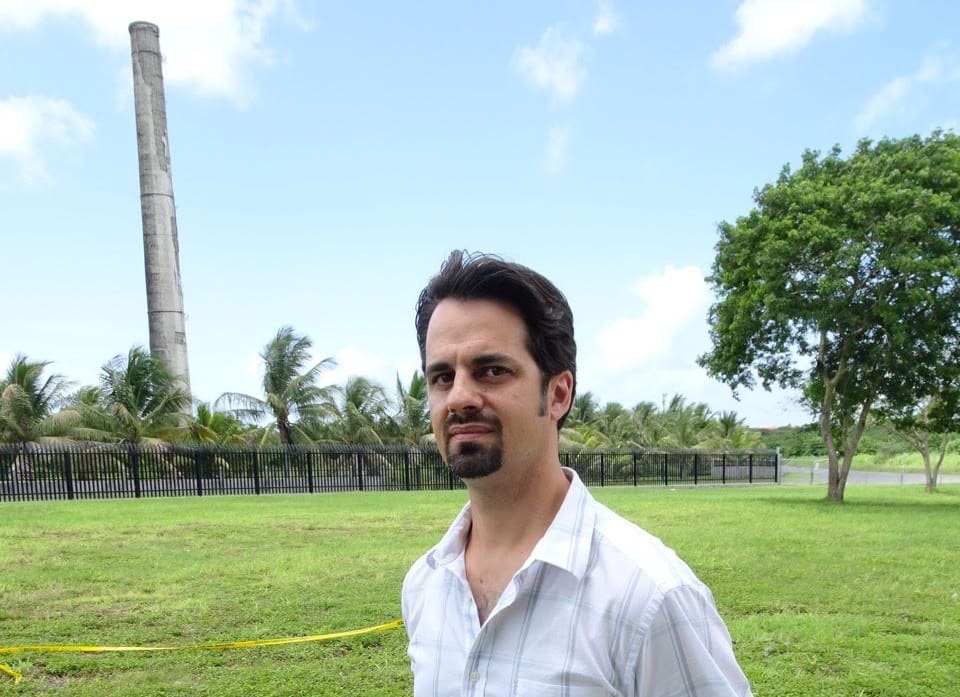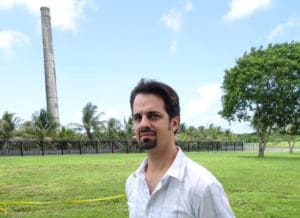 An archeological dig at Estate Bethlehem has shed new insights on how Crucians lived – and died – creating new chapters in the story of the 18th and 19th centuries on St. Croix, archeologist Steve Lenik told a gathering at the Danish West India & Guinea Company Warehouse in Christiansted
Lenik spoke July 13 to the Friends of St. Croix's National Parks. Introduced by the group's president, Julie San Martin, Lenik talked about the historical archaeology at Bethlehem, Old Works.
An historical archaeologist of the African Diaspora, Lenik, along with his colleague, Iris Ford, and 10 students from St. Mary's College of Maryland. has just completed a three-week Bethlehem study tour. The archaeological site at Estate Bethlehem on St. Croix, on the grounds of the National Guard armory, yielded a "lost" cemetery found under an ancient tamarind tree and a forgotten plantation village of enslaved laborers in the 18th and early 19th centuries, unearthing relics that reveal their story.
"As archaeologists, we access daily life that might not be recorded anywhere and we tie that information into larger questions, such as colonialism and the economics of the time," Lenik said. "We approach it as anthropologists."
Lenik teaches anthropology at St. Mary's, including a class called "Caribbean Cultures of the Atlantic World." While here, the students learned about Crucian history and culture, and they worked on the dig at Estate Betlehem, earning four credit hours for school.
Their excavations near a long row laborer house (19th century-1966) turned up mostly architectural materials, such as nails, screws, and concrete fragments with some bottle glass. They found a bead and a tobacco pipe bowl. With a shovel and in a careful systematic manner, the students uncovered things buried in pits on the site.
Previous excavations had unearthed artifacts circa 1750-1825 and included large amounts of low-fired earthenware and imported ceramic wares, as well as clay tobacco pipes, glass bottle fragments, beads, spoons, knives and personal items. They found shards of "Afro-Cruzan Ware" and pieces of pottery left by Moravian missionaries. All such items offer information about the lives of those who worked the sugar plantation.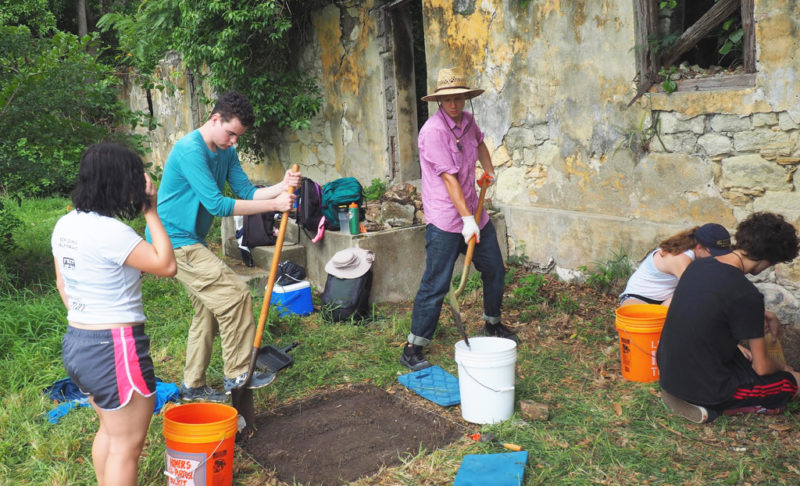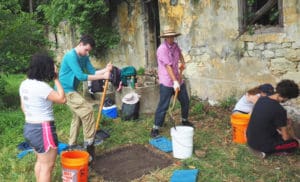 "Historical archaeology relies on materials left behind as well as on documents, written accounts, memories and any other available resources," said Lenik.
Lenik referenced a 1779 map by Frederik Christian Meley and 1921 geographical field map. He acknowledged George Tyson for his historical research of Bethlehem Old Works on file with the St. Croix Landmarks Society, and he expressed gratitude to local author Karen Thurland for her work documenting St. Croix's sugar industry.
"Bethlehem captures history – the arrival of the Danes, the establishment of plantations, the closing of the central factory, and times since," said Lenik.
From 1734 to 1751, the King of Denmark owned the estate, a Royal Plantation in King's Quarter. Sold in 1751, the estate operated as a family plantation until 1831, then as a corporate plantation through 1903. The Danish Central Factory ran the business until 1934, producing granulated sugar and rum in a centralized production system. Finally, the American Central Factory operated production until 1966, when it shut down. The factory closing coincided with the opening of the Hess Oil refinery.
Fast forward to the 1990s: The Virgin Islands National Guard began considering a new headquarters on the Bethlehem property it leased from the Virgin Islands government. Under section 106 of the National Historical Preservation Act , the property had to undergo archeological testing before construction could start. During testing, in 1997, National Park Service archeologists discovered two possible burial sites. In subsequent 2002 testing, a backhoe came across more human burials. Archeologists discovered plots on the south and the north sides of the old tamarind tree.
"All in rows, some so small that they must have been for children or infants," said Lenik who visited the site regularly between 2002 and 2003. "We discovered we had a cemetery. The National Guard could not build its headquarters there."
Lenik suspects that the cemetery continued to be used well after enslaved labor was abolished.
According to Dr. Tyson's Bethlehem documents, 201 first names of deceased persons have been recorded: Toby, Margarita, Mary, Sylvester, Violet … Archeologists have located 33 burials to date.
The Bethlehem site represents more than two centuries of enslaved and free labor. In the first era, the enslaved lived in wattle and daub dwellings, as was typical throughout the Caribbean at the time. Next they lived in long row houses, structures that crossed over into the free labor era. In the 20th century, cinder block buildings, referred to as camps, housed the factory's labor force. Ruins from the long row houses and the cinder block homes still stand.
"There's a wealth of information that has never been put down on paper," said Lenik. "We are at the tail end of people's memories of living and working at Bethlehem."
Thus, the ethnographic interviews. Lenik, Ford and the students conducted interviews with local people with ties to the site. Some could identify where family members had lived, others knew of three shops on the property. Sugar cane grew for as far as the eye could see back then.
"This site reveals such an important part of St. Croix's history and development. We must preserve it," Lenik said. When the archaeologists discovered fragments of bones, they carefully reburied them. "The idea is not to disturb," he said.
His team will have the artifacts analyzed in Maryland and will then return them for storage and display at Fort Frederik.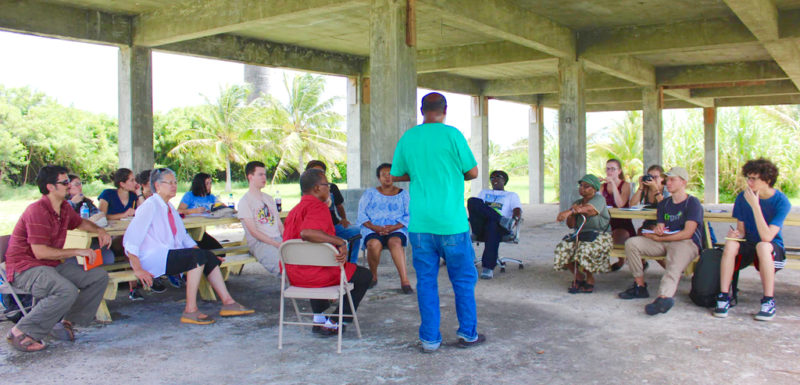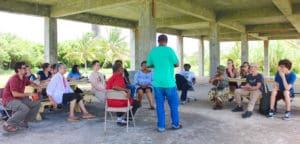 Caribbean history and customs have long attracted Lenik. He first worked in Caribbean archaeology on St. John in 1999 and returned several times as a student taking part in Syracuse University archaeology field schools. He worked on St. John as an archaeology intern for the National Park Service, between 2000 and 2002, before coming to St. Croix for the Bethlehem project later in '02.
Lenik earned his master's degree in anthropology from the University of South Carolina in 2004 with a thesis titled "Archaeological Investigations of Afro-Cruzan Identity at Estate Bethlehem, St. Croix, U.S. Virgin Islands." He received his doctorate from Syracuse University in 2010 with a study of a French Jesuit mission in the Commonwealth of Dominica. Before assuming his role as educator of anthropology at St. Mary's College of Maryland in 2013, he held the post of lecturer in the department of history and archaeology at the University of the West Indies at Mona, Jamaica.
This summer, Lenik and Ford realized a longstanding dream of working together on St. Croix, where Ford has family. Along with the archaeological work, their students got a good taste of Crucian Culture, taking part in Jump Up, Emancipation Day and Mango Melee, while also seeing the historic sites and tasting local foods.
"They were happy to participate in a project that invests in the community and its culture and tangible issues," Lenik said.
Thomas Baker, a student on the study tour, worked previously on a dig at Lower Brambly in southern Maryland.
"The procedure is the same, but the soil is sandier here and has more distinct layers," Baker said, adding that the color of the layers yields the information.
His friend, Tara Vizzi, a history major, chimed in, "The color in the soil makes the distinction between the layers. We categorize everything by layers and what we find in each layer." A history major at St. Mary's, Vizzi came because "there's a lot of anthropology in history."
Both Baker and Vizzi returned home enthusiastic about their work on St. Croix. The island, in turn, appreciates the project.
"The local reaction has been positive. There are so many people here with a connection to Bethlehem. They may have worked or lived there or had a friend or relative who did. Or at least they had visited the factory when it was still operating," said Lenik.
"Some refer to Bethlehem as St. Croix's third town, after Christiansted and Frederiksted," he said.
Lenik emphasized that collaboration with the Virgin Islands State Historic Preservation Office, the Virgin Islands National Guard, and the St. Croix Farmer's in Action is essential to the completion of the project.
The Friends of St. Croix's National Parks hosts a lecture on the second Thursday of each month and encourages volunteer participation in Park projects. More information is online at stxparkfriends.org.