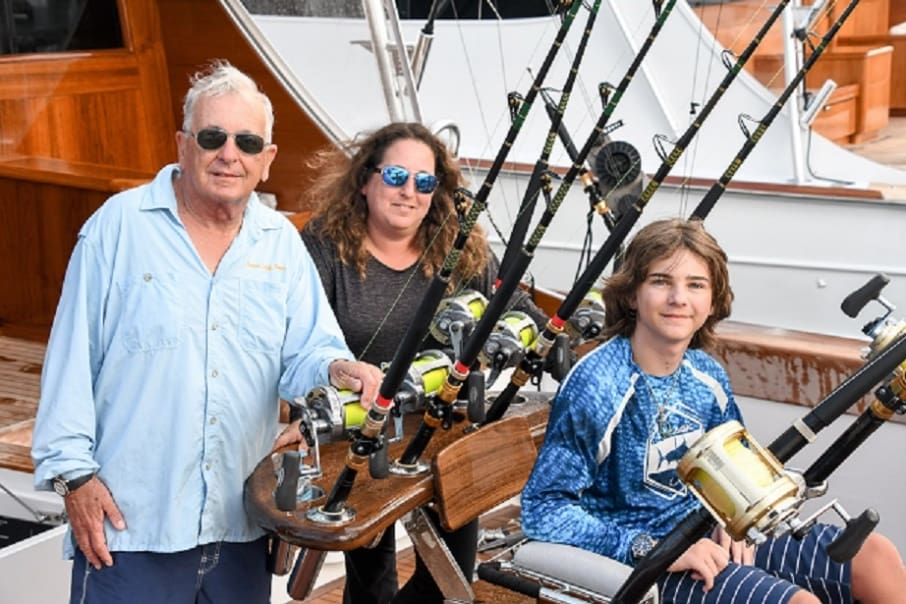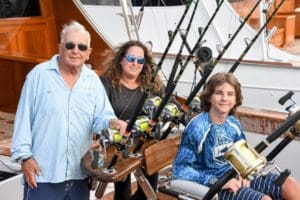 Fishing was slow aboard the Sodium, but not for some of the rest of the fleet on the second day (July 7) of fishing in the 54th July Open Billfish Tournament (JOBT), hosted by the Virgin Islands Game Fishing Club (VIGFC). Sodium owner and angler Chad Damron caught and released only one blue marlin today. This was enough to keep his 75-foot Weaver in the lead for top boat with a total of four blue marlin and himself at the top of the leaderboard for top angler.
"It was definitely slower for us today," said Damron, who is from Crystal River, Fla.
Damron is 11 fish away from earning this year's new prize: $25,000 cash for catching and releasing 15 blue marlin during the three-day tournament.
Meanwhile, anglers aboard local charter boat Mixed Bag, a 40-foot Luhrs with Capt. Rob Richards at the helm, released three blue marlin. This made the Westin, St. John-based boat the day's winner for releases and third overall on the scoreboard based on time.
"We lost a dredge yesterday and decided to get a new teaser this morning. I'd say that was a lucky teaser," said Richards, who fished with four anglers including 10-year-old son Robbie.
It was angler Clay Gaffney that released Mixed Bag's first blue of the day at mid-morning. This was followed by James McNeil's mid-afternoon release and shortly thereafter Chris Rappchick's marlin, to round out the teams Day 2 trio.
Fifteen-year-old Zachary "Zac" Murck, of Davie, Fla., released two blue marlin today aboard Never Say Never and landed both the 72-foot Merritt and himself second in both boat and angler standings.
"We saw four blue marlin, and I caught two today," said Murck, who is fishing with his mother, Melissa Murck, and grandfather, Jim Carr, and last year won the JOBT's prestigious top angler "Give Him Line" award. Both were estimated at around 250 to 300 pounds.
Puerto Rico's Dona Lucy upped their position on the score board to fourth in the boat standings with the release of a white marlin. This adds points-wise to the blue marlin the team released on the first day of fishing.
"We saw six blue marlin and were only able to catch the white," said Juan Garcia, captain of the 41-foot Ronan.
Over half dozen boats homeported in the Virgin Islands, Puerto Rico and U.S. mainland are competing in this longest annually held angling contest in the Virgin Islands.
The JOBT will conclude on Saturday; lines will go in the water at 8:30 a.m. and out at 4 p.m.
The public is invited to greet the fleet as the boats come back to the dock around sunset. The number of flags flying on the outriggers indicates how many billfish the boat's anglers caught and released for the day. The JOBT is a conservation-conscious all-release tournament. No fish will be boated or brought to the dock for weigh-in. Video documentation verifies releases.
Profits from the VIGFC tournaments, which received 501 C (3) status this year, will benefit the Ivanna Eudora Kean High School Marine Vocation Program and local veterans. Tournament sponsorship and donations are tax deductible.
Sponsors include IGY's American Yacht Harbor; Fish Tails Bar & Grill; Southern Glazer's Wines & Spirits, distributor of Mount Gay Rum; and Yeti. and Yeti.
For more information or to register, visit www.vigfc.com or call (340) 775-9144.