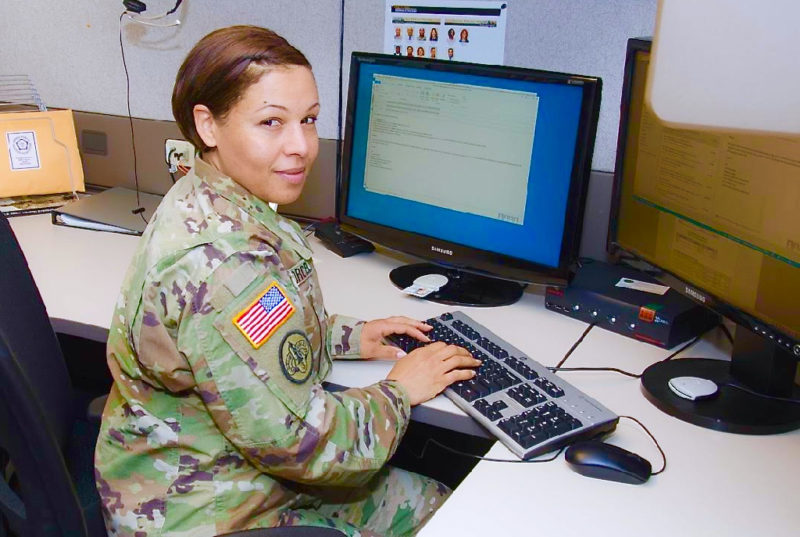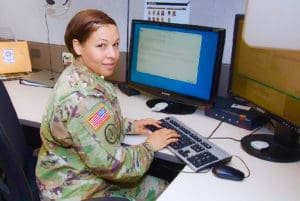 Maritza Morcelo had an angle when she joined the U.S. Army in 1998; she makes no bones about it. She sought upward mobility, and she wanted an opportunity for higher education.
A graduate of St. Croix Educational Complex High School, class of '97, Morcelo wanted to broaden her scope.
"I looked toward the military, and the Army called my attention," Morcelo said in a telephone interview with the Source.
But long before that, her stepfather Wilfredo Belardo inspired her. He had served in Vietnam. "I watched the way he conducted himself, and I wanted that same stability," Morcello said. "He had interesting stories, and he talked of the camaraderie among the men he served with." This appealed to Morcelo.
People now know her as "captain," the rank attained in 2011 after earning a bachelor's degree in human resources management from Park University and completing Officer Candidate School. Just as she assumed her new role, Morcelo earned her master's degree in environmental management from Webster University.
She grooms and leads enlisted soldiers. She arranges the unit's schedule, requests additional forces, or decreases the forces depending on the mission and focus at the time. She trains others in the protection and decontamination of the environment.
"My Basic Branch (or occupation) is Chemical. This is the branch of the United States Army tasked with defending against the threat of chemical, biological, radiological, and nuclear (CBRN) weapons and Weapons of Mass Destruction," Morcelo said. She concentrates on prevention.
"If we are attacked, we focus on how to protect the environment, our forces, and the civilian population affected," she said.
Morcelo has served as a senior instructor responsible for training more than 6,000 chemical and weapons of mass destruction specialists.
Now 38, she has lived around the globe, including postings in different parts of the United States: Germany, Korea, Kosovo, Afghanistan, Missouri, Georgia, and Maryland. In Washington D.C. for the past 24 months, Morcelo will head to Texas shortly for her next unit of assignment and then deploy to Kuwait in the fall.
"The Army gives you the opportunity to see the world," she said.
Born in the Dominican Republic, Maritza Morcelo moved to St. Croix with her family in June 1988, when she was nine years old. The family made its home over the restaurant they opened, called Don Quixote, in Gallows Bay. Little Maritza attended Pearl B. Larsen Elementary and helped out in the business.
Then Hurricane Hugo hit late on Sept. 17, 1989. The infamous storm that took lives and destroyed houses and businesses across the island spared Don Quixote. Most restaurants had closed and few folks had power, but Maritza's mother kept the food coming. Community spirit prevailed. The family eventually relocated to the island's west end, where Morcello enrolled in St. Croix Central High School. She transferred to St. Croix Educational Complex for her senior year.
With a 20th high school reunion around the corner (perhaps in December,) Morcelo and others from her class plan to organize a gathering on the island, similar to a "career day," in which alums outline their accomplishments. They hope to shed light on possibilities available to graduates. Marcelo could not be happier with her own choices and wants to introduce young St. Croix women to the advantages of a military career.
"I've loved the opportunities the Army has given me, especially the training and the education," she said. She appreciates job security; she does not fear downsizing as people in other fields might. She's learned about life and, like her stepfather, camaraderie.
Back when she boarded that first plane for basic training in Alabama, Morcelo had to swallow a few apprehensions. The Virgin Islands was the world she knew.
"I left with my heart in my hands," she said. "But I soon discovered I would never be alone."
At boot camp, men and women trained together. They found that the Army encouraged diversity and gender equality.
"The military instills values that you live by as a soldier. You learn to treat each other—and all people—with dignity and respect," said Morcelo.
Marcelo has experienced fear of the unknown, yet she maintains a notion of safety in the back of her head.
"You know you are surrounded by the best trained military, that people have your back, that you're not going it alone. This gives you confidence," she said. "We cannot meet our mission to protect the nation's freedom without expertly trained and well educated forces. The Army takes pride in sending people for training in self-development and leadership."
Having undergone profound experiences alongside her fellow soldiers, she has formed friendships she believes will last forever. Bonds such as these endure. Marcelo has found a second family.
Nevertheless, the captain feels it's high time for another visit home.