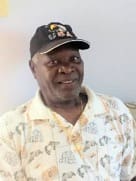 Ickford Barton, also known as "Pepe," of Estate La Grange died on Friday, June 23. He was 80 years old.
He was preceded in death by his parents: Audrey Barton and Ernest Barton; daughter, Rosalie Barton; sister, Geraldine Burke (Curley); brother, Ivan Barton; and niece, Cynthia Walker.
He is survived by his wife, Ruth V. Barton; children: Janet Barton-St. Rose, Ricky Barton, Cinthia Barton, Hyacinth Barton, Dion Barton, Ickford Barton Jr., Bruce Barton, Yancy Barton and Lionel Barton; and grandchildren: Elwin St. Rose, Erwin St. Rose, Rickysha Barton, Ricky Barton Jr., Stephon Barton, Karima Javois-Mitchell, Nicholas Holcberg, Maurice Holcberg, Lasheé Barton, Lashima Barton, Lasheem Barton, Diondre Barton, Jayden Barton, Jordan Barton, Jayshawn Barton, Isayah Barton, Ariana Mahalin, Ruthie Barton, Bruce Barton Jr., Jeremiah Barton, Veronica Barton, Daphne Barton, Layla Barton, Lionel Barton Jr. Lenique Barton and Raul Rivera.
He is also survived by great-grandchildren: Nihya Mcknight, Namair Alfred, Dallas Mitchell, William Mitchell and Tae'Lynn Swingler; siblings: Daphney Henry, Yvonne Barton, Cathleen Barton, Gloria Barton, Sylvia Barton, Steve Barton and Sylvester Barton; godchild, Orlando Roché; extended family, Omarie Chambers; nieces and nephews too numerous to mention; great nieces and great nephews too numerous to mention; special friends: Doreen Chesterfield, Walter Ambrose and Family, Mr. and Mrs. Charles Peters, Laverne Joseph, Glenda Gordon, Lillianna Belardo-De O'Neal, Desmond Frederick, Lenis Edney, Elizabeth Lynch and Tony Odaine; as well as other relatives and friends too numerous to mention.
The viewing will begin at 9 a.m. followed by a funeral service at 10 a.m. on Thursday, July 6, at St. John's Anglican Church. Interment will be at Kingshill Cemetery.