First in a series looking at WAPA's plans, and the technical and financial obstacles it faces.
Over the next five years, the V.I. Water and Power Authority is planning a major overhaul of its power generating units to better serve the territory and avoid increasingly common blackouts.
With frequent power outages plaguing the territory, particularly on St. Thomas, it's good news for those who rely on WAPA for electricity.
Though WAPA is facing a number of financial issues and remains in debt, its Executive Director and CEO Julio A. Rhymer, Sr., remains confident that the authority can resolve these issues and reliably provide power to customers.
To reduce service interruptions, WAPA plans to purchase a number of what is calls 'more appropriately sized' generators that will be easier to maintain and service. In additional to oil, the new generators will be also capable of running on propane, which is more affordable and less damaging to the environment.
Rhymer said WAPA has an agreement with Finnish power giant Wartsila to build three new generators that will be capable of producing 7 megawatts each. He said the units are expected on St. Thomas in early 2018 and should be running by mid-year. As many as 12 new generators could be purchased from the company.
Many of the new generators will use existing infrastructure at the power plants, including oil and propane pipelines, a move that will bring them online much faster than if new ones were built. Old dormant units will be dismantled and removed.
To learn more about WAPA's current power generation issues and how it plans to resolve them going forward, the Source spoke with Rhymer.
1. Can you explain what a generating unit is?
A generating unit, or generator or unit, is an engine powered by fuel oil or propane, which generates electricity for distribution to customers of the Water and Power Authority.
2. Why does WAPA need to introduce right-sized and more reliable generating units? Does this have to do with energy demand and population changes?
WAPA's current fleet of generators has been in service in some instances from the early 1980s and the newest unit was brought on line in 2004. At the time, when there was a greater demand for electrical power in the islands, units with larger power generation capacities were procured and added to the electrical grid. They included at least two 20-megawatt generators and a 39-megawatt generator. An older 12 to 14 megawatt unit was also available. Over time, the power demand of the island has changed, making these units inefficient – they are producing more electricity than is required to power the grid, so there is wasted energy. A study recently conducted by WAPA, known formally as an Integrated Resource Plan (IRP,) has charted the best course of generation for WAPA looking forward 20 years. This also includes renewable energy sources. That is the plan WAPA is implementing by procuring new smaller or right-sized generators based on electrical demand.
3. How many megawatts of power are needed between all three islands on a regular basis?
Peak power demand on St. Thomas-St. John (which also includes Water Island and Hassel Island) is somewhere around 58 to 60 megawatts and on St. Croix the peak demand is 36 megawatts.
4. What are the main drivers of the change in energy demand?
Energy demand has decreased over time. Our peak on St. Thomas-St. John is now about 58 megawatts, down from a peak in the low to mid 60's just a few years ago.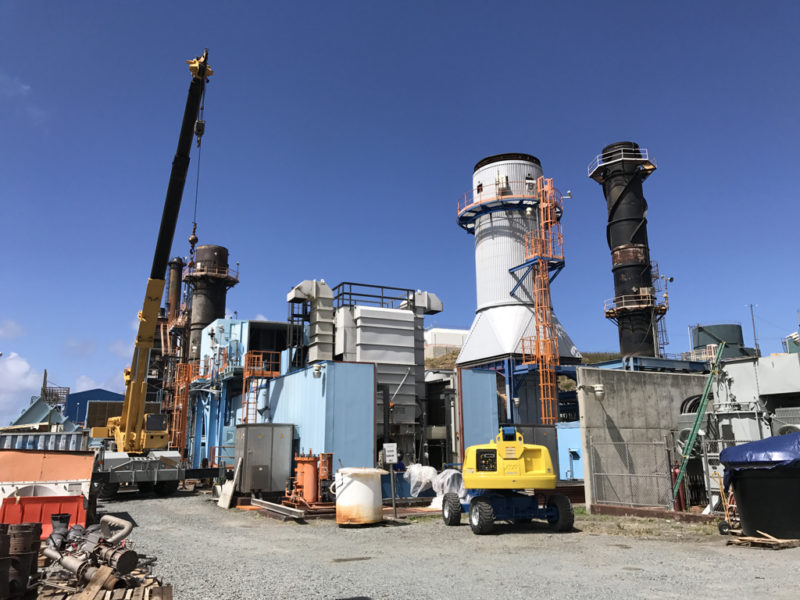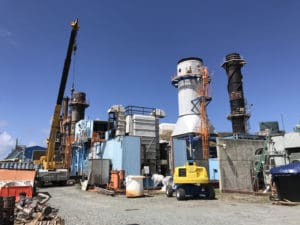 5. You mentioned that more stability is needed on St. Thomas than on St. Croix. Why is that the case? Does the power go out more regularly on St. Thomas?
St. Thomas' power plant has become less stable because of the company's financial challenges. The financial difficulties have caused WAPA to defer maintenance on its largest generator, Unit 23, and as a result, the unit has become more and more unreliable and inefficient. At one point the generator was only producing about 25 megawatts of power. The maintenance overhaul of the unit was delayed some two to three years. The unit was recently taken off line for maintenance overhaul. It should be back in service in the last quarter of 2017. St. Thomas power plant powers St. John through a submarine cable.
6. How long does a generating unit typically last and what leads to a shorter lifespan?
There is no set lifespan on a unit. With regular maintenance and upkeep, a unit can last for many years.
7. Unit 23 on St. Thomas is one of the main issues. Why does this unit need so much maintenance and which areas on St. Thomas does the unit cover?
The unit covers just about half of the capacity of the St. Thomas-St. John district. Unit 23 needs regular maintenance, as do all other units. The financial difficulties led WAPA to defer maintenance on its largest generator, Unit 23, which has caused this unit to become more and more unreliable and inefficient. At one point the generator was only producing about 25 megawatts of power. The maintenance overhaul of the unit was delayed some two to three years. With Unit 26 available, we have committed Unit 23 to maintenance overhaul and it will be converted to burn LPG before being returned to service later this year. Once it returns to service, Unit 23 will not only be the largest, but the most efficient generator at the plant capable of producing 39-40 megawatts of electricity.
8. When will this maintenance be completed and why have there been so many challenges addressing it?
Deferred maintenance was a direct result of financial challenges. The unit is undergoing a three-month maintenance overhaul and a subsequent three-month long fuel conversion. When it returns to service it will be one of the most efficient generators at the power plant with the capability of burning three fuel types to generate electricity: fuel oil, propane and natural gas.
9. When Unit 23 goes out, are other units affected? Can you explain how the grid works, meaning if one unit goes out why can't the corresponding service area immediately get power from a backup unit?
The generating units work in series to meet the demand for power in the islands. If the peak demand is 60 megawatts at a moment in time, three units are dispatched: 15 and 18 for a combined 40 megawatts and 23 for the remaining 20 megawatts. If any of those three units trip for any reason, there is an immediate shortfall. The remaining units are already at capacity output and cannot make up the difference. To fully restore power, either the failed unit has to be diagnosed and restarted or another unit has to be started, brought to speed and then added to the grid to provide the electrical capacity needed to restore service to all customers.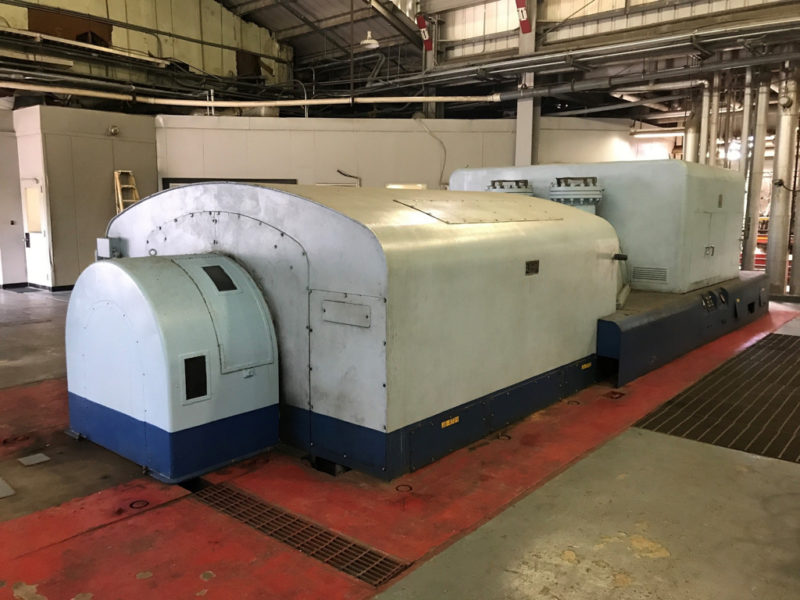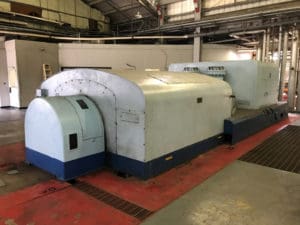 10. Why is power generation so much more stable on St. Croix? 
The demand for power is less and there is more generation capacity on St. Croix than is needed. A standby unit can more easily be brought on line to compensate for any generation loss resulting from a tripped unit.
Units 16, 17, 20 are three combustion generators that are usually dispatched to power St. Croix alongside steam turbines Units 10 or 11, which generate electricity from the recovery of waste heat from other operating units. The three combustion units are each rated to produce 20 megawatts of electricity while the steam turbines produce five megawatts each.
11. You mentioned both power plant footprints will be different by the end of 2022. Can you elaborate on what this means?
WAPA is moving in a direction of smaller, more efficient generators so the loss of any one unit will be more manageable, affecting less customers at once. We are moving out old larger unreliable generators and replacing them with smaller efficient generators. The footprint of the plant, the specific areas where the larger and older units now reside will be home to the newer and smaller units.
12. Can you briefly describe what WAPA is planning for its energy generation mix over the next 20 years?
Smaller units, renewables, and the ability to use propane and fuel oil to generate electricity across all units.
13. Why is WAPA integrating LPG into its electricity generation systems?
WAPA began a process of developing propane storage terminals and converting its oil only generators to tri-fuel capabilities in 2013. LPG is a cheaper fuel source and came at a time when the price of oil was soaring to well over $145 a barrel and customers were paying an all-time high of 52 cents per kilowatt hour.
14. Power outages are still happening quite frequently on St. Thomas. Why is that if new generating units have been installed as backups? What type of confidence can people have that these outage events will decrease in number in the near future? 
WAPA has a plan to replace all of its generators in both power plants by 2022 with new, efficient and more reliable generators. This will bring about increased efficiency and reliability in the power production areas of the authority and increased redundancy where maintenance can be carried out more regularly and major service interruptions can be avoided.