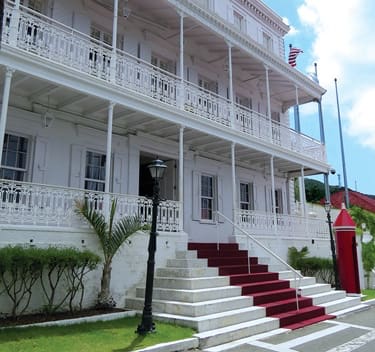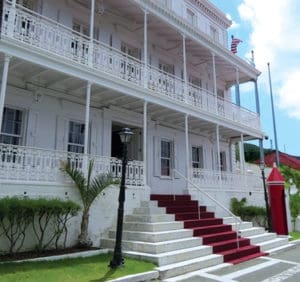 The local media has been covering the U.S. Virgin Islands budget problems for years, including an extensive series in the V.I. Source. Sunday, the New York Times jumped in with a 2,000-word article – "After Puerto Rico's Debt Crisis, Worries Shift to Virgin Islands."
Although residents will learn little new from the article, it draws national attention to the problem and offers a different perspective.
For the first third of the article, the author Mary Williams Walsh gives a generalized perspective of the financial problems facing United States territories.
She then writes, "But the debt dilemma is now most acute in the Virgin Islands – the three main islands are St. Thomas, St. Croix and St. John – where the government has been struggling ever since a giant refinery closed in 2012, wiping out the territory's biggest nongovernment employer and a mainstay of its tax base."
The article mentions the Puerto Rico Oversight, Management, and Economic Stability Act – PROMESA – passed by the U.S. Congress in 2016 after Puerto Rico became unable to make payments on its debt.
"In something of a self-fulfilling prophecy, by giving territories the option to declare bankruptcy, Congress seems to have made such an outcome more likely," Walsh wrote.
She then quoted Gov. Kenneth Mapp saying, "'That innocuous provision, when sent to the bond market, here's an escape valve for your debt obligations,' Mr. Mapp said. 'That changed the whole paradigm.'
In the Source article, "Analysts Worry USVI Following Puerto Rico's Path," writer Bill Kossler also pointed to Puerto Rico's agreement with the federal government as highlighting USVI's problem. Instead of referring to the bond problem, however, as simply a self-fulfilling prophecy, he cites many factors such as those in the following paragraph, "Along with this year's $110 million deficit, the USVI is facing ongoing structural deficits of around $170 million per year out of a locally funded budget of around $850 million. It has outstanding debt of more than $2 billion, not counting the debts of the government-owned V.I. Water and Power Authority, which is also facing serious financial problems. It is also facing a $3 billion unfunded pension liability and a pension plan projected to cease being able to pay full pensions by 2023."
Walsh wrote that proposals to repeal and replace the Affordable Care Act pushed Gov. Kenneth Mapp into action, because he saw the federal money that the Virgin Islands relies on for its public hospitals disappearing.
She wrote in a favorable tone of that action, "Mr. Mapp scrambled. He reactivated a five-year economic plan that had been languishing and pushed higher taxes on alcohol, cigarettes and soft drinks through the legislature. He fought for a permanent electric rate increase. He got $18 million in new federal funds for health care. He struck a deal to tax Airbnb rentals."
"He hired collection agents to go after delinquent property and income taxes. He scheduled auctions for delinquent properties. He hired a team to work on the pension system, which is in severe distress, with only about six years' worth of assets left."
Kossler did not take a completely positive note concerning the governor's action in regard to the budget crisis in an article he wrote for the Source at the end of May. The article was entitled The V.I. Budget Crisis: Part 8, Gubernatorial Bloat." He noted that Mapp had rejected the following cost savings measures suggested by the V.I. Senate. Mapp vetoed:
– Prohibiting the use of nonessential government vehicles after the end of the work day;
– Mandating a 30 percent reduction in vehicle use;
– Requiring government cell phones be returned within 30 days;
– Mandating that agencies coordinate with entities that have teleconferencing to meet by teleconference instead of paying for members to travel between islands;
– Prohibiting government officials from staying overnight in hotels on holidays;
– Limiting government fuel use to 10 gallons every two days per car and mandating users of vehicles to maintain fuel logs and turn them over to Property and Procurement for compilation.
Walsh jumped into the problems at the Virgin Islands Government Employment Retirement System (GERS) by writing, "Until recently, the pension system was chasing high returns by investing in high-risk assets, like a $50 million placement in life viaticals — an insurance play that is, in effect, a bet that a selected group of elderly people will die soon. It also made loans to an insolvent inter-island airline, a resort that went bankrupt, and a major franchisee of KFC restaurants. The territory's inspector general has declared the loans illegal."
Kossler, writing in April in the Source article "The V.I. Budget Crisis, Part 3: The GERS Time Bomb," focused more on the monthly gap between income and expenditures of the system. He wrote, "The system took in about $85.38 million in contributions in 2015 and paid somewhat more than $200 million in pension checks, according to budget information provided to the Legislature in 2016. It made up the $118 million difference by selling off assets and through investment income on its assets."
Both the New York Times and the Source noted that the problem at GERS became more precarious when Mapp failed to direct employee and employer contributions to the system for several pay periods earlier this year.
The New York Times article had about one hundred comments. The commentators blamed USVI's problems on just about everything.
Kevin, from Sarasota, Florida, wrote, "The people of the USVI continue to suffer under successive governments filled with malfeasance and incompetence."
T. Blakely, of Austin, Texas, wrote, "Canaries in a coalmine, Illinois and California soon to follow. This is what happens when you run out of other people's money."
Ken Bleakly, Atlanta, wrote "And how was all this debt arranged? By whom? Could it be our old friends on Wall Street, the same folks who sold the worthless paper to the all the teacher's pension funds, and other public-sector suckers. And I am sure if you asked them, hopeful in a trial tied to long jail sentence, who did the underwriting on these bonds to protect the bondholder? Anyone! Sounds like "round up the usual suspects" time again instead of focusing on the real crooks on Wall Street."
Ezra Abrams, Newton, Massachusetts, wrote, "6.5 billion dollars for 100,000 people is 65,000 dollars per person which, for long term capital projects like roads, might not be that bad. Also, much of it is pensions, which, one assumes, get fed back into the island economy; of course, context like this doesn't seem to be in the media's wheelhouse."