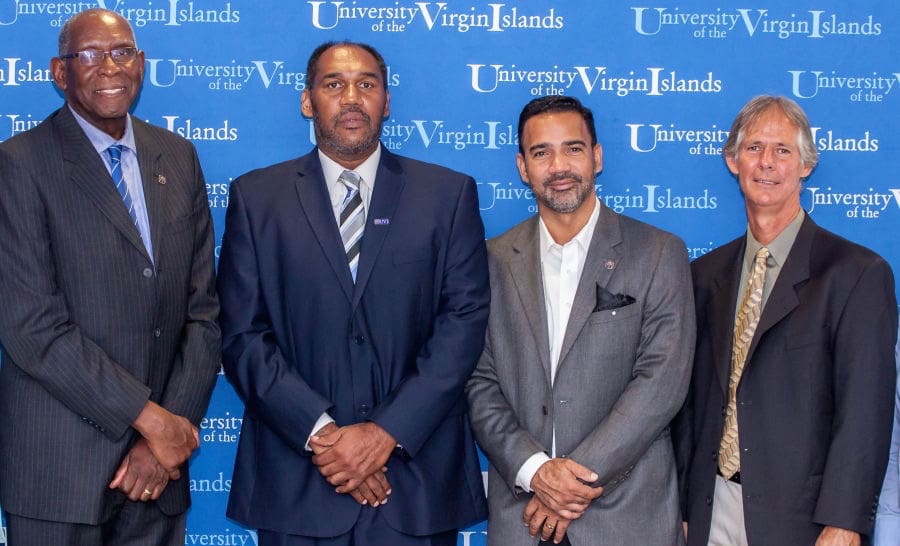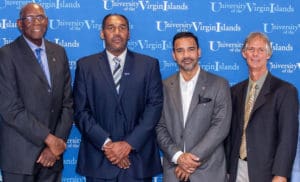 Boosted by the addition of three new full-time coaches, the University of the Virgin Islands Athletic Director Wilberto Ramos said Monday that he aims to bring more games to UVI, provide more activities for students on an ongoing basis, and to become more integrated into the local community.
Brought on this summer are men's basketball coach Jeff Jones, women's basketball coach Reggie Carrick and women and men's soccer coach Charles Long. At a press conference held Monday at UVI, Ramos said his goal is to make sure all six sports programs represented at the university have both male and female team, which allows more students to play.
Jones comes to UVI from Carver College in Atlanta and brings 23 years of college experience, four-time National Association of Intercollegiate Athletics (NAIA) National Tournament appearances, a final-four, and two-conference championships. As an assistant coach, Jones won the NCAA Division II National Tournament. He holds a bachelor of arts degree in communications with a minor in recreation from Pittsburg State University.
Speaking Monday, Jones said his first goal is to turn out well-rounded student athletes. Education comes first, and Jones said his goal is to make sure all of his players leave with degrees. On the court however, John says the team will aim to win a national championship. UVI has competed for more than a decade in the Liga Athletica Interuniversitaria (LIA) and for the past two years has been part of the National Association of Intercollegiate Athletics.
Ramos said Monday he hopes this third year in the NAIA will help make UVI an active member of the league.
"With this type of improvement, it will take time to get it right, but we are very excited," Ramos said.
Jones added Monday that he has already signed about seven players and is waiting to sign about four more. The ultimate goal, he added, is to win a national championship.
"We're not here to win 10 or 15 games and call it a day," Jones said. "We're going to work hard every single day to bring a national championship to UVI and that will be our goal every year."
Jones said the team will also be committed to giving back to the local community.
UVI's first men's basketball game will be the UVI Classic on Oct. 27. There will also be games Oct. 28 and 29 and Jones said he would like to see the Sports and Fitness Center on St. Thomas at full capacity for the events.
Carrick, meanwhile, comes to UVI from the University from Olds College in Alberta, Canada. Carrick ended his sixth season with the Olds College women's basketball team in 2016. In his 12 years as college and university head coach, he has coached 12 All-Conference selections and was named the 2004 Great Plains Athletic Conference Men's Coach of the year. He holds the 2007 U.S. National Record for turnarounds, going from one win and 23 losses to 24 wins and nine losses – a standing record for four-year colleges of any level in women's basketball. Carrick has a master degree in education from Delta State University and a bachelor of arts degree from Augustana University.
Rounding out the group, Long comes to UVI from Garden City Community College in Kansas, where he served as head men's and women's soccer coach. He brings more than 16 years of experience in coaching men and women's soccer teams at universities and colleges. At Talladega College, a Historically Black College and University in the NAIA, Long turned the program around from 1-16 to 15 -5 and was recruited to start a women's soccer program.
At UVI, he will be primarily responsible for the men's and women's soccer programs, which compete in the Liga Atlética Interuniversitaria league and NAIA. He will assist in recruiting and building teams, coordinating team development, and preparing UVI for the next level of competition. Long will also help with coordinating sports tournaments throughout the academic school year. He will also teach physical education and health, which are both general education requirements for all students.
"This is an historic day for the University of the Virgin Islands athletics," said UVI President David Hall at Monday's press conference. "It is historic because we have made a decision to move towards having full-time coaches. These coaches come with a wealth of experience and an understanding that our mission is not just to win games, although that is important, but also to help to develop and nurture people, and that is critical to this university."