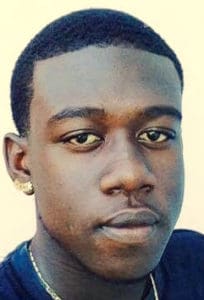 Hubert Wyliss Lee Jr., the third suspect in the May 6 carjacking and rape of a young woman on St. Croix's east end, was arrested Monday by law enforcement officers in North Carolina acting on a tip from the anonymous Crime Stoppers USVI service.
According to the V.I. Police Department, the 22-year-old Lee – also known as "Blackest" – was arrested pursuant to an arrest warrant issued by a U.S., Virgin Islands Superior Court Magistrate. The warrant charges Lee with lee is charged with first-degree rape, kidnapping for rape, false imprisonment, first-degree assault, third-degree assault, carrying or using a dangerous weapon during a commission of a crime, unauthorized possession of a firearm, unauthorized use of a motor vehicle and first-degree robbery.
Lee was apprehended by the U.S. Marshal Service in North Carolina and is now in custody at the Cumberland County Sheriff's Office awaiting extradition to St.Croix.
He is a suspect in connection to the East End Road carjacking/rape the took place May 6. The 911 emergency call center received a report at approximately 11:36 p.m. in reference to a carjacking on the Eastern Road, Christiansted. The first victim called 911 and said she had been traveling with a friend when a vehicle started hitting them from behind causing them to stop. They were separated and her friend was taken by the individuals to another location.
The second victim later was able to contact 911. She reported she had been sexually assaulted. The victim was then transported to the Juan F. Luis Hospital for examination.
The VIPD said a tip from Crime Stoppers USVI resulted in Lee's apprehension. Those who call the Crimestopper's hotline at 1-800-222-8477 or who use the online site at http://www.crimestoppersvi.org/ can have their anonymity protected, and can be eligible for rewards. The service does not ask for the caller's name. The person calling is issued a PIN, or personal identification number. They can then check back on the status of their tip without having to provide a name. If a tip leads to an arrest, the recovery of stolen property, or illegal drugs or weapons being seized, then the caller will be eligible for a reward. Together, the caller and Crimestoppers will agree on a location that is both secure and anonymous for delivery of a cash reward.