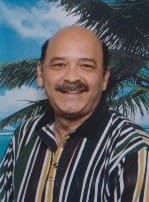 Rafael Pillot died peacefully on Wednesday, June 14, in Jacksonville, Fla. after a brave battle with cancer. He was 68 years old. He was born to Ariel Pillot-Picon and Carmen Maria Brignoni on Sept. 18, 1948, in Santurce, Puerto Rico, and spent his formative years on St. Croix, U.S. Virgin Islands.
Mr. Pillot attended Hanover College in Hanover, Indiana. He worked many years in New York City in the travel industry and subsequently retired to Jacksonville, Fla.
He is survived by his spouse, Marbel Tabares; mother, Carmen Maria Pillot Brignoni; sisters: Carmen E. Henry, Malvelina P. Monell and Ananka Pillot; niece, Natasha Monell; and brothers-in-law: Robert A. Henry and Carlos Juan Monell.
He is also survived by aunts: Matilda Brignoni, Lydia Lockhart, Juanita Berrios and Victoria Brignoni; uncle, Bienvenido Brignoni; grandniece, Jordan Alexis Diaz; grandnephew, Daniel Diaz; cousins: Carmen Fuentes, Jose Manuel Trinidad, Francisco Trinidad, Carlos Marzan, Teresa Jaffett, Carmen Berrios, Edna Cotton, Amelia Rivera, Mario Daniel, Violet Hodge, Diana Perez, Aracelis Conigliaro, Santos Perez, Kelvin Berrios, Edward Berrios, Juana Brown and Suni Lin Magras; as well as a host of extended family members and friends.
A funeral service will be held at 11 a.m. on Saturday, June 24, in the chapel of George H. Hewell and Son Funeral Home, 4140 University Blvd., S., Jacksonville, Fla. The family will receive friends from 10-11 a.m. prior to the funeral service. In lieu of flowers, memorial contributions may be made in his name to the Cancer Research Institute or St. Jude Children's Research Hospital.
Condolences may be left at www.hewellfuneralhomes.com