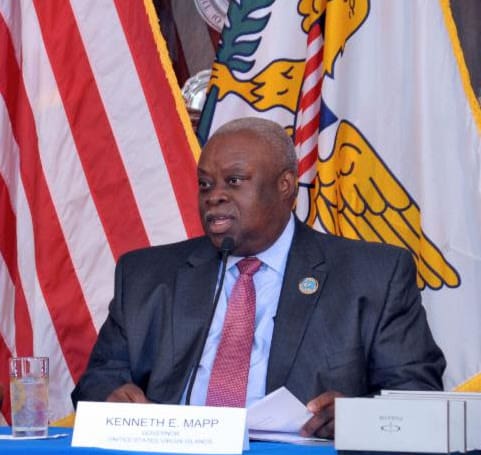 Gov. Kenneth Mapp vetoed a bill forgiving the West Indian Company more than $6 million in past due taxes and taking ownership of Estate Catherineberg from WICO this week.
The bill took control of the historic St. Thomas property and mandated it to become a museum. It also forgives WICO'S past due debt.
WICO, which is fully owned by the V.I. government and structured like a private company, has long paid a set fee – a payment in lieu of taxes, of $700,000 per year – instead of paying corporate income tax, property tax or gross receipts taxes. Up until 2006, WICO paid its PILOT in full, but since then has made partial or token payments. It has fallen millions of dollars behind in its payments and currently owes $6.65 million. WICO officials cite competition from V.I. Port Authority facilities and say they are not making enough to pay the PILOT.
Its financial condition and where it spends its money are difficult to verify. Despite being owned by the government and despite a V.I. Supreme Court ruling that it is effectively a government agency in many respects, WICO has refused to date to comply with the V.I. Open Records act and allow the public access to all its meetings minutes and financial records.
Mapp said the bill raises serious concerns about the separation of powers, WICO's outstanding debt to the government and the costs associated with maintaining the historic site.
"I am convinced that this measure was not given the consideration and thoughtfulness it required," Mapp wrote in a June 9, letter to Senate President Myron Jackson. "Not only does this bill fail to resolve the issue of WICO's outstanding PILOT … debt owed to the Government of the Virgin Islands, but it also heaves upon the central government a historic treasure for which the central government has no adequate resources to maintain," he said.
Mapp also said the proposed offset of $6.65 million, which he called the purchase price, was arbitrary and asked the Senate President how the Legislature determined the property's appraised value. The bill was amended on the Senate floor to remove references to purchasing the property, with senators saying that as WICO and its holdings are already government property, a direct transfer was more appropriate. Senators left the $6.65 million offset in place however.
"What recourse does WICO have if the property is valued more than or less than this amount?" Mapp asked, adding "I cannot approve this measure as drafted nor would I implement this measure if the Senate chooses to override my veto."
Sen. Janette Millin Young (D-STT), who sponsored the bill, along with Sen. Kurt Vialet (D-STX), issued a response Monday, saying she was disturbed but not surprised by the action.
"For the record, WICO owes taxes to the Virgin Islands Government and in the transfer proposal, WICO transfers Catherineberg to the Government of the Virgin Islands. And, as the current chief executive officer, Clifford Graham, testified in committee, an appraisal would be conducted should the bill be passed by the Legislature and approved by the governor," Millin Young said in a statement.
"WICO supported the creation of the museum. So did several other arts and cultural experts in the community who have seen the historic and economic development potential for such an initiative," Millin Young said.
She said that while the measure has been vetted and amended over the past two years, there is still room to improve on it, but not outright disregard its historic preservation potential and economic profitability. She said she will not move to immediately ask her colleagues to override the governor's veto until they have all had the opportunity to review and determine how to move forward on the measure.
"Finally, I read the Governor's comments in his veto override message carefully. And, I believe no one in this territory should take his last comment lightly in which he stated, 'I cannot approve this measure as drafted nor would I implement this measure if the Senate chooses to override my veto.' This statement shows his utter disdain and disrespect for the Legislature and the people it represents. Senators and the public should join together in rebuking the notion that a governor — a chief executive — can publicly state that he will choose what laws he will follow. He needs to understand, unequivocally, that the U.S. Virgin Islands, as all U.S. jurisdictions, abide by two major doctrines – – separation of powers and checks and balances," she said.