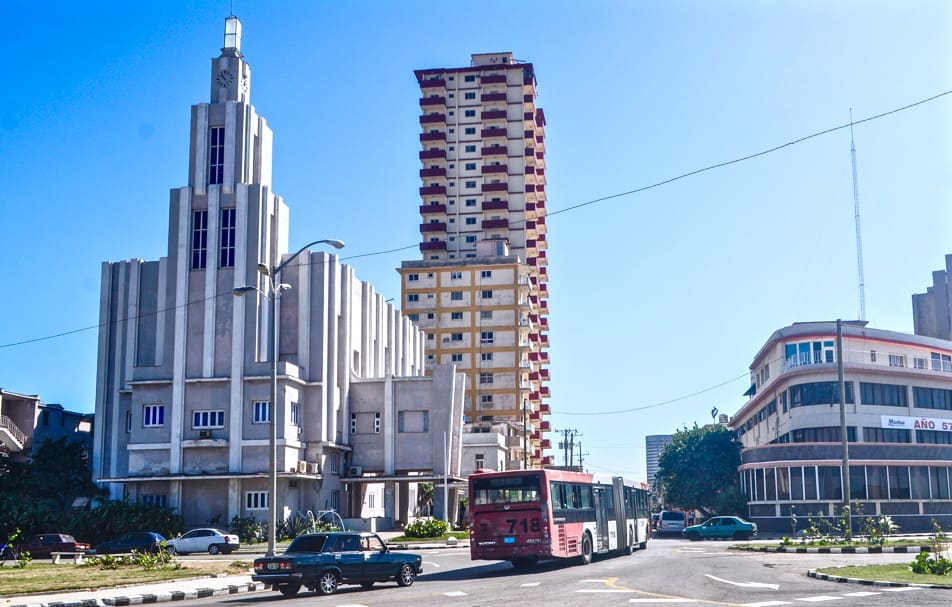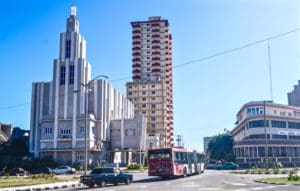 A reverence for the arts and a feeling for regional solidarity are two of the positive aspects of Cuba that more Virgin Islanders have had the opportunity to experience since the normalization of relations between the U.S. and Cuba.
I am one of those who has benefited from visiting our largest island neighbor twice, once in 2015 and again this May for the staging of the exhibition of V.I. contemporary art, "My Islands Do Not Make a Nation," at Havana's esteemed cultural institution Casa de las Américas.
What follows is a brief synopsis of that exhibition, curated by the Gri Gri Project, a curatorial team consisting of myself and my wife Priscilla Hintz Rivera Knight, as well as the contributions of other Virgin Islanders who also took part independently in the international colloquium that the exhibition was a part of.
The colloquium, hosted by Casa de las Américas every two years with a different theme, is called the International Colloquium on Cultural Diversity in the Caribbean. It includes panel discussions, musical performances, film screenings, and art exhibitions. This year's theme, "Memory and Border Conflicts," included a day-long focus on contested narratives and social realities in the U.S. Virgin Islands in the centennial year of its transfer from Denmark to the United States.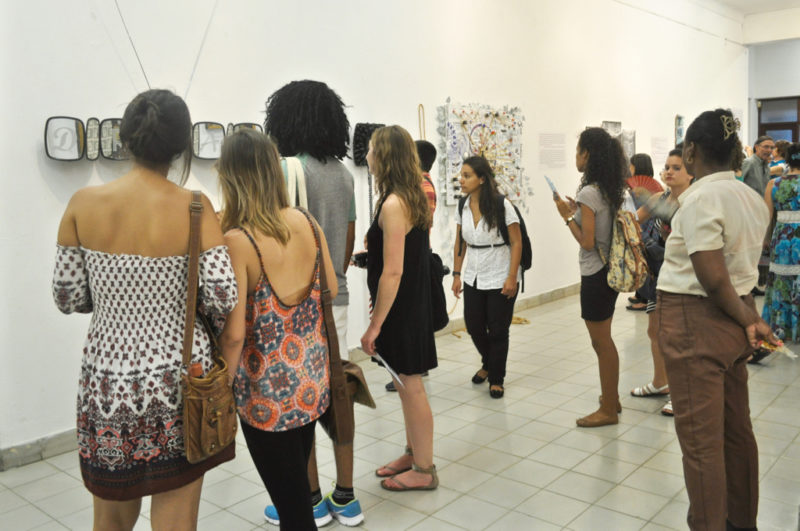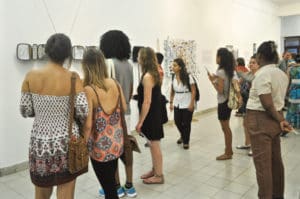 The exhibition that resulted from The Gri Gri Project's invitation to participate, "My Islands Do Not Make a Nation," featured work by seven practicing contemporary artists whose works reflect critically on colonial histories in the Virgin Islands. One of the themes of the show is that the fault lines of "border conflicts" in the Caribbean run not just through societies, but individuals themselves.
La Vaughn Belle, an artist born in Trinidad and Tobago and raised on St. Croix, and who studied art in Cuba, exhibited three large pieces in the show. Belle often uses video, performance, installation and public intervention projects to respond to questions surrounding the coloniality of the Virgin Islands, both in its present relationship to the U.S. and its past one to Denmark.
Belle's pieces, which included wall rubbings, cuts and burns on paper and an installation of two related texts, touched on issues of erasure, enslavement, resistance and contemporary representation.
Also from St. Croix, photographer David Berg exhibited three underwater photographs that also spoke to the history of his island and the transatlantic slave trade. Berg's work depends on narratives of rebellion and reaches for a visual form of magical realism. Berg also spoke earnestly at the colloquium about his personal search for identity through his art as someone descended from both Danes and enslaved Africans.
Janet Cook-Rutnik, an artist working on St. John since 1969, and who holds an interest in exploring V.I. history through contemporary art practices, exhibited three works in "My Islands Do Not Make a Nation."
Using photo transfers, collage and assemblage Cook-Rutnik raised questions in her pieces about tourism, citizenship and vernacular architecture.
Cooper Penn, a photographer from St. John, shared his recent images combining his background in commercial and advertising photography with his interest in V.I. cultural preservation. By working with models dressed as Mocko Jumbies and quadrille dancers, Penn made a statement about traditional V.I. culture's interaction with modernity in the U.S. period.
Jon Euwema, a St. Thomian visual artist and poet whose works often present a critical vision of island society skewed and refracted by an irreverent sense of humor, exhibited three assemblage works.
Made from objects including rabbit ear antennae's, mirrors, plastic bananas, diagrams, and currency, Euwema's work made playful jabs at serious subjects including xenophobia, relationships of dependence, and abuses of power.
Shansi Miller, a St. Thomas painter, exhibited three realist works in oil that depicted everyday Virgin Islanders as protagonists in an epic creole mythology drawing on western art history, biblical narratives and Caribbean folklore.
Sigi Torinus, an artist born and raised on St. Thomas and now working in Canada, also projected her video work in the exhibition space. Torinus is interested in nomadism, presence and absence, and visibility. Her two videos in "My Islands Do Not Make a Nation," which played on a loop, worked through ideas of transculturation, memory and vernacular language.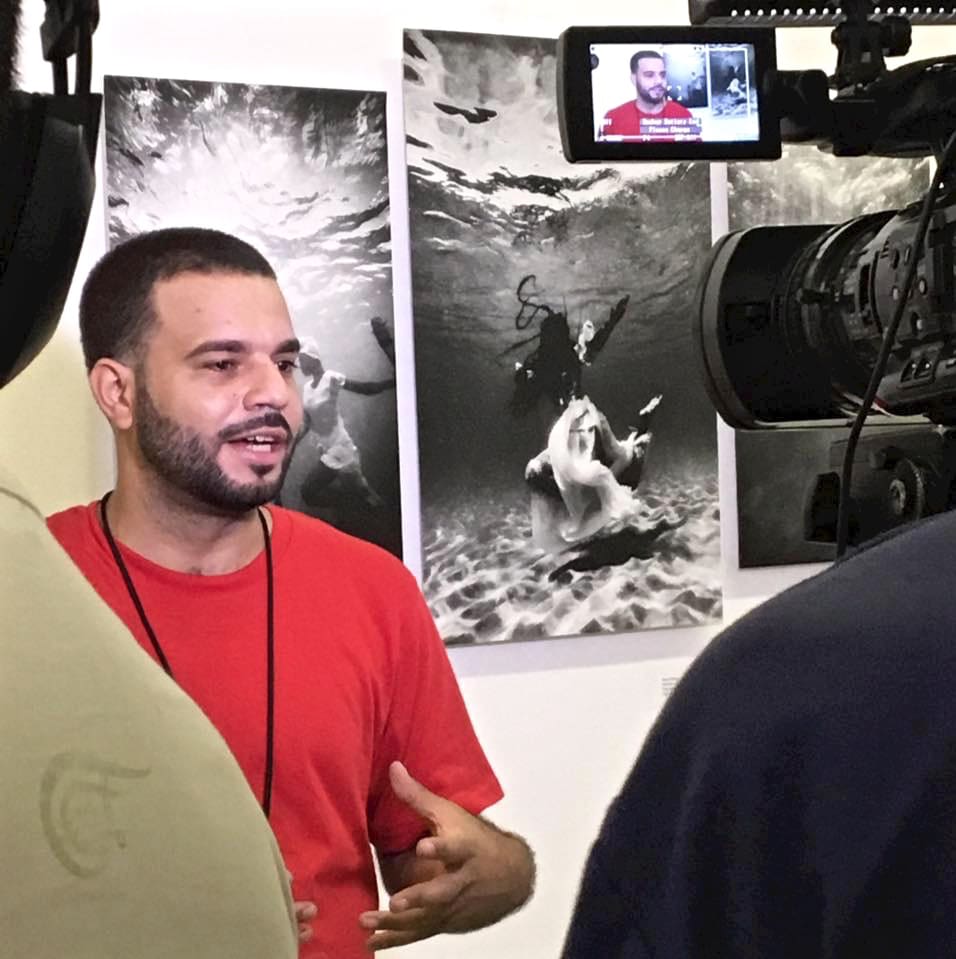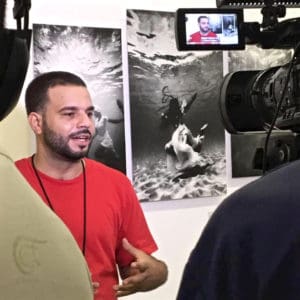 The exhibition was incredibly well-received in Cuba. Everyone who attended, from visiting university students to security guards at the institution where it was staged, were curious to learn more about the people of a smaller Caribbean neighbor with whom they had had little contact.
In addition to "My Islands Do Not Make a Nation," Casa de las Américas' colloquium also featured other presentations related to the Virgin Islands.
Dr. Vincent Cooper, a professor of linguistics and English at the University of the Virgin Islands, presented a paper titled "Memory and Migration: Roots/Crossroutes." The paper reported on his participation as consultant in a Reichhold Center-based project conducted in the 1990s that involved interviews with immigrants in the V.I. who had migrated from other Caribbean islands during the 1960s through 1990s.
Cooper explained that "the narratives collected were used by Trinidadian calypsonian Black Stalin to compose the lyrics of calypso, soca, reggae, salsa, merengue, and zouk music. Local theater performers also narrated stories related to the theme of immigration as part of the project."
Hadiya Sewer, a part-time UVI professor and Brown University doctoral candidate from St. John, presented a paper titled "Freedom in an American Periphery." Sewer described the paper as "an ethnographic study of American Colonialism in the U.S.V.I. that highlights the political status question."
Sewer collected data from interviews, participant observations, and media outlets to trace the experiences, identities, and political ideologies that emerge under American colonial subjection in the U.S. Virgin Islands. In open-ended interviews, research participants were asked to speak at length about their social identities and articulate their views on the territory's political status.
Dr. Chenzira Davis Kahina, director of UVI's Virgin Islands Caribbean Cultural Center, gave a presentation titled "V.I. Caribbean Heritage Education & Arts Legacy: HEAL365 Perspectives on 100 Years of Foreign Sovereignty." Davis Kahina described the presentation as an examination of "the traumatic impact upon psychological, educational, socioeconomic, and cultural heritage traditions of the former Danish West Indies' before and after the 'ceremonious' transfer and purchase by the United States of America in March 1917, before and through the Virgin Islands Transfer Centennial of 2017."
Publisher and photographer Mario Picayo's presentation, titled "Children's Literature, Carnival and Identity in the U.S. Virgin Islands" gave an audiovisual overview of several interconnected initiatives from the V.I. Department of Education and the Office of the Governor that encourage and promote reading in the territory. Picayo also displayed four of his photographs of V.I. Carnival.
Picayo said that "an important component of the initiatives is the creation of books by local authors and illustrators so that young readers can see their world reflected in the pages of the books. The project creates local role models and affirms the importance of Virgin Islands and Caribbean culture and environment as valuable assets in the young reader's lives."
"A connected project brought the books to life during the 2017 carnivals, with the creation of giant puppets representing characters from several of the books," said Picayo.
2017's International Colloquium on Cultural Diversity in the Caribbean also featured screenings of two documentaries on subjects related to the V.I.
"Jamesie: King of Scratch," directed by Andrea Leland, was screened. The film is a portrait of one of the most iconic practitioners of the V.I.'s indigenous quelbe music: Jamesie Brewster.
The short "We The People: Transfer Day Perspectives," directed by Erik Miles, was also screened. That film features interviews on the Danish-U.S. transfer of the Virgin Islands conducted a decade prior to the centennial year.