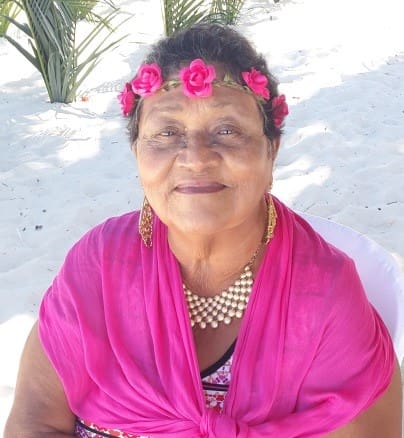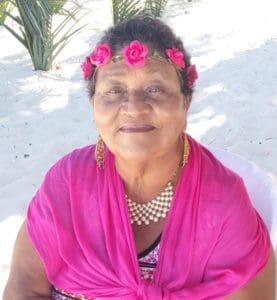 Edna DeGazon, also known as "Aunty Darling," of Enfield Green died on June 4. She was 83 years old.
She was preceded in death by her husband, John DeGazon; sisters: Thelma Cunin, Janet Chan, Jean Solomon and Barbara Soodeen; brother, Arnold Soodeen; grandson, Jereme Cumbermack; great- grandson, Leon Alfred; sister-in-law, Rita Soodeen; nephew, Junior Cunin.
She is survived by her daughters: Paula Cumbermack and Cheryl Sam; sons: Leo DeGazon Sr., David DeGazon and Sheldon DeGazon; grandsons: Mervyn Constantine, Marlon Sam, Leo DeGazon Jr., Marcus Sydney, Duane Sydney, Sheldon DeGazon Jr., Michael Richard Cumbermack and Kristopher Cumbermack; granddaughters: Marcia Baptiste, Cherise Romo, Andrea George, Ashley DeGazon, Anjali DeGazon, Leona DeGazon, Allison DeGazon, Leslie-Ann Powers and Joanne Alfred; and great-grandchildren: Mason Romo, Maddox Romo, Bella-Aliqsi Brannon-Sam, Malachi DeGazon, Adrianna George, Naeem Nicholas, Jeremy Gauntlett, Shawn Davis, Ashley Baptiste, Kalya Baptiste, Kyle Baptiste, Lauryn Stallworth, Chaz Stallworth, Zayvion Authers, Zaylia Authers, Le'Nique DeGazon, Destinee DeGazon and Kaeden DeGazon.
She is also survived by grandsons-in-law: Donald Romo, Steve George, Joseph Baptiste, Vincent Powers and Garry Authers; granddaughters-in-law: Anna Constantine, Victoria Sam, Kalayar Sydney, Khanisa Figaro and Kenika DeGazon; daughters-in-law: Jennifer DeGazon and Michelle DeGazon; sons-in-law: Michael Cumbermack and Victor Rojas; sisters: Sylvia McKenzie and Sandra Marcano; brothers: Ralph Soodeen Sr. and Carlton Soodeen; and sisters-in-law: Stephanie Soodeen and Gloria Soodeen.
Other survivors include nieces: Alana Soodeen, Carlista Soodeen, Robin Soodeen Purnell, Rhomatina Soodeen, Allissa Soodeen, Angeli Selitsch, Sherryanne Beuscher, Bernadette Bennett, Donna Marcano, Sanida McKenzie, Michelle Mohammed, Stasia Clarke, Nadia La Fon, Sharon Persad, Juliet Cunin, Julie Cunin, Jennifer Khan and Joann Cunin; nephews: Ralph Soodeen Jr., Michael Soodeen, Steven Soodeen, Kern McKenzie, Anthony McKenzie, Keith McKenzie, Andre Chan, Ricardo Chan, Cecil Chan, Dane Clarke, Robert Clarke, Trevor Wong, Roger Wong, Romeo Cunin and Gerald Soodeen.
The viewing will be held at 9 a.m. and the funeral service at 10 a.m. on Monday, June 12, at the Free Will Baptist Church. Interment will follow at Kingshill Cemetery.