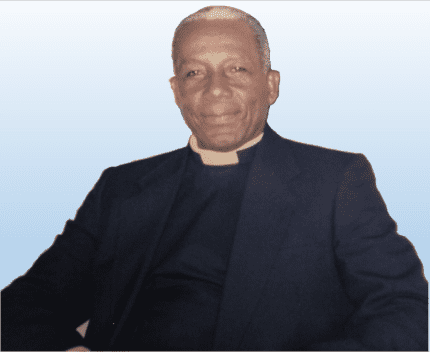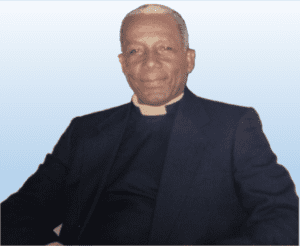 We are saddened to announce the passing of our beloved Rev. Jennings G. Martin, retired minister of the Methodist Church in the Caribbean and America. He was 91 years old.
He is preceded in death by his parents: Nathaniel and Blanche Martin; sister, Stella Batson; brothers: Lashley, Arneaud, Hudson, Oliver, Johnny, Alderman and Dupont; brother-in-law, Ralph Alexander; and sister-in-law, Winifred Alexander.
He is survived by his spouse: Mrs. Susan B. Martin; sisters: Andromeda Price and Patricia Hector; nieces: Sharon Melville, Shandra Thomas, Ava Lashley , Carol Price, Bodil, Annette, Barbara, Gerd and Francisca; nephews: Capt. Jimmy Martin (Isabelle), Jason Martin, Codrington Batson, Noel Lashley (Jean), Bill Batson (Susan), Lennart, Christopher and Ovid Jr.; and brother-in-law, Ovid Alexander.
He is also survived by special friends: Velma and Arlette Moore, Lucille and Pam Hopkins, Pearl Stern, Lousie Stephen, Sonia and Laurie Williams, Dr. Bertley Barrow, Francisco and Doreen Depusoir, Maureen Clarke, Selvon and Claudette Thomas, Desmond and Rita Walters, Dr. John Lewis, Dr. Deweese, Laurence Lydia Lubrin, Kelston and Brenda Powell, Mazie Willie, Marion and Earl Stanley.
Other surviving special friends include: Janet Sinnanan, attorney Ken and Rita Robinson, Mr. and Mrs. Elton Mootoo, Idalia Joseph, Agustin Guthrie, Millicent John, Mr. and Mrs. Joseph Allyne, Audrey Baccus, Kelston and Rosamond Crieghton, Sybil George and Dane Boone, Violet George, Sylvester George, Larisene Weiner, Eugenia Hansen, Rev. Evans Daily, Rev. Bruce Swapp, Rev. John Gumbs, Rev. Gilbert Laban and Rev. Franklyn Roberts.
To all our friends whom we have known over the years, we truly acknowledge you as well as other relatives and friends too numerous to mention.
A viewing will take place at 9 a.m. and a funeral service at 10 a.m. on Thursday, June 8, at Ebenezer Methodist Church. Interment will follow at Kingshill Cemetery.