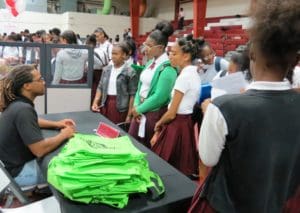 On May 23, 9th and 10th graders at St. Croix Central High School (CHS) went to the first Connecting Careers Expose, being held in the school gymnasium, to explore possible career opportunities in technology, a vastly expanding field.
According to Sandra Cannon, organizer and school guidance counselor, the event was designed to connect academics with Science, Technology, Engineering and Mathematics (STEM) careers available on St. Croix. Young entrepreneurs and representatives from technological companies participated by introducing and interesting the students in their growing businesses.
The Central High School (CHS) Robotics class, which is taught by Victor Barnes, filled a table with transportable apparatus to the delight of the freshmen and sophomore students.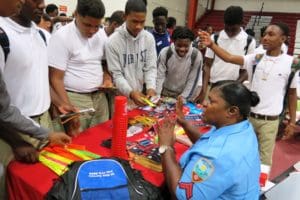 The St. Croix Career and Technical Education Center's (CTEC) Gregory Christian, a technology instructor, provided graphic instruction to eager students on the procedures involved in terminating and splicing a fiber optic cable. Christian announced that training in the areas of computer networking, computer security, Java coding and configuring Cisco routers and switches are available, free of charge, at CTEC.
Dr. Nilsa Bough, CHS instructor of Sports Medicine Class II, held popular demonstrations of massaging and tending to the wounded areas of the body; she guided a student to gently rub the injured legs of school Principal Janasee Sinclair. Dr. Bough also guided other students as they performed massages on their peers.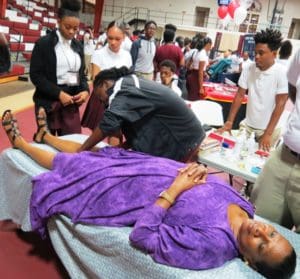 Non-school presenters in the two-session career fair included government and military agencies, such as the Virgin Islands Water and Power Authority (WAPA), Virgin Islands Fire Services, Tourism, Health (EMS Services), and Labor (OSHA) departments, along with the U.S. Marine Corps, U.S. Air National Guard and the Naval Services.
Other presenters were: Save Our Son's Academic/Mentorship Program, David Tonge, V.I. Collaborative Solutions, ProSolar Systems, NW Construction, Trinity Austrie, Orbitron, Williams Chiropractic, LaVaughn Belle and Stylee Band Corporation
Deputy Superintendent of Schools Faith Dane George-Boone and Assistant Education Commissioner Charmaine Hobson gave remarks on behalf of the school district and the V.I. Department of Education, respectively.