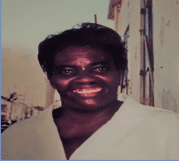 Rosalie M. Messer Clendinen — beloved sister, niece, aunt, cousin and friend – died on Tuesday, May 9, at Broward Health North Hospital in Deerfield Beach, Fla. she was 72 years old.
Rosalie was preceded in death by her husband, Loring "Professor" or "Prop" Clendinen; her parents: Mildred Williams and Alvin Messer; and her brothers: Edwardo Richards, Frederico Williams and Charles Messer.
She is survived by her brother, Winston M.A. Williams; sisters: Eunice Edwards, Linda Mc Intosh, Silva Gibbs, Monique and Nicole Messer; sisters-in-law: Asta Hanley Williams, Anna Clendinen Thompson and Aracelis Alverez de Williams; aunts: Eveyn Messer James and Clarissa Messer Petersen; and nieces: Valarie Williams, Rosalie Williams, Lisa Williams-Coulter, Themanya and Mildred Makeba Williams, Charlene and Dolly Messer, Radiance Davila, Jolene Edwards and Shani Williams.
She is also survived by nephews: Elston, Craig, Frederico and Winston Williams Jr.; family and friends: Ameenah Saleem, Wanda Morris, Valarie Petersen George, Robert "Bobby" Henley, Diedre Carver, Dutchell Todman, Nurse Ascencio, Rosemarie Schuster, members of the Water Gut Housing and Whim Gardens communities, and the Management and staff of the Department of Education's custodial division during years 1966 to 1998.
Tributes will begin at 10 a.m. followed by a mass at 10:30 a.m., Wednesday, May 31, at the Holy Cross Catholic Church in Christiansted. Following the service, Rosalie's ashes will be entombed in Frederiksted Cemetery.