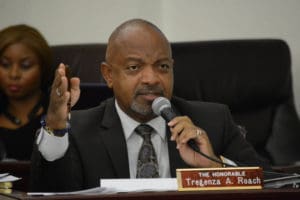 Sens. Tregenza Roach and Alicia "Chucky" Hansen, two members of the 32nd Legislature's Minority Caucus, have joined in a bill which would dismantle the Virgin Islands Centennial Commission and use all unobligated funds appropriated to that body to support youth programs and to address dire needs of both of the territory's public hospitals, according to Roach's office.
The bill request, which was submitted to the Legislature's Legal Counsel's Office Wednesday, comes on the heels of notice of the commission's plans to take as many as 11 of its members and staff on a trip to Denmark to participate in a festival. Roach said media reports of the trip indicate that the commission is prepared to spend up to $5,000 to support the travel requirements of each member and staff making the trip.
Both Roach and Hansen questioned the need for any more financial support for the commission if this trip is any indication of its priorities. The body will still have at its disposal in excess of $1 million to fund other Centennial related activities, they said.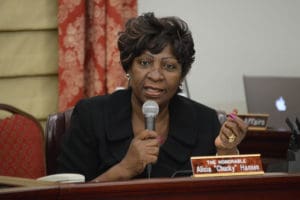 "I am appalled that with all the pressing needs we have in the territory that the commission would vote to squander public funds in such a way. Even our hospitals are asking support in buying medication to treat our people," Hansen said in the statement.
Tuesday, Roach asked Senate President Myron Jackson to call a hearing be called on the spending and said Wednesday he does not believe that a timely response will come to address this urgent situation.
"I joined in this bill because I do not want to be sending our people mixed signals," Roach said, "If we are in a financial crisis we ought to act like we are and be more responsible with scarce resources," Roach said.