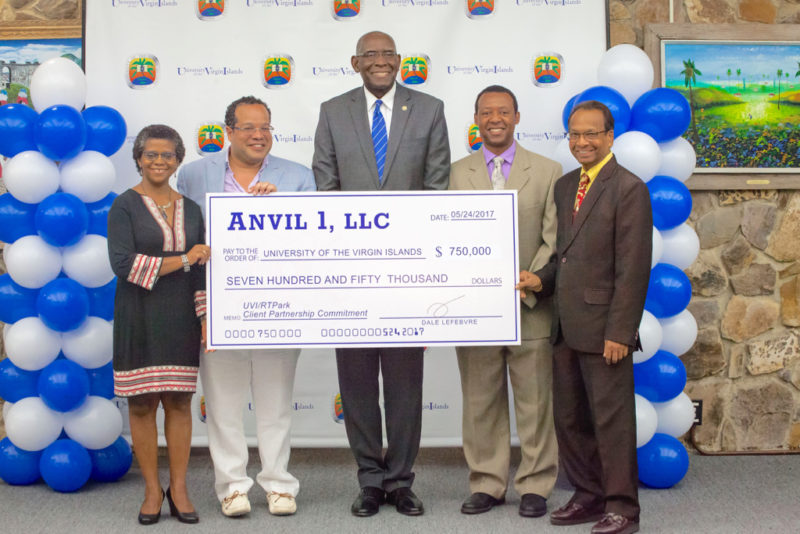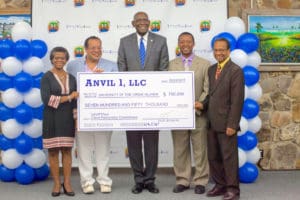 The University of the Virgin Islands received a pledge Wednesday of an average of $50,000 per year for the next 15 years, for an eventual $750,000, from Dale LeFebvre, founder of the investment and holding company 35711 and manager of Anvil 1, a technology and knowledge-intensive consulting, advising and investment firm.
Anvil 1 is a UVI Research and Technology Park client, meaning it gets extensive tax breaks in exchange for incorporating in the territory and commits to negotiated cash and in-kind contributions to the university.
In a ceremony Wednesday, LeFebvre, RTPark and UVI official posed with an oversized check that said "UVI RTPark Client Partnership Commitment" in the memo box.
This commitment will be disbursed to UVI over a 15-year period and will initially support energy and process technology courses, according to the university. Additional areas will be selected over the course of the contribution period. The contribution will be divided annually between named scholarships for UVI students, and support for UVI academic programs.
"This commitment, which is a result of the company's involvement with the RTPark, is a shining example of how the RTPark is fulfilling its mission and vision, and how Mr. LeFebvre continues to invest in the growth and quality of the university," UVI President David Hall said in a statement
"His prior gift has strengthened our programs in various areas, and this one will do the same through scholarships and curriculum enhancements. We are delighted that Dale continues to invest in the future of the Virgin Islands by investing in UVI," Hall continued.
In 2013, LeFebvre contributed $350,000 to the university. He established the LeFebvre Endowed Student Fellowship Award and the Oson VI, LLC Endowed Fund for Recruitment and Retention. The money also funds two SAT preparatory programs at UVI.
"My interactions with UVI and the RTPark over time helped catalyze a focus on our current and future portfolio as the intellectual capital and have led to a focus on developing and implementing intellectual property on a promulgating scale for people of color in technology," LeFebvre said in a statement from UVI.
Anvil 1 pledges to provide support to academic and research areas and work with the university to establish the U.S. Virgin Islands as a place of good practice in the emerging area of impact investing, by serving as a corporate ambassador and thought leader in this field.
"The RTPark team is working hard to facilitate partnerships between our private sector clients and the University of the Virgin Islands," RTPark executive director Gillian Marcelle said in a statement.
"These partnerships negotiated with President Hall's leadership are deepening and providing opportunities to generate and share knowledge."
Mitchell Neaves, UVI vice president of Institutional Advancement, said LeFebvre has been a friend of UVI for many years.
"His commitment to students and higher education is a testament to his generosity and foresight. He understands that the only way to positively impact our world is to invest in educating those poised to change your world. We value his partnership with this university," Neaves said.
LeFebvre is a technologist, inventor, philanthropist, and poet, according to UVI. A native of Beaumont, Texas, he is a graduate of MIT's Electrical Engineering Program, Harvard Law School and Harvard Business School. He has been a resident of St. Thomas since 2007. LeFebvre has refined and implemented a proprietary Transformational InvestingTM thesis that combines elements of research, venture capital, and buyouts.
"Impact investing is a new asset class that describes investment firms which are as much concerned with financial returns as they are with making a significant positive impact on the communities in which they reside," Marcelle said. "The UVI RTPark's growth strategy for network members is to attract impact investment firms to the territory in larger numbers."