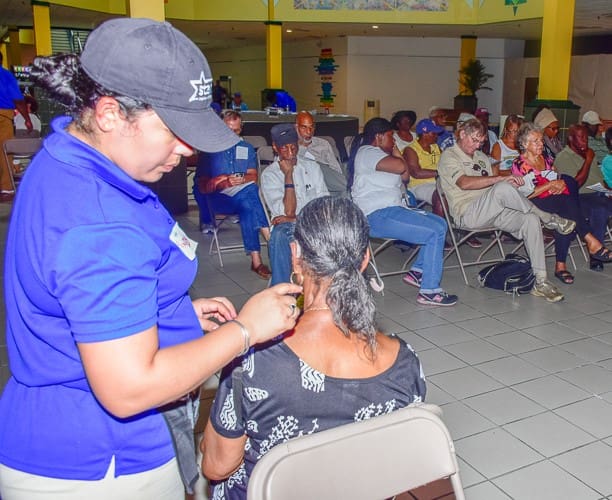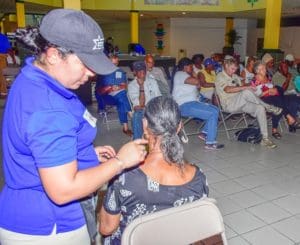 The V.I. Department of Health (DOH) has recognized hearing loss as an area of need in the community; therefore, it has proactively researched and secured, with the assistance of Dr. Wincess Gentius, clinical doctor of audiology, support and resources to provide hearing testing and free hearing aids to those who are not able to afford such a necessary purchase. DOH partnered with the Starkey Hearing Foundation, and on Sunday, May 21, they provided the gift of hearing to residents on St. Croix.
Out of the 200 participants that were present for the hearing screening, 150 were eligible and fitted with hearing aids — the youngest patient was five years old. The Gift-of-Hearing mission was held from 8 a.m. to 4 p.m. on the first level of the Sunshine Mall. All of them received ear screening, otoscopy and wax removal as needed, hearing testing, ear molds, hearing aid fittings, counseling and orientation on hearing aid use.
The Starkey Hearing Foundation consisted of a team of 15 people that flew to St. Croix from locations such as Guyana, Jamaica, Minnesota and Florida. Additionally, 25 local volunteers assisted with the facilitation of the day's operation. Volunteers consisted of DOH staff, Barry University students and faculty and local physicians.
"Many of the St. Croix residents have been waiting a longtime to access hearing health care due to the cost factor of obtaining hearing aids. The DOH and Starkey Foundation are very happy to provide the gift of hearing at no cost to the residents of St. Croix and soon the entire Virgin Islands," said Dr. Gentius.
The Starkey Hearing Foundation is a Minnesota-based organization whose mission is to provide a million hearing aids around the world by 2020. DOH identified patients who can take advantage of this program by receiving referrals, visiting seniors at community health centers and nursing homes.
All eligible clients were provided with hearing aids, a battery supply, maintenance and after care services — all at no charge to the patient. The Starkey Hearing Foundation provided the aftercare materials and supplies, tools, phones, computer, ear impression materials, replacement hearing aids — everything necessary to maintain the program going forward.
This mission and collaboration gives the DOH the unique opportunity to capture data on hearing loss statistics regarding the type and conditions that contributed to hearing loss and prevalence/incidence. It is doing everything it can to make use of all that the foundation has to offer the residents in the territory.
There will be a monthly follow up after care clinic at the DOH; current patients will be contacted directly to schedule appointments. Individuals that need assistance with their hearing aids are encouraged to call 227-9011.
The program will be ongoing. DOH looks forward to helping even more people in both districts. It anticipates having additional patient identification sessions in preparation for another hearing aid mission in the fall of 2017, which will encompass all three islands. If individuals would like to be considered. they can call 718-1311, ext. 3789 or 3786.
Special thanks to: the Maternal Child Health Program (MCH), Barry University, Sunshine Mall, Various St. Croix Rotary Clubs, Mount Welcome Pharmacy, Lutheran Social Services of the VI, Teddy's Rental, Reliable Rentals, Olympic Car Rental, Caravelle Hotel, the University of the Virgin Islands' VIUCCED program, Dr. Hubert Watty from Pro-Med Clinics and Dr. Germain Owen's Family Practice, and big kudos to the DOH staff, to include the maintenance/facilities staff and the many volunteers who donated their time to this noteworthy event.