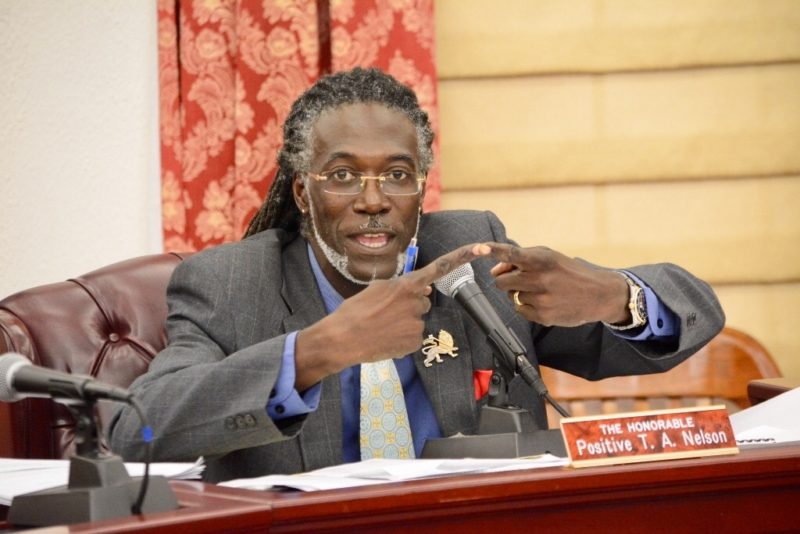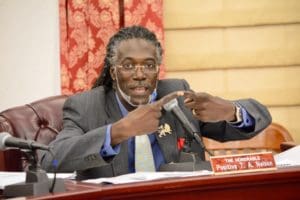 After removing an overtime pay requirement, the Rules and Judiciary Committee approved a bill to celebrate June 26-July 3 as Emancipation Week, with an annual proclamation from the governor and various ceremonies and events, Monday, sending it on to the floor.
The bill, sponsored by Sen. Positive Nelson (ICM-STX), originally would have required private and public employers to pay time and a half to hourly employees who work July 3. But senators raised concerns about the impact on businesses in the midst of a bad economy and that it could actually reduce employment rather than help workers, before nixing that portion.
In 1848, Virgin Islanders – led by freed slave Moses Gottlieb, known as "General Buddhoe," a molasses boiler – led the uprising that won freedom for all slaves in the territory. Buddhoe had organized slaves on St. Croix's West End plantations to march on the town of Frederiksted. On July 3 that year, Danish Governor Peter von Scholten issued a proclamation declaring "all unfree in the Danish West Indies are from today free."
Besides occurring many years before the U.S. Civil War and President Lincoln's Emancipation Proclamation, the successful V.I. revolution was one of only a very few successful slave uprisings in history. From biblical times and the story of the Roman slave Spartacus or the Hebrews in Egypt, right through to the 19th century, slave uprisings have almost always been put down with overwhelming force. The enslaved are almost always vastly outgunned.
July 3 is already a V.I. holiday and is commemorated with ceremonies and events, but only in a limited fashion and not in a manner coordinated with the territories' tourism marketing.
A letter opposing the measure from St. Thomas-St. John Chamber of Commerce President Sebastiano Paiewonsky-Cassinelli was read into the record. The chamber opposed the overtime requirement on several grounds. Cassinelli wrote that the idea is "a dangerous and untimely public policy," and that chamber members "have been burdened with additional financial responsibilities in an already difficult entrepreneurial environment."
He said businesses cannot close their doors on that day, as it is a busy holiday, and instead would be forced to run with "skeleton crews."
"We find it ironic a measure designed to celebrate freedom would interfere with the agreement that employers and employees have reached with respect to their terms and conditions of employment," his letter added.
The existence of statutory minimum wages is a legal recognition of the lack of power of many workers to meaningfully negotiate pay.
Every senator on the committee expressed support for the commemoration of the week but several said they agreed with the Chamber of Commerce that the pay provisions may be counterproductive, given the bad current territorial economy, recent tax increases and a recent small increase in the minimum wage.
Sen Sammuel Sanes (D-STX) said he supported the measure but "a lot of small businesses are struggling … and we need to do what we can to assist them."
"It is extremely hard for me to financially burden these small businesses at this time" Sanes said.
Sen. Jean Forde (D-STX) said "businesses don't necessarily make more money on a holiday" and that he was concerned that it could "have a negative effect" and actually hurt employment by hurting businesses, rather than helping workers.
"We can't increase the burden on our business sector," Sen. Janette Millin Young (D-STT) said.
"This is who we depend on to pay our taxes, pay our salaries, pay the teachers and police," she said.
Nelson responded that businesses should be closed for the day, because of the solemn and important nature of the day. He previously said the holiday should be incorporated into the tourist experience, which would seem to suggest businesses being able to serve the tourists who come for the experience.
Nelson also urged senators to support the pay measures, saying many businesses "pay double on the fourth of July."
Neither V.I. nor federal law mandate private employers give higher pay for the fourth of July.
Nelson moved the bill be sent on to the floor, but it failed initially, with Nelson, Sens. Marvin Blyden (D-STT), and Myron Jackson (D-STT) voting yes and Forde, Young, Sanes and Sen. Novelle Francis (D-STX) voting no. Then Sanes moved for reconsideration, on the condition the bill be amended to remove the pay measures. The committee then voted 7-0 to send it on to the floor without the pay measure.