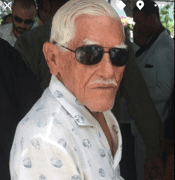 Anatolio Romero Nieves died on May 20.
He is survived by his daughter, Irma Romero Hogan; son-in-law, John Hogan Jr.; special grandchildren: Sandra Cepeda and Luz Gomez; grandchildren: Edwardo Gomez Jr., Luis Gomez, Maria Rivera, Wanda Gomez, Daniel Gomez, Angel M. Gomez, Maximo Gomez, Tasha Hogan, John Hogan, Noel Romero and Ricardo Romero; 34 great-grandchildren; 13 great-great grandchildren; sisters: Margarita Maldonado and Irma Ascencio; sisters-in-law: Anita Romero and Isabel Romero; brothers-in-law: Horacio Maldonado and Angel Ascencio; grandchildren-in-law: Peter A. Thomas and Franka Daniel; nieces and nephews: too numerous to mention; and other relatives and friends too numerous to mention.
A viewing will take place at 9:30 a.m. and a funeral service at 10:30 a.m. on Tuesday, May 30, at St. Patrick's Catholic Church, Frederiksted. Interment will follow at Frederiksted Cemetery.