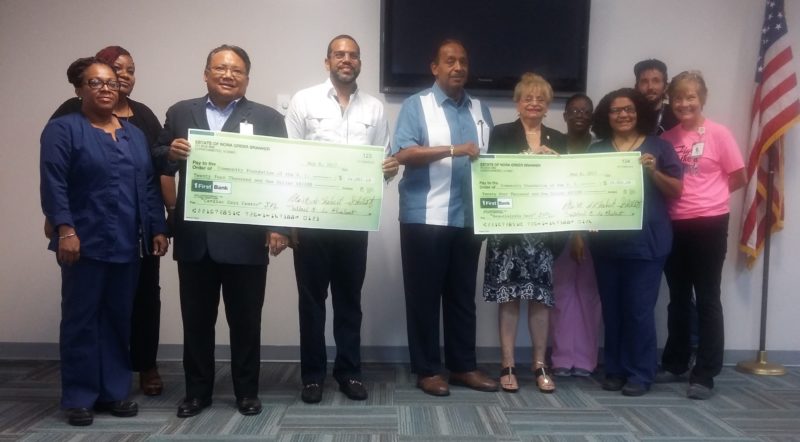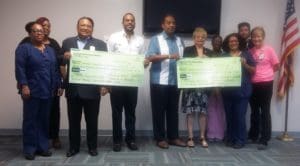 On Friday, officials and staff from the Gov. Juan F. Luis Hospital and Medical Center (JFL) received $48,000 to support the hospital's hemodialysis units and the Virgin Islands Cardiac Center (VICC).
Troy deChabert-Schuster, the vice chair of the JFL Governing Board, and his brother, Greg Schuster, presented staff from the VICC with a check for $24,001.49 that was donated from the estate of their aunt, Nora Branker. Greg Schuster said, "My aunt left 12 percent of her cash to the dialysis unit, and she left 12 percent of her cash for the Cardiac Center, and we are here to ensure that her wishes are carried out."
The Schuster family also presented staff from the Hemodialysis Unit with another check in the amount of $24,001.49. "We would like to thank our late Aunt Nora Branker and [honor] her memory for her thoughtfulness as she was planning her estate to make sure that Juan F. Luis Hospital would benefit, and especially the people of the Virgin Islands whom she loved so very much," said Schuster.
The funds received by the Hemodialysis Department will go towards the purchase of a portable reverse osmosis machine. The money for the hemo units will also be used to replace an outdated work station, an outdated hand-washing station for both patients and staff, and any other equipment needs of the unit.
"We are so grateful to Ms. Branker for the gift that she has so thoughtfully given to us, and we would also like to thank the Schuster family for their continued support of our department," said Sonji Black, JFL hemodialysis director.
The VICC donation will be used to purchase two major pieces of equipment for the cardiovascular center, a MAC 5500 HD EKG machine and an echocardiogram probe.
"On behalf of the Virgin Islands Cardiac Center team, I would like to say thank you for this generous donation which will allow us to continue excellent and quality cardiovascular care to the people of St. Croix and to the territory," said Lori Trotman, VICC Clinical Care coordinator.