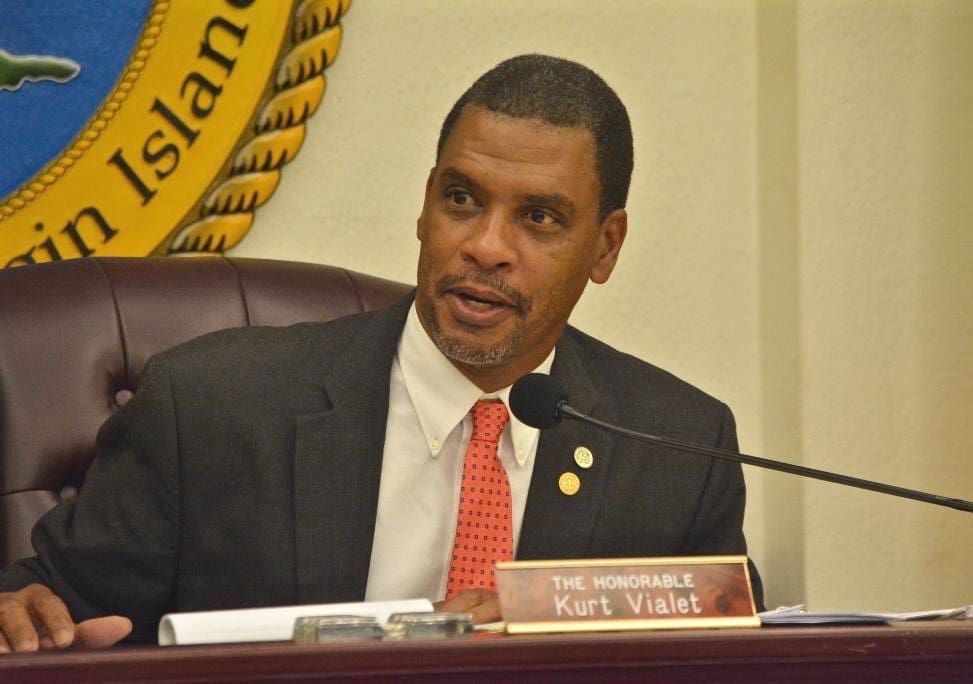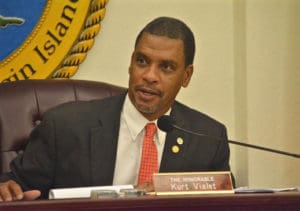 Senators held, for now, legislation proposed by Gov. Kenneth Mapp to divert $3 million in federal rum funds to fix major sewer pipe problems at Gov. Juan F. Luis Hospital, after a hearing Thursday.
The Finance Committee held several other bills. One would pull millions of dollars in federal rum excise taxes into the budget to pay for matches to get the most out of federal Medicaid dollars; another would give Schneider Regional Medical Center half a million to fix internal piping and hot water systems. Others would re-appropriate leftover funds from school capital projects on St. Croix for projects on St. Thomas, move funds from one place to another to buy land for Paul E. Joseph Stadium and authorize the government to buy hoped-for eventual new nursing home on St. Thomas if funds can be found..
The committee approved and sent on a bill to re-appropriate $75,000 left over from work on St. Thomas' Emancipation Garden Park from the Communities Facilities Trust Account for work at the Kirwan Terrace Ballpark, the Joseph Aubain Ballpark, and the Emile Griffith Ballpark on St. Thomas.
The bill with the biggest dollar figure would add $10 million to Human Services as matching funds to get more federal Medicaid dollars for the territory's Medical Assistance Program. Under the federal Affordable Care Act, the territory has more Medicaid funding than in the past, but must put up 45 local dollars for every 55 federal dollars it gets.
Senators were dubious about the extra spending, at a time when the cash situation of the government is extremely tight. A report from Legislature Post Auditor Jose George recommended against the funding, saying the Legislature is "concerned that the government has been experiencing a cash flow problem from the inception of Fiscal Year 2017 and that this request does not in any way ameliorate this condition. This request raises the "old saw" that, in an environment of limited resources, local governments, which do not have the ability to print their own currency, should not pursue the expansion of federal programs that drive and dictate the financial decisions of local policy makers."
Human Services Commissioner Felecia Blyden testified the U.S. Virgin Islands could soon stop receiving Medicaid payments unless $2 million to $3 million in matching funds is found right away and a total of $10 million in coming months. Loss of Medicaid payments would restrict access to care for thousands of Virgin Islanders and reduce funds to the territory's cash-strapped hospitals.
"Without an increase in appropriations, the MAP program will be forced to cease all Medicaid payments until the new fiscal year begins Oct. 1 2017," Human Service Commissioner Felecia Blyden said during a committee of the whole hearing May 10.
The other big item was a bill to redirect $3 million from leftover funds from an array of completed capital projects and a few projects that never happened to pay for emergency sewer repairs at JFL.
The problem at JFL is severe. On May 2, sewage pipes backed up in the JFL Emergency Department and the hospital has been scrambling to deal with the problem ever since
The same bill also appropriates $13 million in federal rum tax funds due to the federal government covering over the full $13.25 per gallon tax, instead of the lower, default $10.50 per gallon the V.I. government's 2017 budget assumed. The territory is getting slightly more than $18 million in total, but around $6 million of that is going to the rum companies, Finance Commissioner Valdamier Collens said. The government gives near total tax forgiveness to the territory's rum companies and also gives them a large share of the federal alcohol excise tax funds the federal government gives the territory as a large cash subsidy.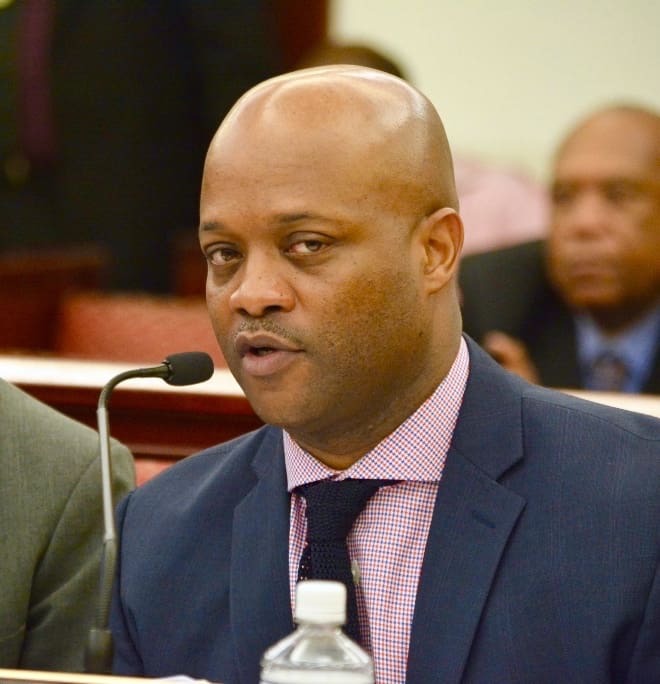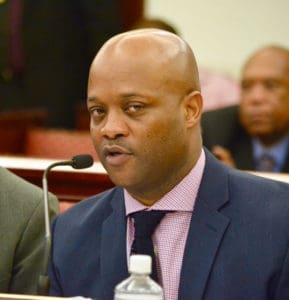 Some senators have expressed concern over the possibility that taking these rum funds will reduce money available to pay the collapsing Government Employee Retirement System the $7 million in annual rum funds the Senate mandated back in 2011. The government has paid the full amount once, in 2016, and a partial amount for this year.
The bill also includes a $2 million appropriation to the General Fund from the Tourism Advertising Revolving Fund, which consists of hotel room occupancy tax revenues.
Sen. Novelle Francis (D-STX) asked how much money there was in that fund. Collens said there was $25.8 million with $23 million still un-obligated. The rest is already appropriated. Several senators were surprised at such a large amount of funds being available. Nelson said he was frustrated that when senators try to appropriate funds for projects, administration officials say the funds are not available, yet here was $23 million that senators were not aware of.
Sen. Tregenza Roach (I-STT) said it concerned him there had been no testimony from the Tourism Department either Thursday or at the May 10 hearing about using money from the Tourism Advertising Revolving Fund.
"We did discuss it," and the commissioner of tourism is "on board," Budget Director Nellon Bowry said.
In year's past, much of the money in that fund has gone to pay for public relations and for advertising. The Legislature's post audit report for the Department of Tourism's 2017 budget presentation, from July of 2016, lists $13.8 million budgeted for the J. Walter Thompson U.S.A. advertising agency; roughly triple the Tourism Department's total local operational funds of $4 million in the governor's 2017 budget proposal. The post audit report from last summer projects about $25.4 million in TARF funds from the hotel occupancy taxes for the year, or a little less than is currently in the fund right now.
Education Commissioner Sharon McCollum described the projects the department wants to do with $732,000 in leftover bond funding, including renovating an unoccupied building for the consolidation of the Jane E. Tuitt Elementary School and Dober Elementary School, costing $643,000; establishing a Performing Arts Center and renovating the St. Thomas Headquarters restrooms at a cost of $89,000, according to McCollum.
Moving bond funding from one district to the other was a sticking point for some.
"I noticed that there are no projects or monies that will be re-appropriated to schools on St. Croix" Sen. Sammuel Sanes (D-STX) said, asking if there was a "Plan B."
"There is a Plan B. We have over $2 million to repair the track at Central High School. There is also a considerable amount of work to be done at the Educational Complex. The remainder of the funds will be used towards additional projects on St. Croix," McCollum said.
McCollum later said said there would be separate legislation to fund St. Croix projects, but meanwhile, none of the urgent St. Croix projects were small enough to be paid for with these particular funds.
"Are renovating the restrooms at the St. Thomas Headquarters a priority?" Francis asked.
Commissioner McCollum said, "It is one of many priorities that DOE is facing. We will develop a proposal to tackle renovations and repairs for the St. Croix School District."
Public Works Commissioner Gustav James said the government needs to buy 5.5 acres of land to begin construction of the long-awaited new Paul E. Joseph stadium complex in Frederiksted.
Francis said he was tired of delays on the project and asked if purchasing the land is the final thing needed to get Paul E. Joseph Stadium project moving.
"Yes senator once we purchase this land we will be able to begin construction," Gustav James said.
Sen. Kurt Vialet (D-STX), the committee chair, asked what the cost of the whole Paul E. Joseph project would be. Gustav James said $17 million was needed for what was shown on the map and is what is available from previous bond funds. He said $3 million had been spent so far.
Vialet pressed Gustav James on whether there was enough money to completely finish the project.
"No, the monies can only complete different phases of the project but it is not enough to finish it entirely," Gustav James said.
"We have to seriously consider how monies are being spent in the government. How can we pass a bill without all the financial information present? Even if the measure is approved, the Paul E Joseph Stadium will still not be completed," Vialet said.
Senators held all but the sports facilities project bill without objection. The committee voted 7-0 to send the sports facility repairs bill on to the Rules Committee. Voting to send the bill on were: Vialet, Sens. Dwayne DeGraff (D-STT), Marvin Blyden (D-STT), Neville James (D-STX),Nereida Rivera-O'Reilly (D-STX) and Brian Smith (D-At Large). Sen. Tregenza Roach was absent at the time of the vote. Sanes and Francis attended but are not members of the committee.