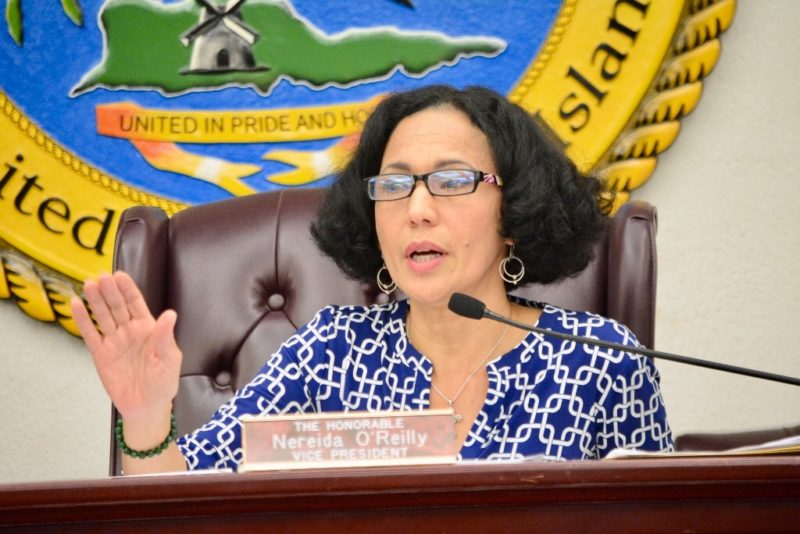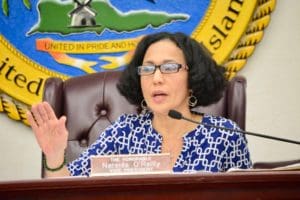 The automatic length of time for emergency commitment of someone suffering from mental illness or addiction who is an immediate danger to themselves or others will increase from 48 hours to five days, and the maximum will increase from five days to 10 days, if legislation approved in committee becomes law. Another bill will increase the time for involuntary commitment from five to 30 days, if two bills approved in V.I. Senate committee Wednesday become law. It also removes a provision in the law that says a court "may not order commitment of a person unless it determines that the Department of Health is able to provide adequate and appropriate treatment for him and the treatment is likely to be beneficial."
Proposed by Sen. Nereida "Nellie" Rivera-O'Reilly (D-STX) both bills are new versions of legislation approved in the autumn of 2016 that were later vetoed by Gov. Kenneth Mapp.
Mapp also vetoed two bills increasing the time limit for emergency commitments, saying in both cases that they increase the minimum time as well as the maximum time.
"In addition, the measure also deletes language that required the court to determine that the Department of Health is able to provide adequate and appropriate treatment for the individual and that the treatment would benefit the individual," Mapp said in his veto message.
O'Reilly's new versions of these bills addresses Mapp's first concern but not the second.
"We addressed the governor's concerns by adding language that clearly says any extension of time would be at the discretion of the physician,"O'Reilly said at Monday's hearing of the Health Hospitals and Human Services Committee, adding that "at no time" did the Legislature intend to mandate that the maximum number of days would be the time all patients would be committed.
Deputy Health Commissioner Nicole Simms testified in support of the bill's intention but reiterated concerns from last fall that the bill mandated expensive treatment that was not funded and the territory's facilities may not be able to carry out.
"Increasing the maximum time a person can be involuntarily committed serves to increase our costs with no permanent resolution. After we hold a person for 30 days as this bill suggests, this legislation does not address the outcomes of an individual struggling with a mental or substance abuse disorder requiring repeat visits for crisis mental health stabilization," Simms said.
St. Croix may be especially pressed, she said.
"Governor Juan F. Luis Hospital and Medical Center does not currently have an acute care unit for mental health patients or a behavioral health unit. As a result, removing the clause that prohibits the courts from issuing an Involuntary Commitment due to lack of resources or appropriate facility, places an undue disadvantage to the hospital on St. Croix as well as other direct care service providers," Simms said.
Voting to send both measures out of committee for consideration in the Rules and Judiciary Committee were: O'Reilly, Sens. Marvin Blyden (D-STT), Dwayne DeGraff (D-STT), Novelle Francis (D-STX), Sammuel Sanes (D-STX), Kurt Vialet (D-STX) and Janette Millin-Young (D-STT). All members were present and no one voted against the measures. Sens. Jean Forde and Sen. Brian Smith (D-At Large) also attended the hearing.
The committee also heard testimony on a bill to put a moratorium on certificates of need for new medical facilities. The goal of the bill was to help the territory's hospitals by reducing the extent to which doctors at the hospitals are able to refer only insured patients to their private facilities, leaving the public hospitals with more and more uninsured patients. The measure was held for the time being to consider amendments on the level of fees and the nature and length of a moratorium.
Senators also voted to hold legislation to usurp some of the authority of the Gov. Juan F. Luis Hospital governing board by directing it to solicit proposals for a third party to manage and run the hospital. The board currently has authority to select an executive director to run the hospital. Its legal counsel Richard Evangelista has been acting executive director for more than a year, after the departure of the previous executive director. Supporters of the measure cited delays in getting a new, permanent director and ongoing difficulties at the hospital and with its management as cause for bringing in a new complete management team from outside.