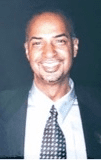 He is preceded in death by his siblings: Raymond Hecker Jr. and Joseph Hecker; in-laws: Hattie Mae Adams-Hecker, Michael Cullen, Ricky De Carlos Cavener, Harold Adams, Charles Thompson and Jeffrey Purvis; and special friend, Wayne Foote.
He is survived by his wife, Laurel James-Hecker; siblings: Rochelle Hecker, Deborah Hecker-Cullen, Rachel Hecker-Cavener, Kim Hecker-Pinckney, Yasmine Hecker, Charles Hecker, Ivan Hecker and Nancy Hecker; sons: Tyrone Hecker Jr. and Pierre Hecker; daughters: Kecia-Hecker Purvis, Layla Hecker-Thompson, Nicole Hecker-Davis and Isis Hecker-Vertus; and in-laws: Magnolia Mathias-Fitzgerald, Erna James-Lynch, John Lynch, Greta James-Garcia, Kwame Garcia, Jennifer James-Mbombo Njoya, H.M. Ibrahim Mbombo Njoya – King of the Bamum people, Winfield James, Gustav James Jr., Kevin James, Wayne James, Michael James, Ivelisse Rodriguez-Hecker, Antoinette Wilson-Hecker, Richard Davis, Patrice Hecker, Douglas Mayo and Sheryl Burnell.
He is also survived by grandchildren: Steven Rosado Jr., Samantha Rosado (granddaughter-in-law), Jason Gray, Imani Purvis, Jeffery Purvis, Zemorah Vertus and Adriana Vertus; great-grandchild, Kaleb Rosado; nieces and nephews: Raymond Hecker III, Idalia Hecker, Pamela Hecker, Jamarr Hecker and Joseph Hecker Jr., Tiffany Hecker, Shermaine Adams, Harold Adams, Jason Adams, Michael Cullen, Travis Cullen, Ann Marie Cavener, Ricky Cavener Jr., James Pinckney Jr., Cynthaly Pinckney, Larry Kinley, Charles Hecker Jr., Ryane Hecker, Candyce Hecker, Royelle Fehrlin, Alexandria Hecker and Ivan Hecker Jr.;
Other survivors include great nieces and great nephews: Melasia Hecker, Camrin Hecker, Kiara Kennedy, Jahmil Kennedy, Kahleim Kennedy, Aiden Santiago, Mariah Santiago, Isiah Hecker, Dwayne Slade, Daeshon Adams, Daquanna Adams, Jayla Adams, Treyvon Cullen, Ja'Niyah Cullen, Tatyana Gonzalez, Tiana Cavener, Eric Jones Jr., Kimora Adams, Dejon Williams and Bryce Hecker; other family members in New York and St. Croix: Gittens, Messers, Princes, Corneliuses, Jameses, Caseys, Isaacs, Joneses, Alveses, Williamses and a host of other cousins; special friends: Anthony James, Severiano Jacobs, Donald Garcia, John Rice, Kevin Doherty; and many other family members and friends who loved him and will miss him dearly.
A viewing will place at 9:30 a.m. followed by a funeral service at 10:30 a.m. on Thursday, May 11, at St. Patrick's Catholic Church. Interment will be at the Frederiksted Cemetery.