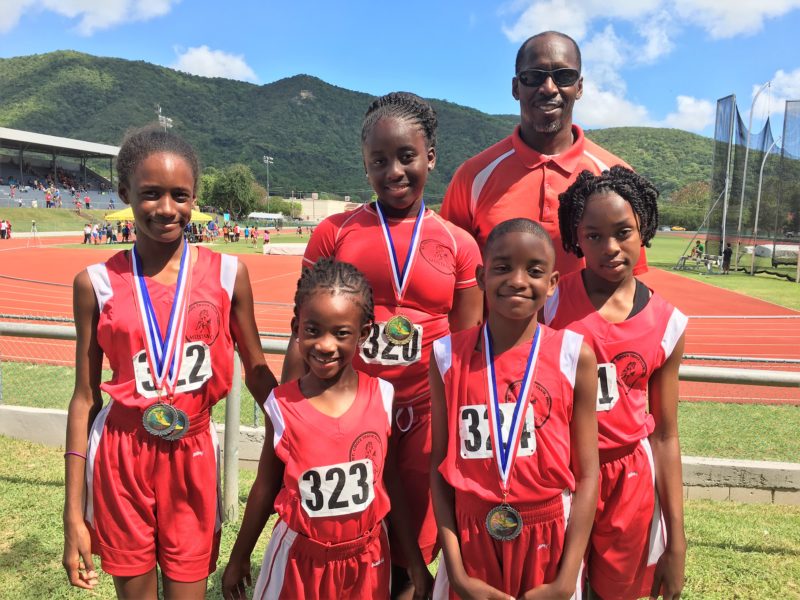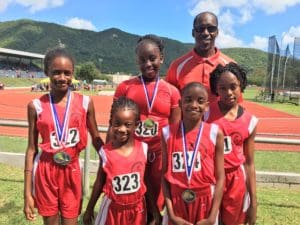 The St. Croix Track Club (STXTC) congratulates its five young athletes who qualified for and participated diligently in the AAJI (ASOCIACIÓN DE ATLETISMO JUVENIL E INFANTIL) Track and Field Championships this weekend. The event was held on Saturday, May 7, in Penueles, Puerto Rico.
The five Mustangs placed in the top nine of the finals achieving one gold and three silver medals. Only one of these athletes was previously qualify for the finals. The only exception was Arian Edger, who qualified last year in the 80m dash. Keep in mind that the age groups are 7-9, 10-11 and 12-13-year-old athletes. The finalists are: Jeniqua Weekes, Michelle Smith, Akyra Joseph, Jonathon Jones and Ariana Edger.
*Jeniqua Weekes qualified in long jump when she placed 9th overall.
*Akyra Joseph qualified in two events, when she placed 6th in long jump being the top 10 year old in the group and 5ft in the 200m being the only 10 year old in the 200m finals. She will have one more year in this age group.
*Michelle Smith – 2nd Place high jump in a pr of 1.22m or 4'0 inches.
2nd Place long jump in another pr of 4.05m. The first-place athlete jumped one centimeter further. This was a great competition.
*Jonathon Jones—2nd in high jump in 1.03m or 3ft. 4.5 inches.
*Ariana Edger—1st in the shot put in 10.08m just three centimeters ahead of second place and 8th in the 80m
The athletes are among the best of all at the Puerto Rico Games.
Full results can be found at site: www.finallaptiming.com/AAJI/
For more details, contact Coach Keith Smith at 277-1123.