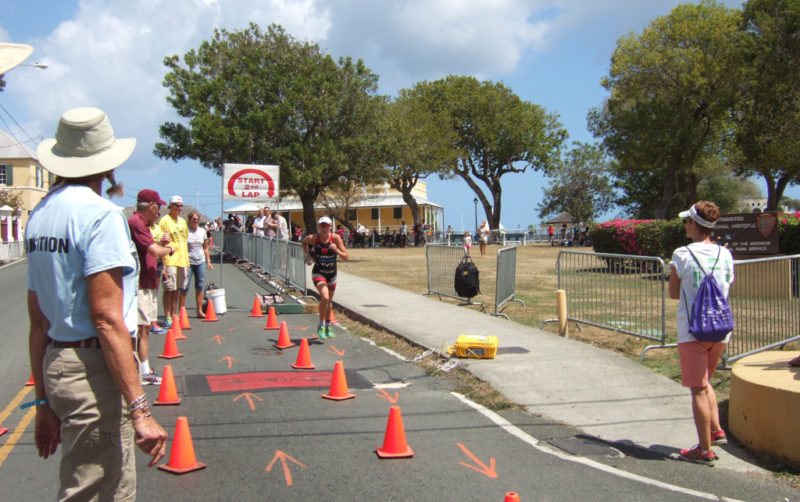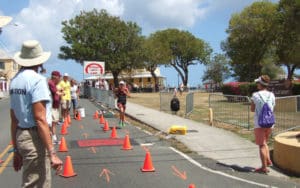 Every day, more brightly garbed cyclists and slender runners are seen pacing themselves along St. Croix streets and roads, in anticipation of Sunday's Captain Morgan Ironman 70.3, the 29th annual running of the international event – and the last.
This week, organizers race to patch roads, spray florescent orange arrows on sidewalks, erect street barriers and tents in Christiansted and register athletes.
According to race director, Tom Guthrie, everything is on schedule to ready the course for the triathletes, who will hit the water at 6:30 a.m. Sunday morning.
Between 320 and 350 competitors are expected, Guthrie said, an increase over last year; The top 35 competitors will qualify for the 2017 Ironman 70.3 Championship.
The event begins Thursday morning with an organized training swim to acquaint athletes with the Christiansted Harbor. The harbor also will be closed so athletes can practice the course Friday morning.
On Friday night, triathletes will gather in front of the web cam on the Boardwalk for a group photo, fill up on carbs at area restaurants and enjoy Jump Up, a street festival organized in their honor.
The triathletes will check in Saturday, receive numbers, final instructions and attend a mandatory race briefing at 1 p.m. They will spend the rest of the day preparing for the 5 a.m. check-in for Sunday's race.
Originally called the St. Croix Triathlon, the race includes a 1.24-mile swim, a 56-mile bicycle race and 13.1 miles on foot to the finish line at the Christiansted Bandstand. The Sprint, which can be relayed by three team members, covers an 800-yard swim, eight-mile bike race and a four-mile run.
Keeping racers on their toes will be the 2016 winner, Franchy Favre from Martinique. So far, he is the first of last year's top four to register. Another triathlete to watch is St. Croix's Bridget Klein, who was the first woman across the line last year.
Earlier this year, Guthrie announced this will the last Ironman after 29 years because of the expense running the event and the decrease in sponsorship. When the St. Croix event started, it was the only qualifying race for the World Championship in Hawaii. Now there are 30 such events, including one in Puerto Rico.
Guthrie said comments from the community about the final Ironman have been supportive and most people marvel it has lasted almost three decades.
"I'm pleased to say the feedback is positive. People say we've had a pretty good run," he said.
Volunteers are still needed to help direct athletes on the course, Guthrie said.
"If you can't volunteer, come out and support our guests," he said.
Those who want to volunteer can call 340-773-4470.