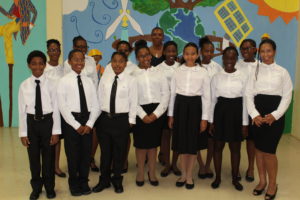 Arthur A. Richards Junior High School (AARJHS) inducted 14 of its top scholars into the National Junior Honor Society (NJHS) on Friday, April 21, during a ceremony held in the school auditorium. The formal event welcomes the top students who exemplify the society's five core principles: scholarship, leadership, service, character and citizenship.
Chapter adviser Cicely Ferguson led the processional of the inductees into the auditorium and onto the stage. Mistress of Ceremony and current NJHS member Allana Jackson welcomed attendees. Former NJHS member and Educational Complex sophomore Mojania Denis served as the guest speaker; he shared tips that have allowed him to be a successful student.
Following Denis' address, the induction began with the ceremonial lighting of the candles for each of the five NJHS principles. Once all candles were lit, the chapter advisor led the recitation of the pledge, which formally named the student members of the Carlos F. Rodriguez Chapter of the National Junior Honor Society. Each student received a lapel pin and certificate of membership. Principal Kent Moorehead congratulated the students and their parents on a job well done, and he encouraged them to uphold the principles of NJHS as they move on to high school and college.
The Arthur A. Richards 2017 Carlos F. Rodriguez NJHS Inductees are: Arianna Angol, Nya Ashley, J'Nyah Charles, Kaisha Cumberbatch, Jamaine Gurley-Hopson, Omega Harris, Amarjahan Joseph-DeCambra, Safia Marin, R'Daejah Milligan, Christina Nieves, Monisha Noelien, Melanie Rodriguez, Jaiden Ventura and Aundre Watley.