Happy the GOP led Congress avoided a shutdown with legislation funding the government for the rest of the year, V.I. Delegate to Congress Stacey Plaskett (D-USVI) said extra money for Puerto Rico's Medicaid is coming from funds that include the U.S. Virgin Islands. On April 30, Congressional leaders reached a bipartisan agreement to fund the government through September. Without an agreement, congressional authority to fund the government would have expired at the end of the first week of May.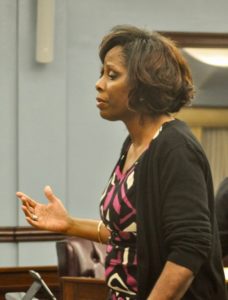 "This spending agreement avoids another disruptive government shutdown and illustrate Democrats' continued commitment to hardworking American families. The bill continues funding for critical health research, for programs that ensure womens'right to reproductive health and to restoring year-round Pell Grants for low-income students, as well as others," Plaskett said.
There is $295 million in funding for Medicaid in Puerto Rico, which has used more of the Affordable Care Act's increased Medicaid funding than other territories, she said.
"Because of Puerto Rico's massive debt problem, it has spent its initial supplemental Medicaid funding under the Affordable Care Act at a faster rate than the other territories. While the other territories will face the same problem– due to the disparities in funding compared to States– when they reach the Medicaid "fiscal cliff" in September of 2019, This legislation only allocates Puerto Rico enough funds to be able to operate their Medicaid program until that date," she said.
The money used comes out of supplemental Medicaid funding for the smaller territories, whose local governments have not spent the money at the same rate as Puerto Rico, she said. She wants to see the funding system changed to make it easier for the other territories to take advantage of the funds.
"But it is important to note the U.S. Virgin Islands—which elected not to implement an exchange in 2013—will likely not use any additional funding due to the high federal match rate. This disparity in federal funding for healthcare has placed an unfair financial burden on the U.S. Virgin Islands and other territories. I am currently in the process of introducing legislation designed to give U.S. territories equal treatment under Medicaid," Plaskett said.
Editor's Note: This story has been changed to clarify Plaskett's position on the Medicaid funding.