or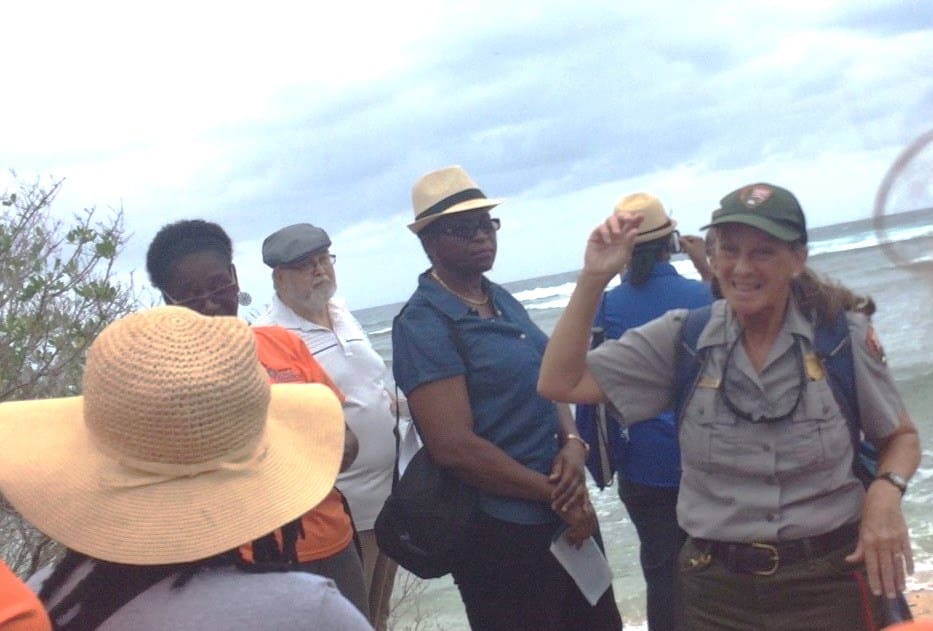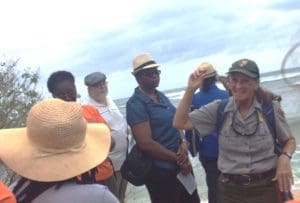 The St. Croix District Office of the Insular Superintendent took its April 2017 meeting with the district's principals, coordinators and directors to the great outdoors to provide the educators with a unique learning experience.
By invitation of the National Park Service (NPS) at the superintendent's meeting in March, a total of 28 participants visited the historic Salt River National Park on April 18 and received a tour of the site from NPS rangers. The expeditionary learning activity gave participants the opportunity to enjoy a hands-on, birds-eye view of the many resources available at the park that can be used to engage teachers and students in (Science Technology Engineering Art and Mathematics) STEAM activities.
According to Superintendent Colleen Williams, the learning opportunities are numerous at Salt River. "A million-dollar 'classroom' facility that is off the grid and floodable was built on the site of an old hotel on the property," she said.
"Teachers and students can enjoy the flora and fauna; tag and track fish, turtles, plants, water conditions; track wildlife in the mangroves; explore the bioluminescence pond; draw or create paintings of the flora and fauna; explore and excavate a recently found Taino village site; and research data that has been collected over 30 years," said Williams.
The activity was the first of its kind, and the educators are inspired to return to the site to learn more about Salt River.
Park rangers leading the tour included Joel A. Tutein, superintendent; Zander Hollis-Starr, chief of resources; Ranger Benito Vegas and Ranger Clinton.