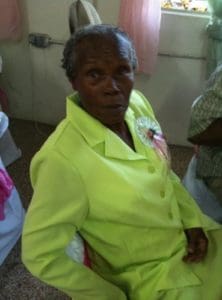 Imogen Selina Caines, also known as "Selina," of Estate Strawberry died on April 12. She was 86 years old.
She was preceded in death by her mother, Agatha Mary Mike; and father, Luis Mike.
She is survived by her daughters: Janet Phillips, Nathalie Connor, Jacintha Browne, Lornette Caines, Pat Boss and Gloria Justin (adopted); sons: Hermon Mike, Rawle Caines, Dwight Caines and Jerome Justin (adopted); and grandchildren: Hermon Mike Jr., Omar Mike, Emanuel and Letisha Henry, Elenore Frederick, Dezarea Caines, Vere Connor, Delcia Ferlance, Wanda Connor, Antonette Connor, Petra Mike, Ouckland Connor, Natan Connor, Sheldon Connor, Bernice Phillips, M'Kaila Caines, Vernecia and Verneeci Caines, Jah'mne, Jah'mila, Jah'halla and Jah'mina Caines, Bernard Phillips, Ira Phillips III and Patricia Smith.
She is also survived by great-grandchildren: Lennox Degrasse, Brandon Degrasse, Zakarai Degrasse, Layla Degrasse, Jaylen Ferlance, Ajalailon, Avandi and Avanzhane Connor, Lyzette James, Shermel Moven, Elizabeth Rivere, Matthew Frederick III, Danielle Degrasse, Marteisha Degrasse, Kinyan Williams, Kinylan Williams, Alyfivf Charlery Jr., Eric Phillip, Phylicia Smith, Gary Smith and Bernard Philip Jr.; great-greatgrandchildren: Treavon Theodore, Hershel Theodore Jr., Ricardo Moven Jr. and Serenity Durkis; sisters: Myrna Smith and Ritza Cartier; and brothers: Bernard Mike, Clinton Mike and Sylvester Mike.
More survivors include nieces: Theresa Brady, Denise Smith, Janice Smith, Tracy Mike, Ahati Browne and Hannah Cartier; nephews: Clement Browne, Austin Charles, Dwight Cartier, William Mike, Franklin Mike, Sylvester Mike, Frederick Mike, Wycliff Smith and John Smith; great nieces: Kenesa Brady, Elise Mike, Karima and Thalia Smith, Anna Smith, Sheranda Mike, Danielle Cartier, Dajah Cartier, Jahde Cartier and Menen Cartier; great nephews: Alexander Mike, Mosi, Elijah, Jabarie and Jablie Mike, Jaquan Mike, Dwight Cartier Jr. and Matthew Frederick; and daughters-in-law: Laverne Mike and Joyce Caines.
Other survivors are son-in-law, Ira Phillips; brothers-in-law: Michael Cartier and Richard Smith; sisters-in-law: Patricia Mike and Yvonne Mike; special friends: the Trotman family, the Harvey family, The Seventh-day Adventist family, the Continuum Care staff, Leonicio Schmidt and family, Helena James, Ms. Roberts, Anna Brewster, Villburn Johnson, Julia Brookes and family, Marilyn Simon and family, Noella Thomas and family, Theresa Charles and family, and Sulma Parrilla and family; cousin, Bertrand Charles; as well as other relatives and friends too numerous to mention.
There will be a viewing at 9 a.m. and a funeral service at 10 a.m., Sunday, April 30, at Peter's Rest Seventh-day Adventist Church. Interment will follow at Kingshill Cemetery.