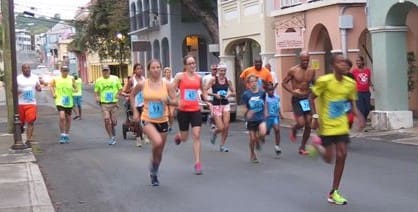 The newly paved streets in the Christiansted National Historic Site were filled with athletes on Saturday showing support for libraries as part of the 35th Annual National Library Week – Run to Your Library 5K Road Race.
Juan Robles, V.I. Half-Marathon champion, eased through the flat loop course in the Christiansted National Historic Site with its finish at the Florence Williams Public Library and just across the street where it is believed that American founding father Alexander Hamilton clerked as a youngster before moving and becoming famous. Robles time was 18:07; Dominic Puglise of Good Hope Country Day School (GHCDS) was second in 20:11; Brice Richards GHCDS was third in 20:50; Randall Nielsen was the fourth-place male in 22:09 and Mason Lambert GHCDS was fifth in 22:39.
Bridget Klein was the first female finisher and fourth overall in 20:50; Amy Roberts was second and fifth overall in 21:30; Megan Lambert was third in 24:03; Mya Russell was fourth in 27:21 and Katherine Puglise was fifth in 32:34.
Notes:
1] runners received medals, certificates, special National Library Week book marks, free library cards, and a selection of books went to winners and the youngest participants.
2] this event was founded by Wallace Williams, former territorial librarian and director of Libraries, Archives and Museums for the Virgin Islands. Ricki Marshall of the Florence Williams Public Library presented on behalf of the Director Libraries; Ingrid Bough received special recognition at the awards ceremony following the race.
3] Williams' dream is to make this event a nationwide run with a library in each state and territory eventually staging the run at their location on the same day during National Library Week, and then the top three males and females will come to St. Croix to run a championship.
The 35th Annual National Library Week – Run to your Library (Distance: a 3.1 Miles Flat Loop Course)
In Support of The Friends of the Public Libraries
April 15, 2017, Christiansted, St. Croix, V.I.
The Race is Organized by V.I. Pace Runners and Sanctioned by V.I. Track and Field Federation
Place/ Name/ Age/ Sex/ State/ Time/ Pace
1 JUAN Robles 26 M St. Croix, VI 18:07 5:51
2 DOMINIC Puglise 15 M St. Croix, VI 20:11 6:31
3 BRICE Richards 10 M St. Croix, VI 20:15 6:32
4 BRIDGET Klein 31 F St. Croix, VI 20:50 6:44
5 AMY Roberts 37 F St. Croix, VI 21:30 6:57
6 RANDALL Nielsen 47 M St. Croix, VI 22:09 7:09
7 MASON Lamabert 10 M St. Croix, VI 22:39 7:19
8 MEGAN Lamabert 35 F St. Croix, VI 24:03 7:46
9 MIKE Klein 50 M St. Croix, VI 25:23 8:12
10 KEVAN Moran 43 M St. Croix, VI 25:54 8:22
11 JEREMY Platt 68 M St. Croix, VI 26:45 8:38
12 FLORENDO Astropabi 38 M St. Croix, VI 27:09 8:46
13 MAYA Russell 14 F St. Croix, VI 27:21 8:50
14 KATHERINE Puglise 40 F St. Croix, VI 32:34 10:31
15 JIMIAH Baptiste 7 F St. Croix, VI 33:53 10:56
16 JOHN Baptiste 45 M St. Croix, VI 33:54 10:57
17 ORVANE Piper 29 M St. Croix, VI 35:51 11:34
18 LARRY Williams 75 M St. Croix, VI 43:33 14:03
Award List for National Library Week — Run to Your Library 5K
***** MALE OVERALL RESULTS FOR 5K RACE ******
1 JUAN Robles 26 St. Croix, VI 18:07
2 DOMINIC Puglise 15 St. Croix, VI 20:11
3 BRICE Richards 10 St. Croix, VI 20:15
4 RANDALL Nielsen 47 St. Croix, VI 22:09
5 MASON Lamabert 10 St. Croix, VI 22:39
6 MIKE Klein 50 St. Croix, VI 25:23
7 KEVAN Moran 43 St. Croix, VI 25:54
8 JEREMY Platt 68 St. Croix, VI 26:45
9 FLORENDO Astropabi 38 St. Croix, VI 27:09
10 JOHN Baptiste 45 St. Croix, VI 33:54
11 ORVANE Piper 29 St. Croix, VI 35:51
12 LARRY Williams 75 St. Croix, VI 43:33
***FEMALE OVERALL RESULTS FOR 5K RACE ****
1 BRIDGET Klein 31 St. Croix, VI 20:50
2 AMY Roberts 37 St. Croix, VI 21:30
3 MEGAN Lamabert 35 St. Croix, VI 24:03
4 MAYA Russell 14 St. Croix, VI 27:21
5 KATHERINE Puglise 40 St. Croix, VI 32:34
6 JIMIAH Baptiste 7 St. Croix, VI 33:53
FEMALE AGE GROUP: 10 – 19
1 13 MAYA Russell 14 St. Croix, VI 27:21
MALE AGE GROUP: 10 – 19
1 2 DOMINIC Puglise 20:11 15 St. Croix, VI
2 3 BRICE Richards 20:15 10 St. Croix, VI
3 7 MASON Lambert 22:39 10 St. Croix, VI
FEMALE AGE GROUP: 20 – 29
MALE AGE GROUP: 20 – 29
1 1 JUAN Robles 18:07 26 St. Croix, VI
2 17 ORVANE Piper 35:51 29 St. Croix, VI
FEMALE AGE GROUP: 30 – 39
1 4 BRIDGET Klein 20:50 31 St. Croix, VI
2 5 AMY Roberts 21:30 37 St. Croix, VI
3 8 MEGAN Lamabert 24:03 35 St. Croix, VI
MALE AGE GROUP: 30 – 39
1 12 FLORENDO Astropabi 27:09 38 St. Croix, VI
FEMALE AGE GROUP: 40 – 49 MALE AGE GROUP: 40 – 49
1 6 RANDALL Nielsen 22:09 47 St. Croix, VI
2 10 KEVAN Moran 25:54 43 St. Croix, VI
3 16 JOHN Baptiste 33:54 45 St. Croix, VI
FEMALE AGE GROUP: 50 – 59
MALE AGE GROUP: 50 – 99
1 9 MIKE Klein 25:23 50 St. Croix, VI
2 11 JEREMY Platt 26:45 68 St. Croix, VI
3 18 LARRY Williams 43:33 75 St. Croix, VI
FEMALE AGE GROUP: 60 – 99
MALE AGE GROUP: 60 – 99
1 11 JEREMY Platt 26:45 68 St. Croix, VI
2 18 LARRY Williams 43:33 75 St. Croix, VI