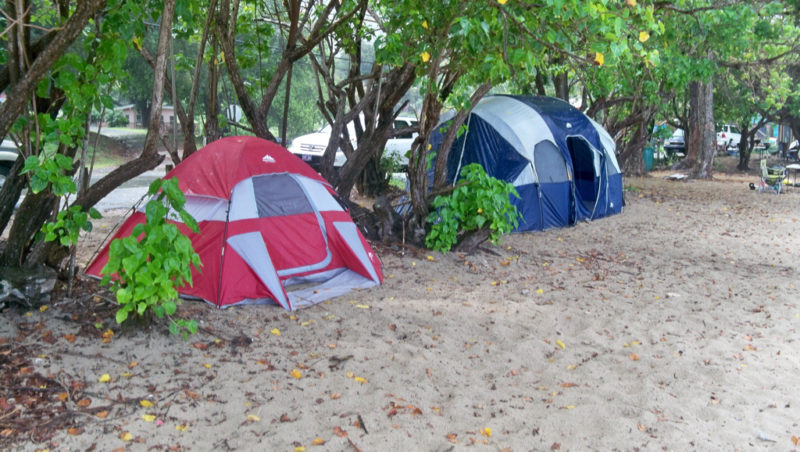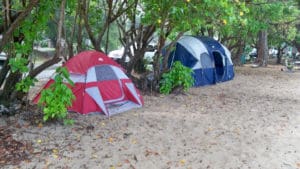 Many St. Croix families spend months in advance planning Easter camping adventures. They are picking spots, getting permits, buying supplies and inviting relatives. They are committed.
So when heavy downpours were forecast for this weekend and flash flood warnings issued, it didn't faze them. They were staying.
When asked what she would do when it rained, one camper at the lagoon in Christiansted laughed, and answered, "Watch TV." She was sitting under a large tent with well-protected sides and a huge, large-screen TV gracing one of its walls.
Of course, many of the campers did not have large tents furnished with all the amenities of home. On Cane Bay beach there were just two small dome-shaped tents. As an initial, heavy downpour fell on Saturday morning, the occupants of those tents were nowhere to be seen.
However, just a few minutes later and just a few kilometers down the road, in the field near Above the Cliff bar and restaurant, a family took advantage of a break in the rain and was out and putting up another tent in the clustered field.
Then, just a little further east down the north shore at Salt River landing, not only were adults taking advantage of break in the weather to empty some trash and tend a cook stove, but youngsters were in the sea swimming.
Near Christiansted at Altona Lagoon Juanita Cruz-Ayala said she expected about 30 people to camp and celebrate Easter with her clan.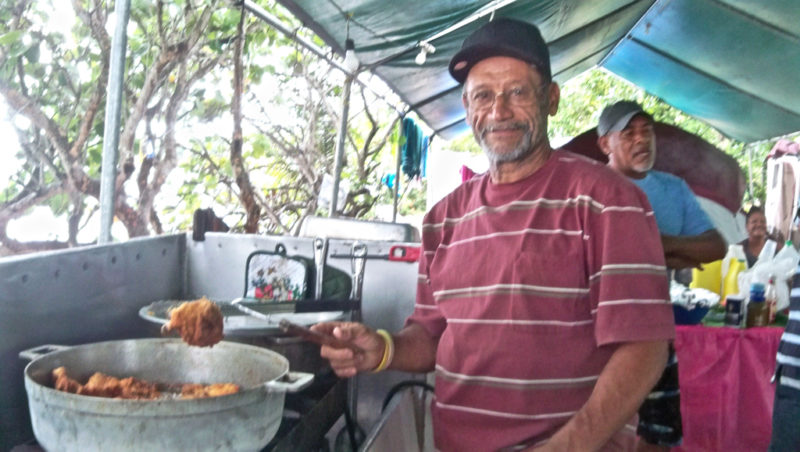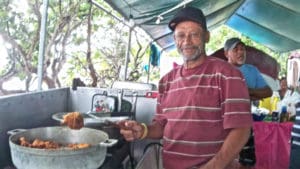 She said 17 family members came from Puerto Rico and they shipped pallets of food to economize. There were tables full of rice, beans, bananas, drinks and more. The men pitched in, making soup in a huge pot and crispy, breaded fried chicken in a large pan on a propane stove.
"Everyone brings food and walks with something to eat," Cruz-Ayala said. "Nobody goes hungry."
They had a generator for lights and a sound system set up under a large green vinyl tent that was big enough to shelter the campers, chairs, tables and five tents. She said they never let anyone drive home after imbibing too much and they have cots for them.
Cruz-Ayala, an Easter camper for at least 30 years, said they have been camping at Lagoon for the past seven years.
The campers all agreed the location is convenient for everyone involved. They do have trouble with no-see-ums, but there was plenty of Avon Skin So Soft available to repel them.
"I get our permit from the Department of Sports, Parks and Recreation in February so I can reserve this spot," Cruz-Ayala said. "They see me coming every year and they're ready for me."
She said they set up portable toilets, the tent, large water containers and the generator April 7 and they will break up camp Tuesday.
"We have all the amenities here," Carmelo Velazquez said as he sipped a Heineken. "It's fun here and we all get along. We're growing and new people join us every year."
Cruz-Ayala said there were about 18 children of all ages at the camp and there is a traditional Easter egg hunt at the playground in the park on Sunday morning.
"We're all happy to be here having a great time eating, drinking, and sharing," Cruz-Ayala added.
Near the main parking lot at Altona Lagoon is a permanent cabana, with a year-long permit, that is maintained by Adelbert Nico. Friday it was covered with a large tent under which chairs, tables, and a big screen TV were set up. A rented porta-potty stood a short distance from the site.
Stacie Schjang said she had been camping at the location for about five years. About seven people will camp over-night but there will be around 50 people who will join the campers to eat, drink, fish, swim, socialize and play dominoes Schjang said.
It was described as a callaloo of families that get together, including Nicos, Lockharts, Crawfords, Roebucks, Hendricks, Mooreheads and Cruzes. Schjang said Gov. Kenneth Mapp always joins their crowd for the Easter holiday.
There was little sun on the beaches of St. Croix Easter weekend but there were many sunny smiles.