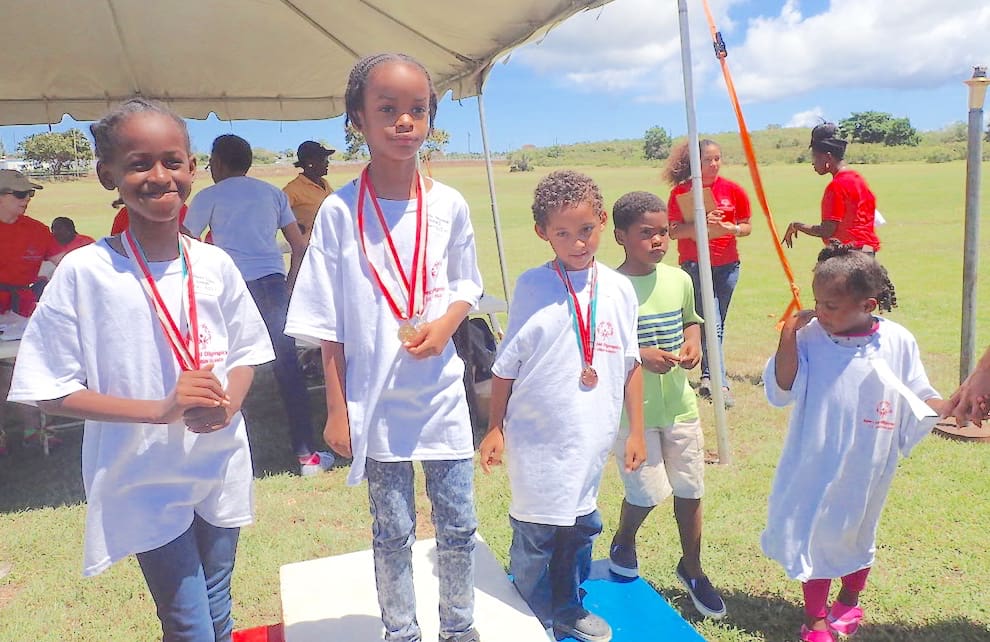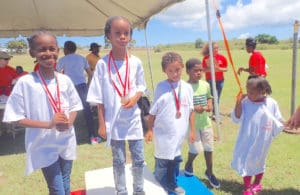 An estimated 60 to 70 Special Olympians competed in events with their usual gusto and delight Saturday at the St. Croix Renaissance field.
Transportation problems kept around 20 athletes at home. About 90 men, women and children were registered for the event which had been scheduled in March but had to be delayed due to heavy rains, but Department of Human Services buses were unable to pick up many of the participants, according to Jenna Castro, event director. Castro and volunteer Alexander Hamilton personally transported several athletes, but the rest missed the annual competition.
Due to the sporadic arrival of participants and group leaders, the parade of athletes started late, led by the St. Croix Central High School Junior ROTC Color Guard and CHS Junior Reserve Drill Team, who performed for the enthusiastic audience after the parade.
The Olympic torch was carried around the track by four runners: Jennifer Richards, Domingo Guadalupe, Samory O'Bryan, Leon Vanbeverhoudt and Elisa Castillo. All five athletes ran to their full potential with big smiles on their faces.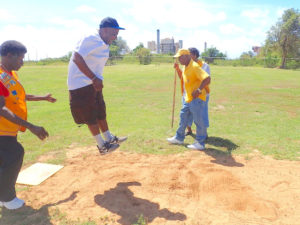 Gerald Evens sang the national anthem and the Virgin Islands March, as he has for decades, and the crowd repeated the Special Olympics pledge.
"Let me win, but if I cannot win, let me be brave in the attempt," they chanted.
St. Croix Administrator Stephanie Williams greeted the athletes on behalf of Gov. Kenneth Mapp and several legislators, including Sens. Sammuel Sanes, Positive Nelson, Kurt Vialet and Senate President Neville James presented medals to the athletes throughout the morning.
Nelson, a frequent volunteer at the event, helped a wheelchair competitor – pushing him as fast as he could, accompanied by the young man's laughter.
"I do it to see the little bit that pleases them. It gives you more appreciation for your own life," Nelson, said after the race.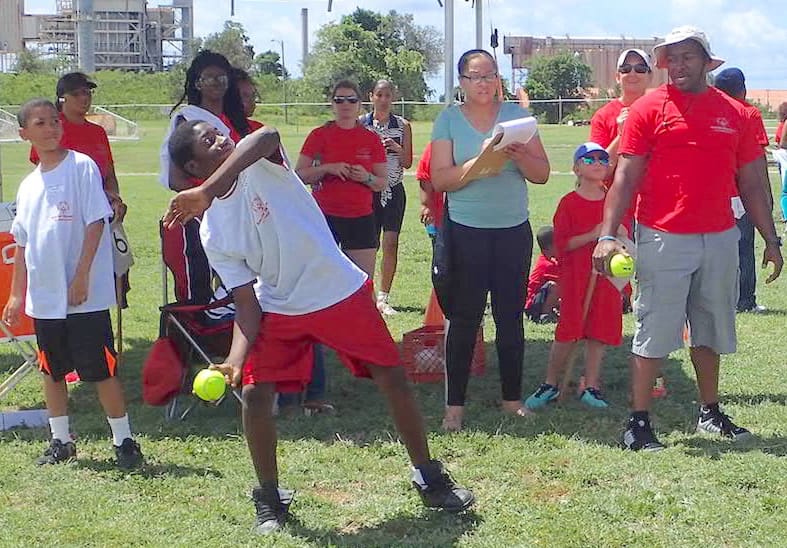 Throughout the morning, in between cheers, the starter's gun and socializing, athletes racked up two, three and even four medals. They ran, jumped, tossed softballs and played basketball and soccer.
Almost everyone wins a medal and the athletes were just as happy competing as receiving a gold, silver or bronze. Athletes and volunteers were served hotdogs, hamburgers and beverages after their events.
Volunteers, including group leaders, timers and others, are crucial to the Special Olympics. Some have participated for more than 30 years, including Maureen Moorhead, a special education teacher, and Mark Vinzant, a board member, who has been involved 39 years.
Another long time participant is Jason Henry, an emergency medical technician, who mans the St. Croix Rescue Squad's van in case there is a need for medical services. This year, his daughter is participating for the first time.
"That's what makes this so rewarding. All these years and not knowing that one year we would be involved in the process," Henry said.
For the last few years, the number of Special Olympians has dwindled from an estimated 125 in 2011 ago to fewer than 100 this year.