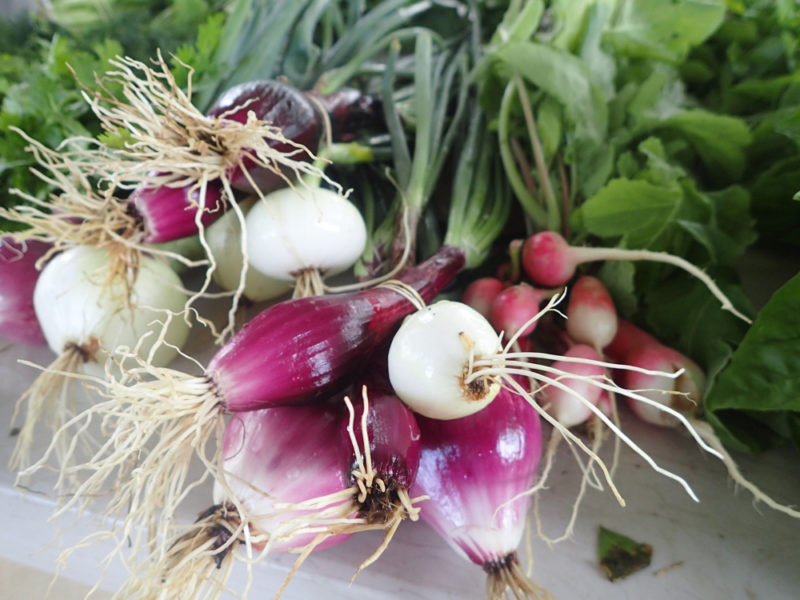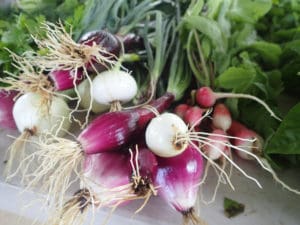 After a yearlong drought, Mother Nature has been nourishing the island. As a result, residents are feasting on fresh food from a cornucopia of plump, healthy produce sold from farmers markets and roadside stands across island.
"Farmers – we're professional complainers of the weather. Right now there's nothing to complain about. You can see it in the fields. I think a lot of farmers are breathing easier after years of drought," said Nate Olive of Ridge to Reef Farm.
For decades, the V.I. Department of Agriculture has sponsored a centralized farmers market. Now, the La Reine Farmers Market continues to draw large crowds from early Saturday morning until the last green bean has been sold – usually before noon. Everything from chew sticks for diabetes, maubi bark and cacao root to cucumbers, greens, fruit and tomatoes can be purchased in a variety of sizes and quantities. More than a dozen farmers sell plants, baked goods, eggs, pates and even cold pressed coffee, hot bush tea and kombucha tea made with local fruits. Recently, the market has opened on Wednesday morning as well.
Melsader Thomas remembers the 1960's when there were only five farmers participating and the market was located on the grounds of the Agriculture Department in Estate Lower Love. She and her husband still sell bananas, plantain, papayas, breadfruit, lemon grass and more from their 12.5-acre farm at the La Reine market.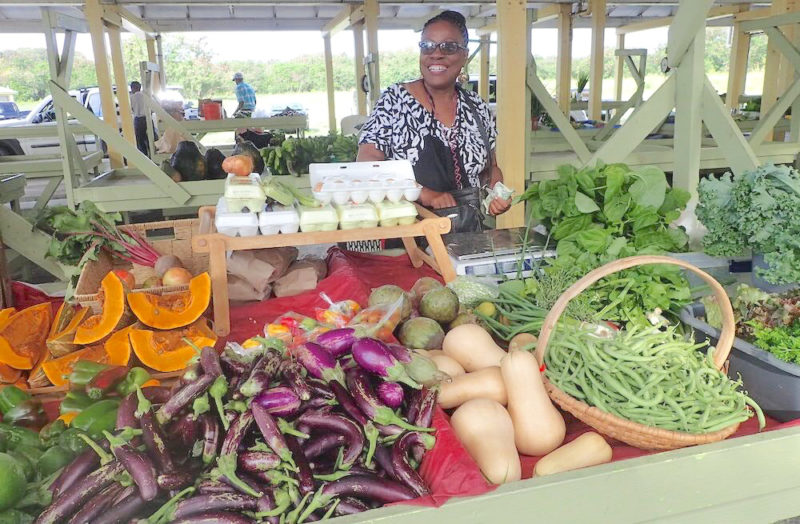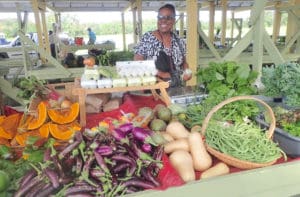 "Mr. Moore was the first. Now, most of them died," she said.
Olive directs certified organic production on more than 100 acres of land at Ridge to Reef Farm in the northwest corner of the island and Little LaGrange at the bottom of the rain forest and has been farming on St. Croix for more than a dozen years.
Most of the R2R produce, meat and eggs are sold through the community supported agriculture (CSA) program. The farm also supplies the public schools' lunch program on all three islands. Whatever remains is sold on Saturdays at the Shan Hendricks market in Christiansted between 10 a.m. and noon and Wednesday at the Lawaetz Museum on Mahogany Road from 3:30 to 6 p.m. Orders can be placed at www.vi.locallygrown.net.
Artfarm, LLC, on the south shore of St. Croix, also draws large crowds Saturday mornings from 10 a.m. to noon. Known for flavorful tomatoes and salad greens in every imaginable color and size, Luca and Christina Gasperi have been introducing new crops to St. Croix since 1999. They grow and sell pineapples, figs and dragon fruit along with sweet potatoes, almost seedless papaya, radishes, onions, beets, herbs and more. Soon, they will begin to sell native trees in gallon containers.
The Gasperis are also artists – Luca paints the art for the "A Taste of St. Croix" poster every year.
Since 1998, Dale and Yvette Browne have operated Sejah Farm, on Midland Road and frequently add produce from the V.I. Farmers Cooperative to their tables. They also run a CSA that includes produce, eggs and organic goat, lamb, rabbit and pork. The farm is open to the public from 10 a.m. to 5 p.m. Monday through Friday and from 7 a.m. to 5 p.m. Saturday selling okra, pumpkin, squash, eggplant, papaya, lemongrass, chives, herbs, moringa, their own branded seasoning with local ingredients, and more.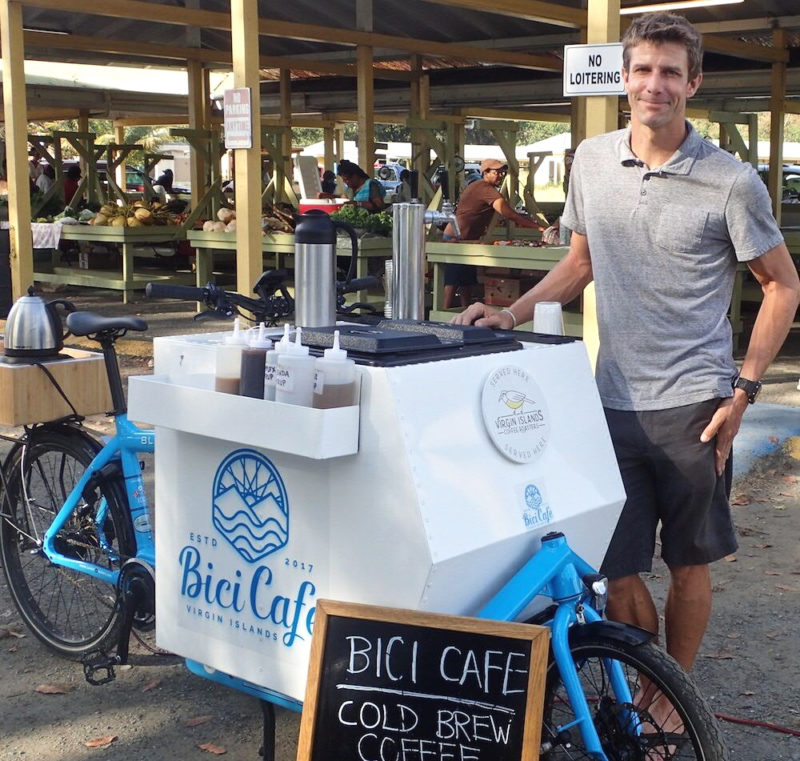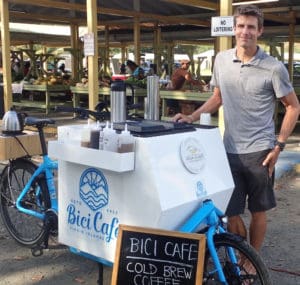 Also on Midland Road, east of Sejah Farm, is the brightly painted B&J Fruits and Vegetables farm stand. Maybe the only place to buy cocoa beans and cinnamon bark from Dominica and cocoa processed for "cocoa tea" by Maria St. Valle, owner Bertha Swan's mother. There is also fresh nutmeg, sage and cayenne pepper along with tomatoes, papaya, Chinese cabbage and bok choy.
On the outskirts of the DOA, the New Breed Farm is open from 6 a.m. to 6 p.m. Monday through Saturday. Bobby Peets, the 2015 Farmer of the Year, and his partners grow and sell squash, peppers, zucchini, dasheen, Tania, kush kush, watermelon, ginger and lots of greens.
On the east end of the island, farmers Grantley Samuel, Aberra Bulbula and honey producer Toni Downs have been gathering at the corner of Southgate on Saturday mornings for about a decade. They and other vendors sell unusual items such as eggfruit, pomegranates, homemade kimchee, plants, air plants, candles, honey and soap. Samuel started the little group more than 10 years ago and now there are four or five every Saturday from 8 a.m. to noon.
In addition to the large markets, smaller produce stands line the Queen Mary Highway from Frederiksted to Southgate, anchored by the Hendricks market in downtown Christiansted – open on Saturdays and sometimes other mornings.
The Jackson farm, outside Frederiksted, is open from 10 a.m. to 5 p.m. everyday except Saturday, currently selling tomatoes, pigeon peas, coconuts, lots of bananas and ginger.
Between Jackson Farm and Sunny Isle Shopping Center, there are several other farm stands that pop up from time to time that sell crops as they mature, including corn.
Across from the entrance to Agriculture, there are usually several cars and trucks parked with tables displaying what's fresh from their gardens. Produce varies day-by-day, week-by-week.