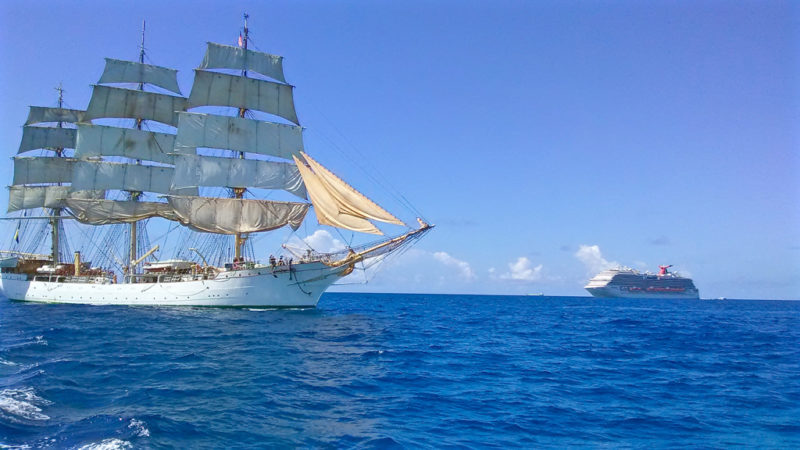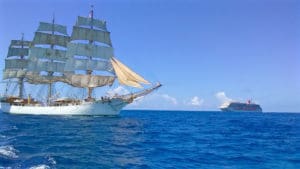 The tall ship Danmark, the international nautical ambassador for the Government of Denmark, arrived at the Frederiksted Pier on St. Croix Sunday afternoon, and will be open for free public tours Monday and Tuesday, according to the VI Centennial Transfer Commission.
Danmark spent the previous week at Charlotte Amalie on St. Thomas taking part in the Transfer Day Centennial. The 234-foot, square-rigged sailing ship will be open for public tours from 1 to 3 p.m. Monday and 10 to 11:30 a.m. TuesdayTours are free and open to the public with a valid photo ID.
The ship was built by the Nakskov Shipyard in Lolland, Denmark, and launched in 1932. She weighs 790 gross tons, with a 17-foot draft and 32-foot beam, and a complement of 26 sails. Danmark has been in nearly continuous use since its launch to train officers of the Danish merchant marine, except for a four-year period during World War II when Denmark lent the vessel to the U.S. Coast Guard Academy to train its cadets. A bronze plaque aboard  Danmark's mainmast commemorates her service to the U.S. as USCGC Danmark (WIX-283).
Danmark is sailing with 80 cadets and 19 crew
For more information, contact the VI Centennial Transfer Commission at (340) 772-1000, ext 4719