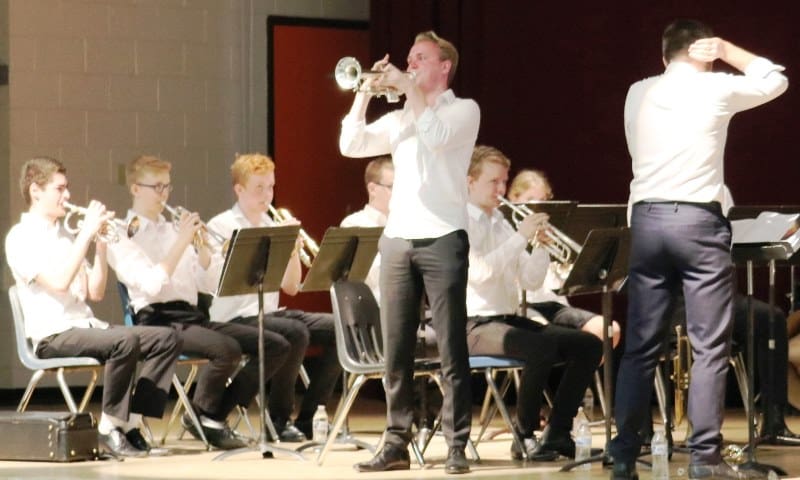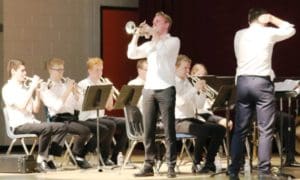 While visiting the Virgin Islands to participate in Transfer Centennial activities on March 31, The Copenhagen Brass Ensemble has performed for students at the John H. Woodson Jr. High School on Monday, March 27. The ensemble conducted a performance workshop for music students and other interested students in the school auditorium. Students were fascinated by the versatility of the orchestra, which played a variety of instrumental pieces including a calypso tune to close out the performance.
The 25-member Danish band visited the school through the invitation of Woodson Music Department Chairperson Mario Thomas, whose music colleague Dr. Eugene "Doc" Petersen was instrumental in bringing the ensemble to the island as part of a cultural exchange program.
"I am happy that the Copenhagen Brass Ensemble came to our school because we try our best to give students a well-rounded education and the fine arts is a strong component of our curriculum, as it takes a lot of discipline," Thomas said. "You can see how the students sit and listen attentively, and they are a very perceptive audience. We appreciate people of different cultures coming to our school, knowing that our students are going to give them their full attention."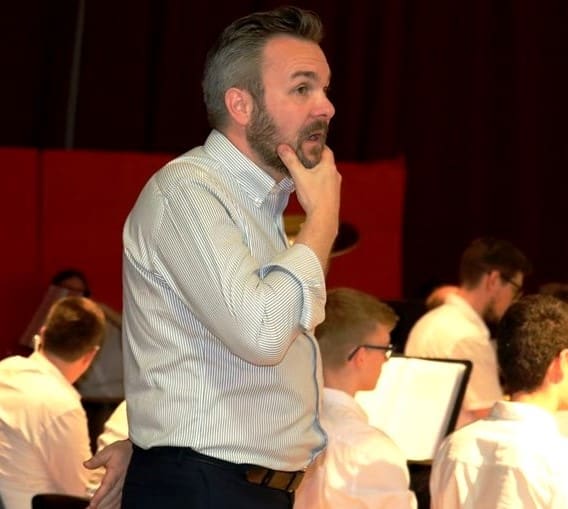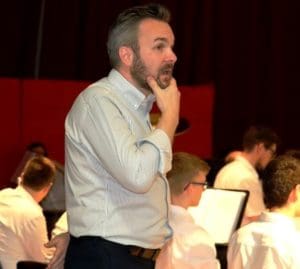 Principal Rodney Moorehead as well as Woodson faculty and staff were among audience members. "We got a phone call from 'Doc' Petersen inquiring if we were interested in having the Danish band perform at the school. Without any doubt, we agreed because this was a great opportunity we definitely didn't want to miss," Moorehead said.
St. Patrick's School Assistant Principal Edna Thomas brought with her nine members of the school's concert band. "It was well conducted," she said. "It was a good workshop. I am very pleased."
According to ensemble manager Alexandra Joenssen, the band was founded in 1986, and its members range between the ages of 11 and 45. "The band is open to everybody," she said. "If you love to play, you can come to play with us. It is a public-funded group. We won the national competition this fall in Denmark."
Joenssen went on to say that the group has been enjoying its visit to St. Croix. "Some members have been to St. Croix before and the ones that are new are just falling in love with the place — the atmosphere, the people, the music and the nice warm welcome that you get from everywhere. Whenever we play at concerts, the people are very interested and actually appreciate us. It's very nice."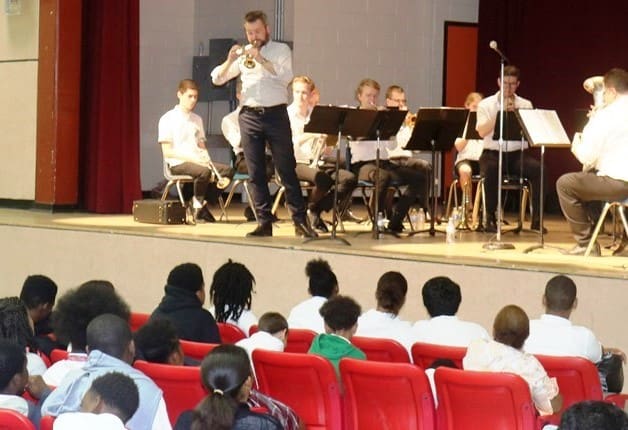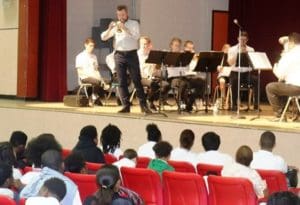 The Copenhagen Brass Ensemble was invited to the Virgin Islands to participate in Transfer Centennial activities, according to Doc Petersen. "We invite them here because they hosted us last summer when we, Stanley and the Ten Sleepless Knights, Lloyd Bennerson, Dr. Lauren Larsen, the Ay Ay Cultural Dancers and other groups went to Denmark, so we agreed to host them when they came to St. Croix," he said. "This is a cultural exchange program that we have been doing for over ten years now, where we send groups to Denmark to perform and they send groups here to perform, as well. We have had Danish groups perform at Island Center and at Whim Museum as part of the exchange program."
The Copenhagen Brass Ensemble will perform at Island Center on March 30 and participate in the Centennial Parade on March 31. The group is scheduled to travel to St. Thomas for a one-day trip to perform at the West Indian Company (WICO) Dock during the visit of the Danish ship, The Denmark, before returning to St. Croix to depart on April 7. While on St. Croix, the band has also performed at a Moravian church, a senior citizens' home and St. Croix Central High School. Also, it is making arrangements to perform at the St. Croix Educational Complex.