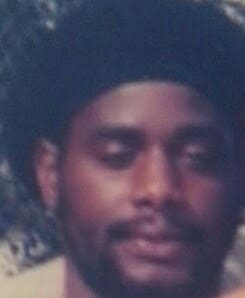 Lawrence Anthony Greenidge, also known as "Rancho" or "Rancio," died on March 16.
He is preceded in death by his father, Hugo Greenidge; grandparents: Helena Plaskett Rhymer, David Greenidge and Bernhardt Simmonds; and sister, Macherry Thompson.
He is survived by his mother, Ena V. Simmonds; daughters: K'Desha and Janesha Greenidge; sisters: Shakima Simmonds, Nakima Simmonds, Yvonne Greenidge, Shyla Greenidge, Sheniqua Greenidge, Adell Rhymer and Cherry Renuad; brothers: Douglas Thompson, Allan Greenidge, Hugo Greenidge Jr. and Alric Emanuel Sr.; grandmother, Ann Andrews Gage; nieces: Shenequa Creighton, Latisha Mills, Lanequqa Simmonds, Shakiya Simmonds, Kymora Moolenaar, Shaquan James, Takima Ruiz, Alaika, Talaiya and Alania Greenidge, Shalima Sheriff, Lakisha Nesbitt, Kylee Phillip, Quenisha Hendrickson, Naliya and Jahlia Renuad; and nephews: Shamal Creighton, Shakeem Clouden, Ja'Men Brathwaite, Elijah and Allan Greenidge, Jah'Nye and Douglas, D'Nye Thompson, Deiondre and Kairo Jones, and Daquan Renuad.
He is also survived by aunts: Irma Jean Davis, Brenda Gail Joseph, Sarah Christensen, Debra Rhymer, Mabel Brandy, Sylvia Molyneux, Verna Herron, Regina Speight, Jacqueline Greenidge Payne, Margarita Benjamin, Thelma Greenidge, Eileen Matthews, Sandra Rogers, Angelina Yarwood, Carmen and Luz Navarro, Yvonne and Alberta Andrews; and uncles: Delroy Rhymer, Clifford Rhymer, Eugene Rhymer, Raymond Rhymer, Bernhardt Simmonds, Glenwood Greenidge, Wendell Greenidge, Lester Greenidge, Wingrove Creighton, Roy Foy, Micheal Diedre and Alvin Berkel.
Other survivors include cousins: Pastor Clint Liburd, Michael, Carl, Alston, Roland, Tyrone and Michelle Christensen, Michael, Tesha, Shermaine, Radiance, Shenelle, Germaine Rey, Alicia Thomas, Uriel, Carl and Kimara Decicco, Anita Brown, Adijaha, Cherridarn, Shaquille, Cherridawn, Axel, Eugene, Raymond, Kasim, Whitney, Delroy, Demara, Deriye, John, Yashira, Yanira Rhymer, Glenford Simon Jr., N'Zinga and Shaka Charles, Aisha Bowers, Jahmilah, Mashama, Uriel and Khari Codrington, Deborah Cook, Ronald Watson, David, Allan, Raymond and Kenny Brady, Rodney and Renee Petersen, Rhonda Yarwood, Charles "Mountain" Sealey and Keith Byran; sister-in-law, Adrina Milligan Thompson; and brothers-in-law: Verrol Harrington and Shevon Jones.
And his special friends: Olga Rosa, I-Phipps, Angie Davis and family, Mohammed, Remy Dynasty Convenience Store, Mo and family, Glen Gas Station, All In One (Tywan) family, Glynn Cockpit, Polo and family, Buzwell and family, Eddie Linquist, Mario Robles, Dale Ritter, Ashmo Duce, Kareem Ambrose, Mountain Sealey, Sylvestor Hodge, Vicky John, Lewis Brow and family, Gwendolyn Murray and family, Nasha Mathurin and family, Diana Harris, Nilda Iris Lopez and family, Corrine Messer and family, Plaskett family, Horsford family, Muckle family, Simmonds family, Wayne Simon, Asha, Jessica and Sherry Payne, Mingo and family, Mr. Linquist and family, the Mon Bijou family; as well as other relatives and friends too numerous to mention.
A viewing will be held from 3-5 p.m., Tuesday, April 4, at Divine Funeral Service Chapel. A second viewing will take place at 10 a.m. followed by a funeral service at 11 a.m., Wednesday, April 5, at First Assembly of God Frederiksted Church. Interment will be at Kingshill Cemetery.