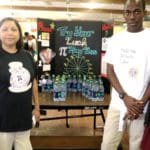 Creative juices flowed and were mixed with delicious baked goods as St. Croix Central High School students showed their ingenuity in using mathematics for fun at the school's first Pi Day Math Expo on March 14. The event commemorated the annual national celebration of the Greek letter Pi (π), which is the symbol used in mathematics to represent the ratio of the circumference of a circle to its diameter — approximately 3.14159.
Math students displayed an impressive array of original math games and projects. Prizes were awarded to them in the following categories: best Pi Day T-shirt, best mathematical presentations and displays, and student who recited the most digits in Pi.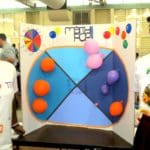 St. Croix Central High School Math Chairperson Vihba Bansal said the school's first Pi Day observance was very successful. "Students really enjoyed themselves immensely as they found new ways to appreciate mathematics and have fun doing so," she said. "We shared pies — apple, pineapple and other flavors — with the students while they enjoyed playing several games that incorporate some aspect of mathematics."
Pi Day was founded by Physicist Larry Shaw of the San Francisco Exploratorium in 1988 and is celebrated at educational institutions around the world. In 2009, the United States House of Representatives supported the designation of Pi Day.
St. Croix Central High School First Annual Pi Day Math Expo Winners
Pi Day T-Shirt Winners
1st Place – Alayna Caraballo
2nd Place – Brianna George
Pi Digits
1st Place – Indeya Todman
2nd Place – Marthisha Charles
Presentations and Displays
1st Place – Spin It, Guess It to Win It — Amelia Able, Madelin Yousef, Khaleese Figaro, Bermary Calderon, Kiara Jarvis, Sasha Francis
2nd Place – Mathonopoly — Shelia Matthew
3rd Place – Tipsy — Antoine Harley, Haysely Durand, Sedeja Fieulletteau