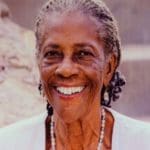 Augustina Maria Spencer Weeks Edwards died on Thursday, March 16. She was 85 years old.
She was preceded in death by her husband: Herbert "Steady Eddie" Edwards; father, James Alexander Spencer; mother, Alphoncine Folks Spencer; siblings: Elvida and Zephaniah Spencer; and grandchildren: Maya and Akeem Edwards.
She is survived by her sister, Sonia Henry; daughters: Valerie Weeks, Pauline Edwards-King, Paulette, Phyllis and Vidamae Edwards; sons: Melroy, Paul and Percival (Tahema) Edwards; niece, Pearl Parrilla; nephew, Pedro Parrilla; brother-in-law, Fr. David W. Henry; son-in-law, Rodney D. King Sr.; daughters-in-law: Yvette Ross-Edwards Esq. and Felicita Royer-Edwards: and grandchildren: Keno Edwards, David and Dr. Ahkela Edwards-Goodings, Leo Moron, Portia and Pya Langley, Rodney Jr. and Angela King, Raymond and Amanda King, Rashonda King, Litus and Vida Edwards-Marshall, Velma, Kareem, Vaniqua and Vivica Edwards, Calvin and Somalia Edwards-Warner, Malcom-Scott, Misah and Mahalia Edwards.
She is also survived by great-grandchildren: Arysha and Alayna Edwards, Ahjadin Grigg, Sekaye and Haile Goodings, Gabrielle King, Liana Marshall, Isabella Moron, Maurice Barton and Evelien Warner; great nieces: Ryneese James and Nia Fabio; godchild, Earl Andrews; and special cousins: David and Lee Trotman, the Thomas and Rogers families, the Hodge family, Claire Roker and family, the Folks family, the Brown family, the Spencer family, the Williams family, the Hendrickson family, the Richardson family, the Francis family, the Edney family and the Parris family.
Other survivors include special friends: the Antoine family, Malcolm Fabio, Tony Rivera, Ebony Hodge, William Matthew, Ciara Scott, Amanda Greaux, Lorraine Sabratti, Mabeline Marshall, Genevieve Edney, Deedee and Penny, Virgin Islands Consortium Care, and the Kingdom Hall of Jehovah's Witnesses family; as well as other relatives and friends too numerous to mention.
There will be a viewing at 9 a.m. followed by a funeral service at 10 a.m., Thursday, March 23, at the Kingdom Hall of Jehovah's Witnesses, 23C N. Carlton Road, Frederiksted, St. Croix, V.I. Interment will follow at Frederiksted Cemetery.