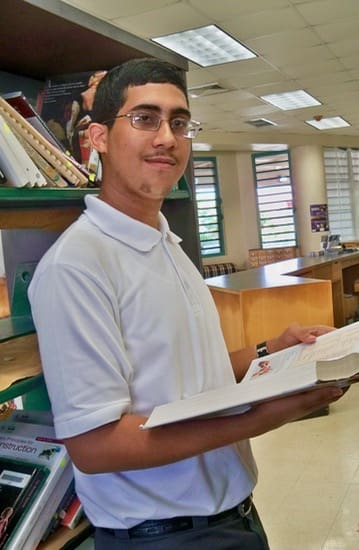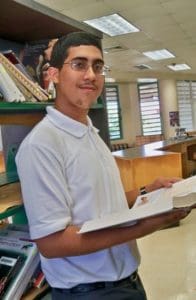 Heakey Ramos, a senior at St. Croix Educational Complex, recalled at a Source interview Wednesday how his love of aviation began as a little boy sitting in the copilot's seat on a Cape Air flight from Puerto Rico to St. Croix aboard a Cessna 402.
"I'll never forget a nice and kind pilot invited me to sit up front with him," Ramos said. "I'll never forget him telling me about the controls and showing me how he handled them."
Since that first introduction that sparked a love of flight, he is getting involved in aviation at school and at stateside workshops, getting his education in aviation off to a good start before he flies off to college.
The young man raised by his grandmother, Cristina Rivas, explained he didn't know English until he started first grade. He added he is self-motivated and believes you have to be responsible for yourself.
"I'm determined and, as a student, I set goals to be successful," Ramos said. "I learned that setting goals is very important to make it there. I always strive to do my best. Nobody will do that for you. You have to do it for yourself."
His grandmother, who he said he deeply respects, taught him responsibility. The 17-year-old admitted, like most teens, he enjoys playing video games, yet he is mindful of how much his grandmother disapproves of the games.
Ramos said his goal is be a hurricane hunter or an airline pilot flying large jets like the 787.
"I don't want to fly the little pipsqueak planes," Ramos said with a wide grin.
He does spend screen time watching The Weather Channel's Hurricane Hunters. "I love everything that has to do with weather, from hurricanes to hail, sleet and snow storms," Ramos said. "I have an interest in meteorology as pilots should."
Ira Williams, a teacher in the aviation program at St. Croix Career and Technical Education Center, said Ramos is among the top 10 students in his graduating class. He is in the National Math Honor Society at Complex and he was in the SeaPearch Underwater Robotics Competition last year.
Williams said Ramos willingly gives his time to community activities and has earned more than 300 hours of community service.
Ramos has been involved in V.I. Police Department Drug Education for Youth Summer Academy as a mentor and he tutors at the Boys and Girls Club. He is a Boy Scouts Aviation Explorers member and an American Red Cross volunteer. He is in the University of the Virgin Islands' University Bound Program. And he is a member of the Organization of Black Aerospace Professionals and the Aircraft Owners & Pilots Assoc. Ramos said time management can be challenging but he handles it well.
Ramos joined V.I. Chapter Tuskegee Airmen Inc. Youth Aviation Club in 2013 and is currently club president. In 2015 and 2016 he was awarded the Student of the Year Award from the Virgin Islands Chapter Tuskegee Airmen Inc.
He said through VICTAI he had the chance to attend summer aviation workshops three times in the states and locally.
July 2014 he attended the Organization of Black Aerospace Professionals Aviation Career Education Summer Academy in Queens, N.Y. While there he learned about the aviation industry, which was more extensive than he imagined.
"I thought aviation was just pilots, air traffic controllers and mechanics," Ramos said. "During my experience at the academy in New York, I learned about airport terminal security, airport firefighters, and underground ATC, as well as the tower ATC, and the many different roles at the headquarters of an airline company."
In June 2015 he took part in the OBAP Aviation Career Education Summer Academy on St. Croix. And in July 2015 he traveled to the OBAP Aviation Career Education Summer Academy held in Jackson, Miss. Last summer he attended the Tuskegee Airmen's 75th anniversary convention in Indianapolis.
In the fall Ramos will attend Delaware State University where he aims to get his bachelor's degree in aviation. He said he will earn his private pilot's license by the end of his freshman year. And to get his airline transport pilot license, the highest license to attain, he will have to earn 1,500 hours of flight experience and be at least 23 years old.
Ramos said he doesn't know where he will land in his career. He wants to be where he will be flying big planes, possibly as a Hurricane Hunter out of St. Croix.