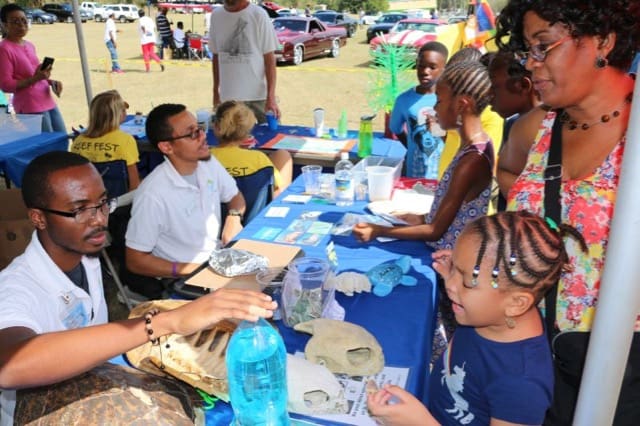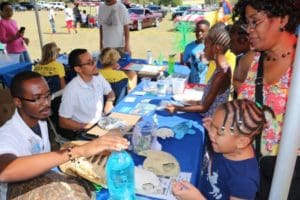 Despite heavy rains for most of the morning, the University of the Virgin Islands' annual Afternoon on the Green on St. Thomas still gave large crowds of residents the chance Sunday to "go beyond the food" and learn, through everything from displays to hands-on science experiments, more about the college's programs, initiatives and students.
For years, most of the event's activity was centered under the food tents, which offer food and dessert samples cooked up by local community members, businesses and organizations. Along with the usual island favorites, this year's spread also included a full vegetarian area as well as spins off of old staples – such as ribs, stewed chicken and conch in butter sauce – that appeared to be gone as soon as they touched the table.
"We always have heavy traffic during Afternoon the Green, so it's never a dull day," said Sean Georges, who manned the grill tent along with other members from the Omega Psi Phi fraternity. "But we took on this job years ago, almost as soon as the event got started, because we have a deep commitment to community engagement and that's really what this day is all about."
Like many other vendors Sunday, Georges said that his organization supports UVI's mission, through the Afternoon on the Green to offer scholarships to students. Omega Psi Phi, he said, also offers UVI scholarships for males attending Charlotte Amalie and Ivanna Eudora Kean high schools and sees the value in higher education.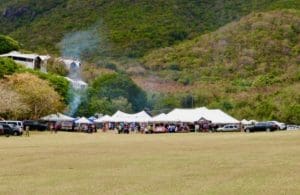 "It's part of our creed," he said. "And I know a lot of other people out here today feel that way. They come out to enjoy the food and the other things, yes, but they also know that they are supporting the university. It all goes hand in hand."
Many organizers out and about Sunday said they shared Georges' feelings and have seen, over the past couple of years, how much more interest the event generates for the university.
"It's definitely a good opportunity for members of the public to get more in touch with what's happening at UVI," said Che-Raina Warner, Miss UVI 2016-17. "It's also an opportunity for families connected to the university to come out and socialize."
"You know, there are so many students here from the island and family members, for the most part, feel a bit disconnected when they're children go off to college, so this gives them a chance to reconnect. It's important for us to forge that relationship with our families and also with the community as a whole," Warner said.
To show off what it has to offer, UVI, on its own, had set up more tents than usual this year, with a separate academic and science tent, among other things, that had crowds going in and out all day. The mission, according to organizers, was to give event goers a chance to see what they were supporting and to push new programs that community members could be interested in.
"Our academic tent this year, for example, focuses on 'global and graduates,' and highlights our study abroad programs and a new doctorate program that just started in creative leadership for innovation and change," UVI academic tent chair Leslyn Tonge said Sunday. "The program is just about a year old and we started with 50 students, so we are looking today to get some interest for our second cohort of 50, which we hope will start in August."
Tonge said support throughout the event shows that the community cares about what UVI does and is invested in its longevity.
"The university is part of the community and we find that people do come to learn more about what we are doing," she said. "This event is one of UVI's biggest fundraisers. It supports students who truly want to finish their education and, because we're so connected to the community, we find that there are so many people who understand what we are trying to do and are active in helping us raise the money we need for scholarships."
Even the students are on board, according to Tim Faley, the university's Sokoloff Entrepreneurship chair.
"When the students said that they wanted to have a science tent, I said to myself that no one's going to come," Faley said. "But today has been everything anyone could have ever hoped, for and students, we're talking middle and high school students, have been flocking here all day."
The science tent generated interest with hands-on displays and activities, including bubble and ice cream making and 3D printing and lava lamp constructing.
"It's all about making science approachable and students are interested in that," Faley said. "So many times, all students see are the publications that are written for other scientists and it looks standoffish. They want to know why they should care and I think we're showing them that."
"It all boils down to impact and the university is trying to make an impact, both on our students' understanding of the world and on how we can make it better for the people who are living in it. I've been here for four years now, and I think Afternoon on the Green has really started to go beyond the food and get to the heart of the university and what we're all about."