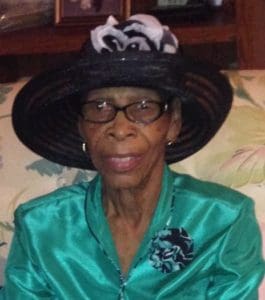 Helena Paul of Estate Williams Delight died on March 7. She was 83 years old.
She was preceded in death by her husband, Peter Paul; son, Maximus Paul; brother, George Isidore; uncle, Leon Raymond; and sister-in-law, Deltina Roach.
She is survived by her daughters: Jacintha Paul Augustin, Maura Granados, Agnes Francis and Clarita Chooran; sons: Charles Paul and Eric Paul; stepdaughter, Soniah Claire Johnson; stepson, Cilifford Paul; and grandchildren: Mervin, Kervin and Karen Augustin, Ikejah, Ikema and Icileena Francis, I'shauna Ferdinand, Ebonie Chooran, Edward, Aldisha, Jason, Jermaine and Andrea Paul, Malik Granados, Nadia and Johnathan Paul, La'Niyah, Erica and La'Zariyah Paul.
She is also survived by great-grandchildren: Alexzanderia, Teresa, Jayshon, Javon, Andres, Angelo, Angel, Jeremiah, Isejah, Iyamba and Iyarah; aunt, Emilenne Raymond; daughter-in-law, Josephine Paul; sons-in-law: Thomas Augustin and Thomas Chooran; sisters-in-law: Gregoria Charles and Doreen Charles; brothers-in-law: Eddie Gerson and Ignace Gerson; and godchildren, too numerous to mention.
Other survivors include close relatives and friends: Hyacinthe George and family, Joan, Alexis and family, the Raymond, Charlemange, Prospere and Sateny families, Lucilta Paul and family, Robert Roach and family, Jean Hepburn and family, the Duparl family, Michael Duval, Bernard Gaston, Dolores Daniel, Evariste Abubaker and the St. Joseph Catholic Church family. Other relatives and friends too numerous to mention on St. Lucia, St. Croix, U.K., U.S. and Canada.
The viewing will take place at 9 a.m. followed by the funeral service at 10 a.m. on Friday, March 24, at St. Joseph's Catholic Church. Interment will be at Kingshill Cemetery.